Gift Card represent powerful marketing tool to help increase sales,
conversion rates and build customer loyalty.
Getting someone a gift card shows that you not only care about them but that you also want to be certain the recipient will be getting exactly what he or she wants, and that's precisely why they're so popular.
Gift cards are a great sales booster since people tend to spend more than the initial gift card value.
In addition to encouraging customers to come back for more, your Magento store will also be getting some useful, actionable customer data, which can be used for future campaigns and targeting.
By offering your customers the ability to customize the design and the message of your gift cards, you build trust and emotional engagement with your brand, which is always important and beneficial.
What are Gift Cards and why Magento stores need them?
Gift cards have been a staple product offered by retail brands for a couple of decades now. Almost every major brand you can think of offers them, from Amazon to Nike, eBay to Zara.
When it comes to online shopping, gift cards are not as widely present as they should be, considering their many benefits. In addition to the improved customer experience your business will be offering, you can also count on a significant advantage you will be getting over competitors who are not yet using this incredible functionality.
This statistic shows the annual growth in sales of gift cards and vouchers by members of the UK Gift Card and Voucher Association from 2009 to 2018. In 2018, sales grew by 10.73 percent in the UK, the highest over the period of time in consideration.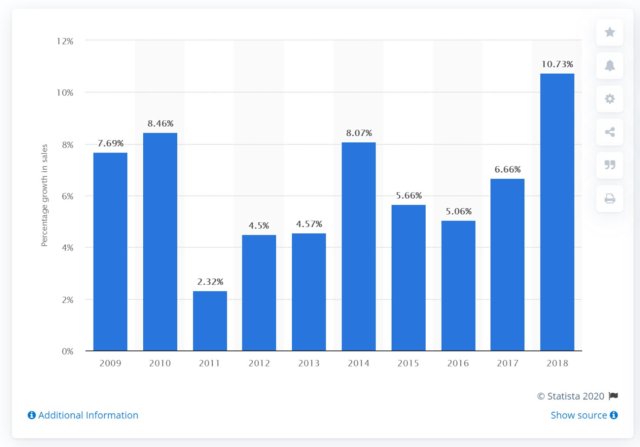 Gift Cards for Magento – A Brief Overview
The gift card for Magento is an extremely useful feature that lets you create, sell, monitor, and analyze gift cards for your store.
Gift cards can be sent to their recipients either via email or physically
After receiving and activating the gift card, the recipient gets a code that is entered at checkout. The value can be used fully (at once) or partially (on several occasions).
Offer design templates for your customers
Encourage them to add personalized messages for the recipient and they can even set the delivery date.
Gift cards can be used for physical, virtual or combined products
The cards are managed and sold directly from the Magento admin, where you can easily monitor their usage, balance, and other important data.
Value of the card can be fixed or open
Customers can decide on the value, the design, set the date, compose personalized messages, and even insert headlines. This flexibility adds to the streamlined and simple purchase and checkout process.
The gift card feature is very user-friendly, meaning your customers will have an easy time creating and purchasing a card to send out to their recipient. The first step is to choose an amount – pick one of the preset amounts or input your own value.
The user then composes an email with details such as the email and name of the recipient, email and name of the sender and a personal message to the recipient. After setting the options the customer then proceeds to the checkout, just like with a "regular" product. There is even a Reviews tab the customer can fill in, to providing feedback about the product purchase.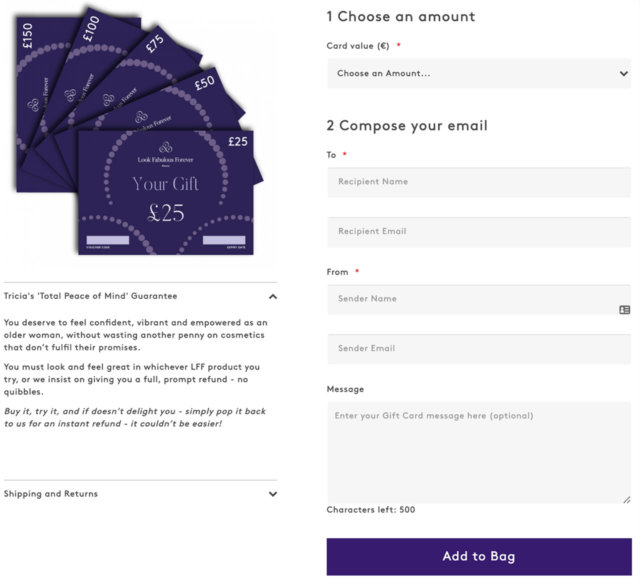 The Gift Card's main objects are Gift Card Products (gift cards themselves) and Gift Card Codes (which the recipient uses when making a purchase from your store).
Each gift card code has its own page, divided into sections such as gift card information, code information, sender details, recipient details, and history. Here you can get an overview of everything you need to know about the gift card code in question, including whether the email has already been sent or not, date of creation, delivery and expiration dates, and so on.
Another useful addition to Gift Card for Magento merchants is the gift card pools, which essentially let you store the generated cards of a certain type or pattern and to assign them to particular card products, in which case the sold gift card codes will be removed from the pool.
Gift Card for Magento Core Features checklist
Ability to create physical, virtual, combined gift card type
Flexible backend settings
Customizable delivery and expiration dates
Responsive and customizable design
Magento API support
One-Step Checkout integration
The ability to track each card's performance
Import and export of card codes
Manual code creation
Gift card pools
Extensive documentation and support
Custom email templates
The gift card for Magento is not only an extremely useful addition but also one that is very easy to use, as it integrates into the platform's environment and follows the same principles as the rest of the store's functionalities.
By allowing you to create, edit, sell, and monitor your store's gift cards, the feature actively improves the overall customer experience of your Magento store, promotes your brand and helps you grow revenue, all in just a few simple clicks of the mouse, without even leaving your site's admin panel.
Arrange Gift Card Implementation Call Today
Arrange a call with Lyndon CEO at 2buy1click
for Help and Advice on integrating Gift Card
to your Magento Store