Making it easier for hundreds of millions of customers to quickly check out online, with the support of new competitive pricing model

2buy1click Ltd is an Amazon Pay certified Partner.
Contact us for more details.
What is Amazon Pay and why your Magento Store needs Integration?
Amazon is the single most popular shopping platform in the world with 300 million active users and 197 million visitors per month. Amazon enjoys tremendous customer loyalty and trust, incomparable to any other online retailer. The numbers are certainly hard to match but there is one thing every merchant can do to get a piece of that customer loyalty cake, and that is to integrate Amazon Pay into their online shops.
Amazon Pay is a service that the platform introduced back in 2007 with the goal of allowing its customers to pay with their Amazon account on external websites, not just on those that belong to Amazon. It uses the addresses and payment methods that are stored in each user's account, including credit card details, shipping address, and more. The service is currently available for customers in 18 countries.
How Does Amazon Pay Work?
Amazon Pay allows users to use their preferred payment methods, defined in their Amazon account, to purchase goods and services and make donations through various non-Amazon websites and apps, and also using Alexa.
When a Magento store integrates Amazon Pay, its visitors can choose the service upon checkout and enjoy the same benefits, security, and credentials just like they were shopping on Amazon.
After clicking on the Amazon Pay button the merchant has integrated on their website, the customer is prompted to sign in with his or her Amazon credentials, and that's it. All their info will be automatically pulled from their Amazon account so they won't have to type in their credit card number or shipping and billing address.
Amazon Pay enables merchants to lower cart abandonments and boost revenue by converting valuable Amazon customers. AllSaints experienced a 34% higher conversion rate, 15% higher order values, and a 70-second reduction in checkout time with Amazon Pay.
How Can Magento Merchants Benefit from Amazon Pay Integration?
The benefit of Amazon Pay integration comes primarily from the benefits it offers customers. The more streamlined the user experience you offer on your website, the better it is for your overall business performance. Let's take a look at some of the features that Amazon Pay offers to your customers.
No signup or complicated setup
Signup and registration tend to be tiresome and frustrating processes for most online shoppers. With Amazon Pay, all they need to do is click on the designated (and familiar-looking) button, enter their Amazon credentials, and they're good to go.
Quick and Streamlined Checkout Experience
Did you know that required account creation is one of the top reasons behind high cart abandonment rates? With Amazon Pay integration your customers won't have to actually register on your website, so there's a better chance of them completing their orders right away. Combined with other efforts geared towards a seamless checkout experience, this can mean more purchases completed, and, therefore, more revenue.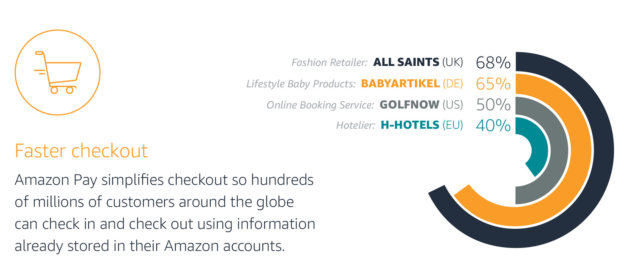 Ease of Use & Speed of Transaction
86% and 84% of Amazon Pay consumers rated it 9 or 10, on a 0-10 point scale, for 'ease of use' and 'speed of transaction,' respectively
source Amazon Pay
Minimized Merchant Costs
On the merchant side, one direct benefit comes from a significant cut in costs when it comes to fraud detection and management. Amazon is known for its extensive fraud-management capabilities, which saves a massive amount of both time and resources for partner merchants. Not to mention that customers are more confident when they know that there's a trusted partner, like Amazon, involved. That factor alone is bound to boost your sales significantly.
Trust and Security
Amazon is one of the giants, not just in online retail, but in business, period. When a customer sees that familiar logo on your website, you can rest assured that some of that reputation and trust could spill over to your business too. Being an Amazon Pay partner does wonders for brand image and customer trust and it's clear how this can be beneficial for your bottom line too.
But it's more than just a question of branding. It's also a matter of online safety and security. With Amazon Pay, customers don't have to enter their sensitive data once again. The risk is therefore minimized, which, in turn, makes people more prone to shop at your website.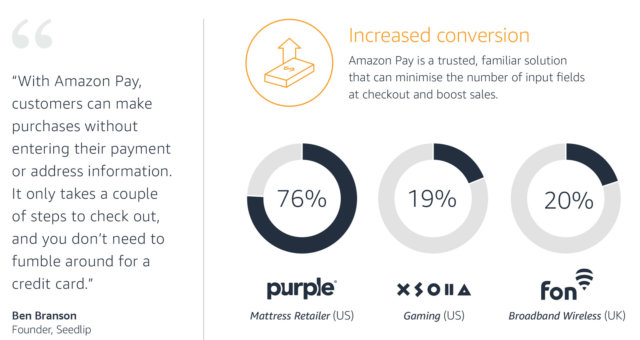 Security & Trust
84% and 83% of Amazon Pay consumers rated it 9 or 10, on a 0-10 point scale, for 'security of the transaction' and 'Amazon Pay brand trust,' respectively
source Amazon Pay
Expansion of Business to New Regions
Thanks to Amazon's multi-currency processing capability, you can offer your services to a whole new world of customers, ones that prefer doing their shopping in their native currencies. What's more, you can offer multi-language support, streamlining the local shopping experience. The way this works is that Amazon Pay accepts the purchase cost in the customer's preferred currency, converting it to your ledger currency, i.e. the one you registered with your account. This means that you, the merchant, don't have to set up international bank accounts for the markets they want to enter. And as you know, bank fees for such services are not exactly negligible.
The list of benefits goes on and on
Thanks to Alexa, customers can get real-time notifications on their Amazon Echo device when their order from your store has shipped. Amazon Pay has a brand new BuyerID functionality in place too, which allows companies to place a unique identifier for each customer, making it possible to, in turn, connect their activities across all channels.
Magento Amazon Pay Integration benefits checklist
Huge Amazon customer base potential
Offer a fast & easy checkout
Amazon Pay multi-currency capabilities
Supports transactions through multiple channels
Easy integration with your Magento store
Best-in-class fraud detection technology and reduces your risk of bad debt
Improves purchase conversion rate
In this day and age, personalized and seamless online shopping experiences are everything and with Amazon Pay, you can just keep exceeding your customers' expectations by constantly improving your service and making them happy. And their satisfaction will reflect clearly and, above all, positively, on your business bottom line.
Magento Amazon Pay Integration?
Arrange a call with Lyndon CEO at 2buy1click
to offer Fast, Easy Checkout, improve Purchase Conversion Rates
with Magento Amazon Pay Integration