"How we increased our customers
Google Search Traffic by 94% in 6 Months"
We started SEO Keyword Ranking Improvement work for our client in September 2018 and since have significantly improved their overall SEO performance, domain and keyword rankings.
The website is an online store selling thousands of products with tough competitors and requires consistent internet marketing strategy to complete in Google Search Results.
With the help and engagement of both our experts, tools and client team the ranking has improved for targeted keywords from not in top 50 to ranks 9 and 4, as well as domain ranking has gone as high as 43% visibility in all search engines.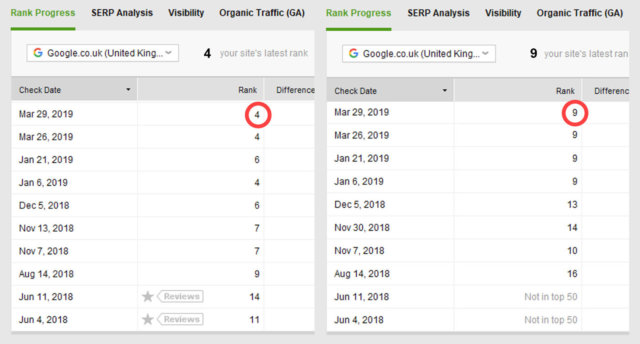 The starting point of good SEO is a quality website. This was the case with our client. This combined with a clear keyword strategy, development work to address non ideal SEO elements of the website and good SEO practices we were able to increase the sites rankings and visibility in Google Search Results.
SEO Keyword Ranking Improvement – Strategy Workflow
Let's take a look at the work done. We first analysed overall website SEO key parameters and identified it's weak spots using our state of the art SEO analysis tool. Initial SEO report indicated some technical issues and content problems that needed to be resolved first to set a solid starting point to further build the SEO strategy.
Month 1
The first month we run an initial audit using our state of the market leading SEO tool and the overall SEO position was reviewed to identify the areas which required immediate attention. The purpose of our audit was to identify technical issues that could harm the user experience and also Google's ability to index the website correctly. It also dealt with technical issues that could be leaking website authority.
We allocated and dealt with several technical issues and content improvements which resulted in fixing a total of 1,050 issues.
On Page Content Analysis
Technical issues fixed
.xml sitemap fixed
Fixing crawl and server errors
Fixing content issues with missing Alt text
Fixing broken links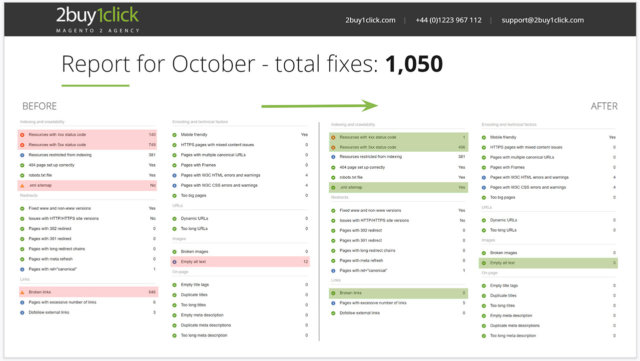 Month 2
Further work was done on fixing important items such as HTTP/HTTPS site versions and page redirects. The overall fixing for this month included a total of 498 fixes.
Fixing issues with 4xx status
Fixing issues with 302 redirect
Fixing issues with HTTP/HTTPS site versions
Fixed www and non-www versions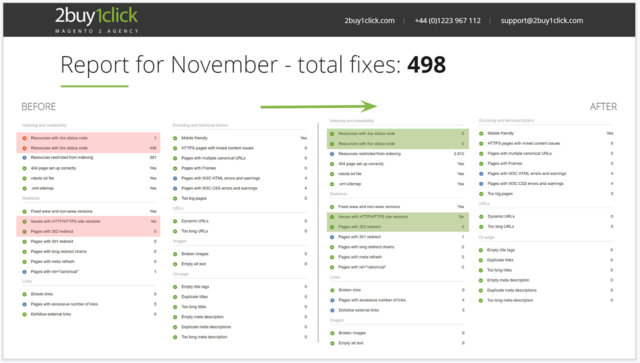 Month 3
The final "clean up" was completed and brought the site to properly optimised flawless SEO structure, which set the foundation to start focusing on keyword ranking improvements.
Resources with 4xx status code – Completely fixed
Pages with 301 redirect – Completely fixed
Broken links – Completely fixed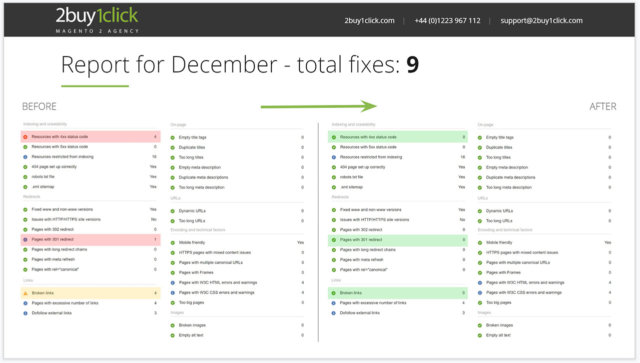 SEO Keyword Ranking Improvement – Keyword Analysis
After we performed a full SEO technical and content issue update, our next goal was profoundly challenging. The client required a better-targeted keyword ranking for specific pages. The keyword difficulty for these particular keywords is as per graphs below between 69% – 84%, where keywords scoring 51 and upwards are considered pretty tough to rank for (There are lots of other websites also focusing on ranking for these keywords hence the tough competition).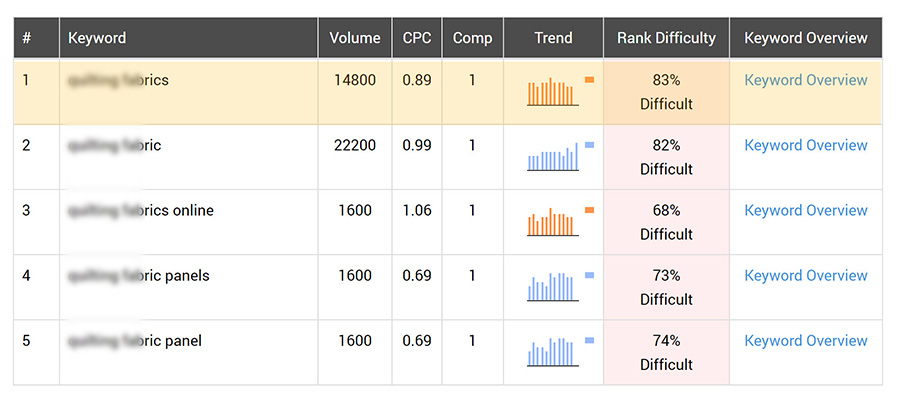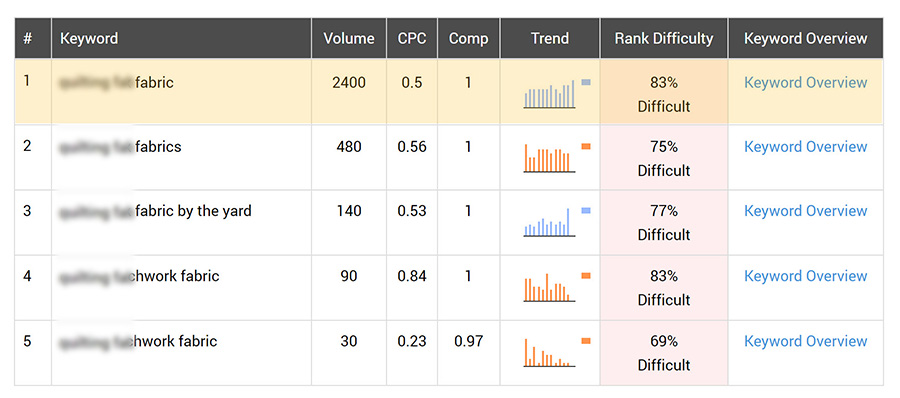 Keyword difficulty (also known as keyword competition) is one of the most important metrics considered when doing keyword research. The higher is the keyword difficulty, the harder it is to rank on the 1st SERP due to a high competition of the ranking websites.
Month 4
After conducting a keyword ranking analysis and current position for the customers website, we further investigated website structure and how we could improve the ranking of these keywords.
We proposed some website structural changes to the client and after approval, we restructured the website pages to incorporate the keywords properly within categories, menu items, breadcrumbs.
Further work was done on introducing H1 titles that were hidden and styled new page templates for mobile devices.
Specific keyword ranking analysis
Analyzing the site keyword content structure
Updating the website templates for desktop and mobile
Introducing H1 titles to help keyword ranking
Month 5
After the major styling changes were completed, Google Webmaster tools Mobile usability tests were performed and the client advised on specific content issues related to incorrect input of product information. It also indicated some issues with clickable elements that we further worked on improving.
Mobile usability tests
Styling for mobile devices as per Google standards
Further updating, styling and element positioning
Month 6
Final tests were performed and the client made sure the content is up to date and within good SEO practices.
SEO Keyword Ranking Improvement – Results
Google Traffic
When we started the client was getting approximately 1,246 organic search visitors per week. After 6 months we increased their organic search traffic to 2,429 per week. A 95% increase in traffic.
Orange line is traffic from April to September (Before we started), Blue line is traffic from October to March as we carried out the SEO work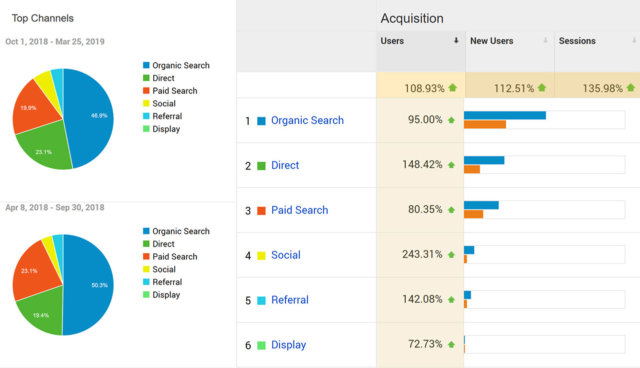 Keywords
Our work on Keywords resulted in:
First targeted keyword going from rank 14 to 4
Second targeted keyword from rank 16 to 9
12 keywords that rank in the Top 10
3 keywords that are ranked as 1st
Highest keyword ranking jump +33
Overall keyword jump tendency, where average jump per keyword is 14


You can see in the two graphs above the ranking progression of two keywords. Note that SEO is not an exact science and there can sometimes be movements up as well as down. This can be the result of google recalibrating the update on your website, or other competitor site for the same keyword making an improvement or Google updating their ranking algorithms.
None of these can be controlled. What we can control is improving and maintaining Good SEO practice on your website to counter these 3rd party events.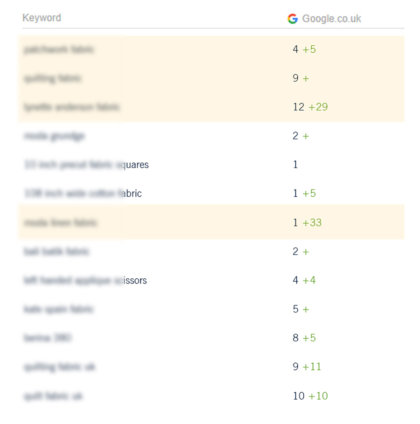 Continual SEO Service
Find our data sheet and information on our Continual SEO Content and Brand Enhancement service available work for your website SEO to achieve increased traffic and the benefits you will gain from this.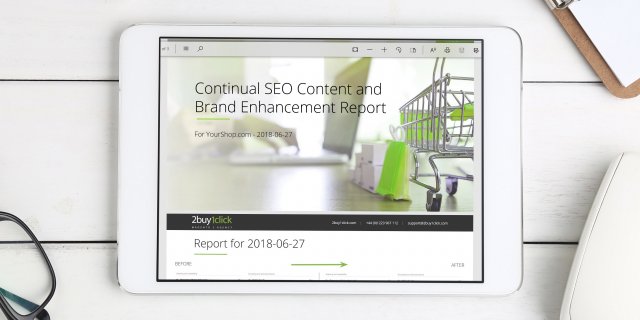 Need to Boost your website SEO?
Arrange a call with Lyndon CEO at 2buy1click
and Increase Sales through additional traffic via SEO,
Improved Conversion & Content Quality