Zoovu's AI Conversational SaaS Platform helps create scalable customer experiences in any language, on any channel for easier and faster purchase decisions.

2buy1click Ltd is Zoovu certified Partner.
Contact us for more details.
Sell online as if you were in-store with Magento Zoovu integration
Zoovu is an AI-powered conversational search platform that helps Magento merchants create customer experiences and start dynamic, personalized conversations on any digital channel. By bringing online shopping one step closer to the in-store experience, customers are led to easier and quicker purchase decisions.
Why Zoovu Magento Integration?
Zoovu helps merchants eliminate uncertainties and gently push indecisive customers towards purchases by using conversational search options that provide streamlined paths in all languages. The platform boasts a state-of-the-art set of features that makes a Magento Zoovu integration the perfect choice for all merchants looking to improve their conversion rates and revenue.
The search function is one of the most neglected eCommerce features and one that can cost Magento merchants a lot of revenue, and here's why. Broken searches lead to what we can call "choice paralysis," a situation in which a customer has a hard time deciding between options, so much so that they don't end up purchasing anything.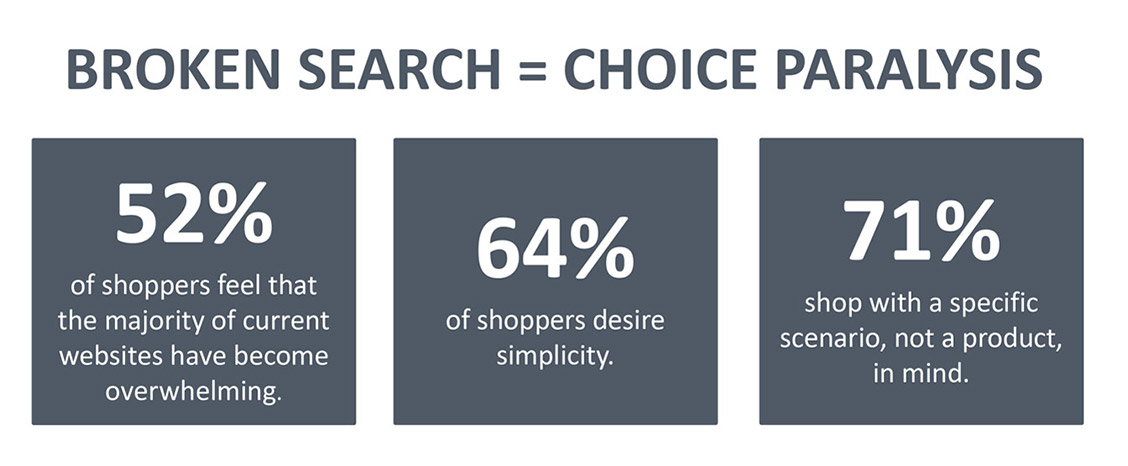 Did you know that 52% of shoppers feel that most websites are overwhelming? This greatly affects their purchase intent. Furthermore, 64% of shoppers ask for more simplicity and 71% of them go online shopping with a specific scenario in mind, not a specific product.
It's clear that by improving the search function, making it more conversational, more personalized, and more complemented with digital assistance features, retailers can improve the customer experience in their shops and drive customer purchase intent up.
Top Zoovu Features
Here's what makes Zoovu an outstanding conversational search platform:
Advanced technology – Thanks to a carefully crafted set of tech components and solutions, Zoovu promises a quick and scalable rollout of your conversational search strategy in mere days (90% quicker than the competition).
Measurable success – Zoovu delivers on what it promises, so its users report 211% higher conversions, 47% higher order rates, 22x ROI in just a few weeks, and higher customer satisfaction, all of which can be easily measured and viewed from the built-in dashboard with customizable reports.
Smart optimization – Zoovu is based on AI technology that processes customer conversations throughout digital channels, which allows for digital assistants to constantly and consistently learn and optimize in real-time. Merchants have absolutely no need for any manual processes or testing, which saves them time and money.
Global rollout – Thanks to this feature, you can scale and set your digital customer assistants across all your marketplaces, regardless of where they are located in the world and which languages they use, with the ability to roll them out all at once.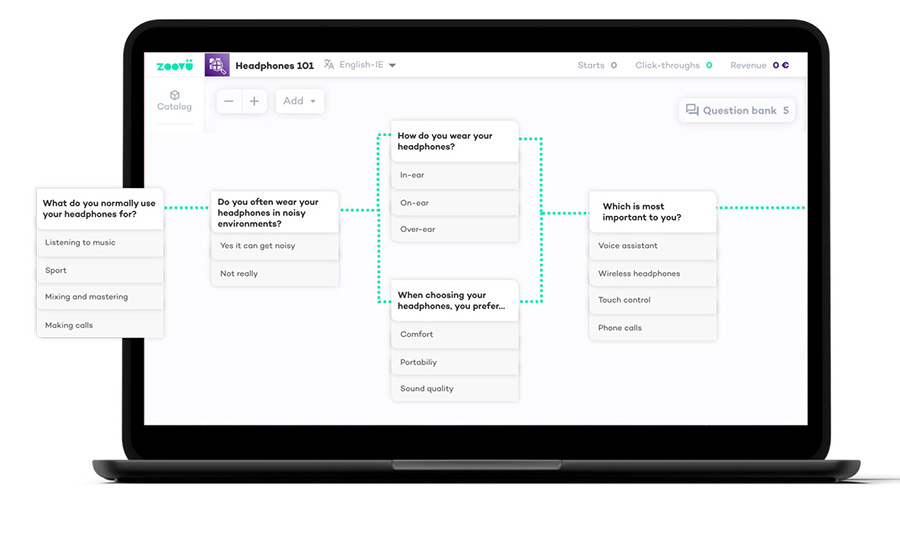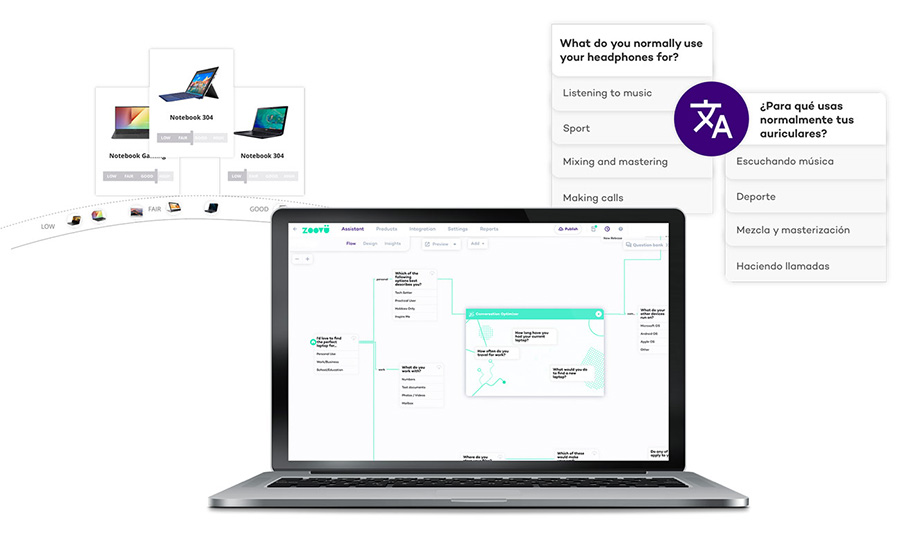 Research and analysis – All conversations are evaluated and analyzed to provide valuable insights into your Magento store's customer behavior and customer preferences, allowing you to tailor and adjust your strategies accordingly
Constant development – Zoovu is constantly working on providing new and improved solutions for conversational search and digital assistance, making sure the needs of the ever-changing market are met.
Security and performance – With Zoovu, you can be 100% certain your data will be safe, secure, and 100% GDPR-compliant. Furthermore, thanks to high-performance servers and regular penetration tests, Zoovu guarantees the highest possible availability (99.9%) and perfect response times.
24/7 global support – Last but not least, Zoovu provides professional, friendly, and highly qualified support around the clock, seven days a week, to all its users across the globe.
Zoovu Conversational Search for Brands and Retailers
Thanks to conversational search features, such as interactive product advice, a Magento Zoovu integration can help merchants increase sales across all their distribution channels and engage customers throughout all stages of the customer journey.
With a customizable digital assistant and conversational search features, brands and retailers can increase brand awareness and build loyalty, expand their reach, and increase sales. In addition, they can make use of valuable insights into behavioural and transactional data.

Zoovu aims to help all merchants sell the right products to all of their consumers, increase average order values, accelerate distribution, and help seamlessly launch seasonal campaigns.
Best of all, thanks to 2buy1click being a certified partner, your Magento – Zoovu integration can be taken care of quickly and expertly.
Increase sales across your distribution channels
Turn your customers' search experiences into successful shopping
experiences with Magento Zoovu Integration. Contact Lyndon CEO at 2buy1click now