PayPal solutions for Magento can help increase sales, reduce risk and deliver a better overall customer experience
2buy1click Ltd is PayPal certified Partner.
Contact us for more details.
The reasons why PayPal appears on almost every online store
Today, we're going to look into some of the most notable benefits of Magento 2 PayPal integration, but first, let's discuss why PayPal.
PayPal is the biggest online payment system, operating in 202 markets with 346 million active users. For many online shoppers, PayPal is the preferred payment method, thanks to its ease of use, safety, and convenience.
These days, more and more people choose to complete their online transactions on mobile, especially if we're talking about eCommerce retail purchases. In fact, in 2020, the mobile share of total eCommerce spend was 70.4%, a percentage that shows a clear preference for mobile over desktop purchases.
Integrating PayPal into your Magento website is a step that can increase your mobile conversions and a step that's actually rather easy to make with the help of dedicated Magento specialists. As a certified PayPal partner, 2buy1click is the perfect source for all things related to PayPal integration for Magento.
Launched back in 1998, PayPal quickly made its way to consumers' hearts as one of the fastest, most convenient, and secure methods to complete an online money transaction. In an era when eCommerce has become a serious contender to traditional brick-and-mortar retail, PayPal became the strongest contender to credit cards for the title of the most popular payment method, now operating across 200 worldwide markets.
For a Magento 2 website, PayPal means several things:
A way to optimize the customer journey in its final stages.
A better customer experience for users who appreciate a great choice of payment methods.
A reduced risk of fraud.
A means to improve sales and boost brand authority.
Magento 2 PayPal Integration Benefits
Express Checkout: Thanks to PayPal's express checkout functionality, your customers can complete a purchase in just two clicks: one click to log in to their PayPal account and another one to complete the purchase.
Recurring Payments: By enabling recurring payments and subscriptions you can increase your revenue and assure a steady income flow, while simultaneously allowing your customers to quickly pay for items they purchase on a regular basis.
Fraud Protection: PayPal offers extensive seller protection, in cases of hacked accounts, fraudulent purchases, or customers simply claiming they did not complete a purchase. The Seller Protection policy covers the merchant for the full amount on eligible transactions.
No Setup, No Monthly Fees: Customers complete their purchases simply by logging in to their PayPal account, so there's no need to set up additional accounts. And with a PayPal Business account (also easy to set up), you pay only after you receive the payment. PayPal does not collect any monthly fees from Magento merchants.
Invoices and Estimates: The PayPal Invoicing toolset is packed with solutions for small businesses, from customized templates and full device compatibility to recurring billing and payment reminders.
What Can PayPal Solutions for Magento Bring to Your Business?
As a certified PayPal partner, 2buy1click can introduce eCommerce solutions for easy one-touch payment to your Magento web store. Let's take a look at some of them.
PayPal Checkout
PayPal Checkout is a service that, since it's rollout, has been driving some of the highest conversion rates in eCommerce across all fields. This solution provides customers with smooth, streamlined customer experience in its most sensitive part, the checkout, traditionally known as the stage with the highest bounce rates.
By reducing the number of steps (clicks) that a customer needs to perform in order to complete a purchase, PayPal Checkout reduces the risk of cart abandonment. Smooth checkout experience also improves brand reputation and therefore increases the number of returning customers.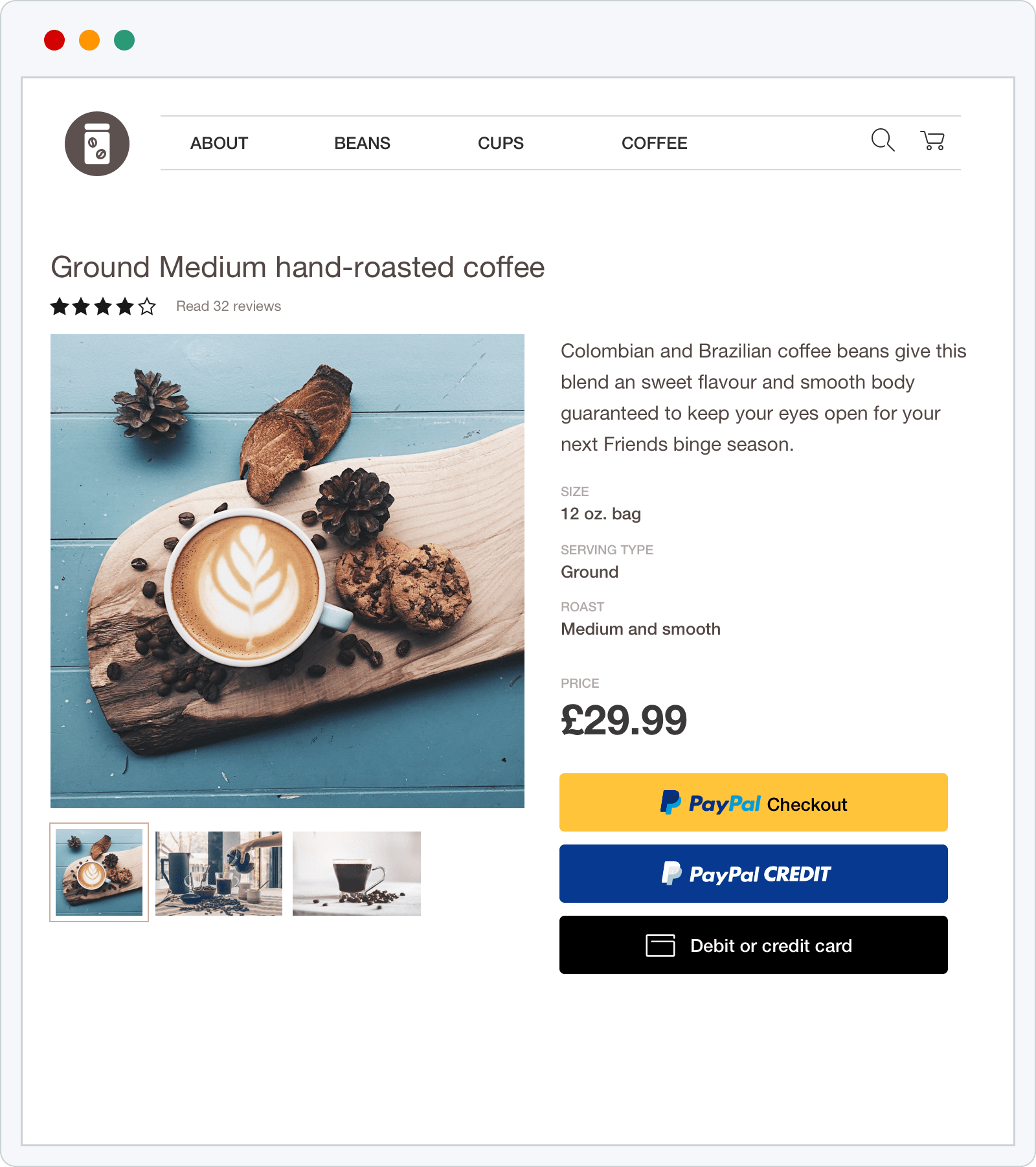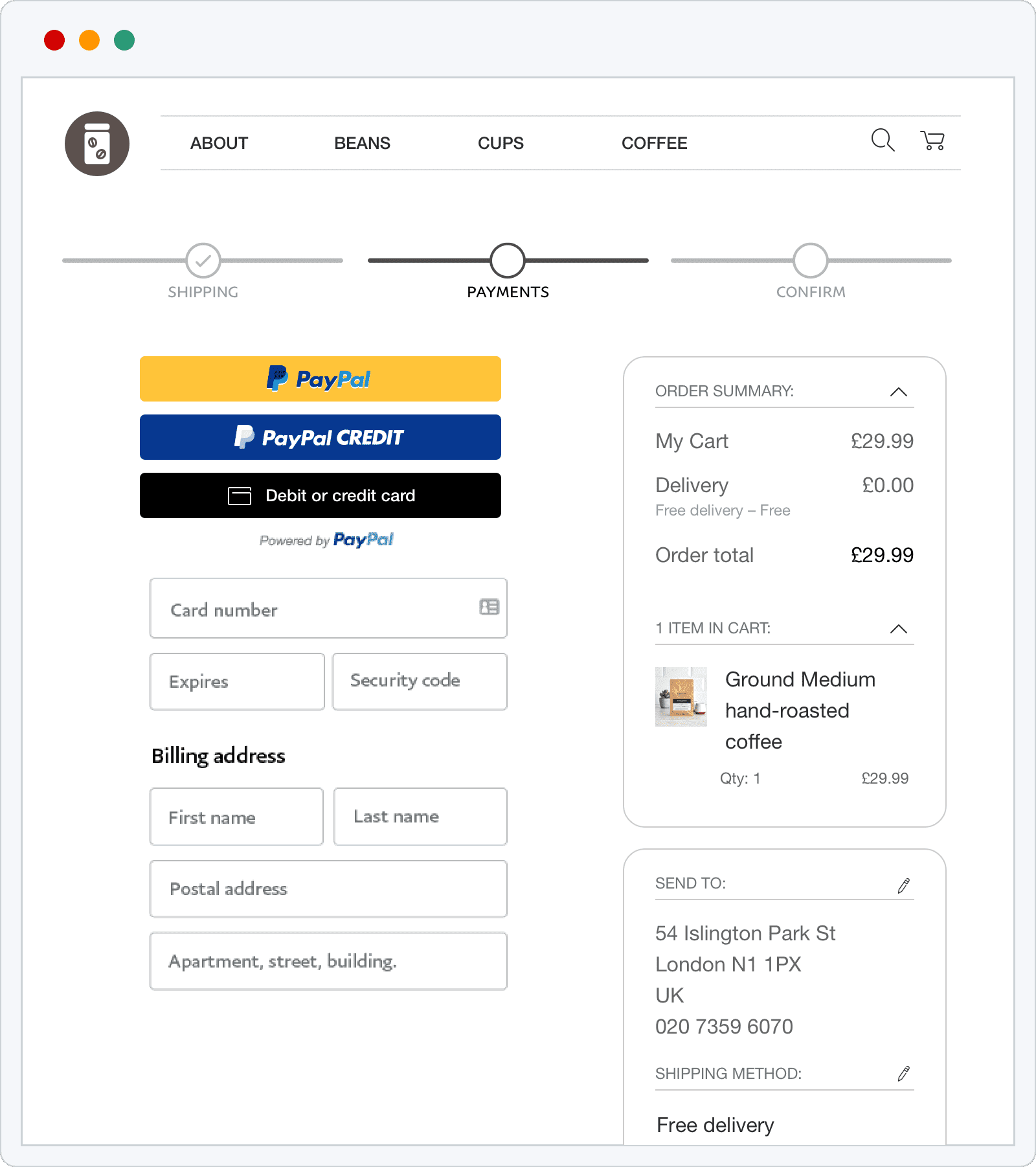 PayPal Checkout includes a very powerful solution called One Touch, enabling express checkout to all customers. Thanks to this service, a customer only has to opt-in once to be able to check out across millions of services and websites without having to fill in their information each time. For them, it is a welcome time-saver, and for the merchants, it is a way to increase registration rates, conversions, and repeat purchases.
An important feature of PayPal Checkout is the Buyer and Seller Protection for eligible purchases. This feature protects the buyer in case the product doesn't match the description, is delivered with a fault, or doesn't get delivered at all. It also protects against email phishing and identity theft.
PayPal Marketing Solutions
If you opt for Magento 2 PayPal integration, in addition to PayPal Checkout, you can also choose to enable PayPal Marketing Solutions. This toolset is essential for understanding customer needs and using them to drive conversions.
A feature called Shopper Insights offers metrics regarding site traffic, conversion rates, average purchases, shopper devices, and more. This powerful analytics tool is accessible directly from your PayPal business account, where all reports can be set and customized to display just the metrics you need.
The same tool also allows you to display onsite banners that encourage customers to shop more. The banners are customizable to display your own messages and to appear exactly where and when you want them.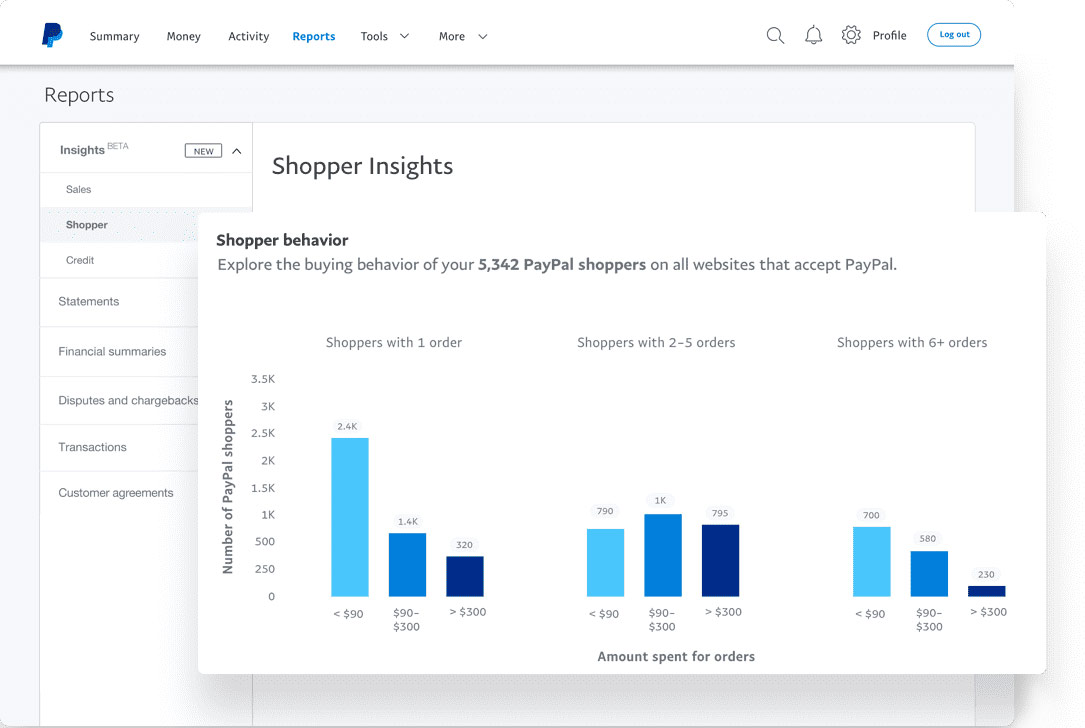 In addition, you can use PayPal Marketing Solutions to remind users of their abandoned carts, prompting them to complete purchases through PayPal Checkout.
From all this, it is clear that Magento 2 PayPal integration is a failsafe way to quickly, easily (and cheaply) increase sales, reduce risk, and deliver a better overall customer experience.
With 2buy1click as an official PayPal partner, your Magento 2 store can be easily integrated with all the latest PayPal solutions, allowing you to reap all the benefits that come with one of the world's most popular and trusted online payment services.
Need to set up PayPal Checkout?
Arrange a call with Lyndon CEO at 2buy1click
to increase sales, conversions and reduce risk
with Magento 2 PayPal integration