Build brand credibility, improve marketing performance, grow sales by showcasing customer reviews onsite, in email and on ads.

2buy1click Ltd is a Trustpilot certified Partner.
Contact us for more info and special rates.
Trustpilot is the UK's leading online review community
Trustpilot is the leading consumer website, founded in 2007, working with users and software to guarantee the content that gets published on the platform is nothing but genuine and trustworthy. The platform publishes nearly one million new reviews each month, and more and more people are joining in, creating a unique ecosystem of trust and collaboration with one simple goal – to improve customer experience and help businesses grow and expand.
Anyone can post a review, as long as they create an account. For the reviewers, the service is free, while businesses can pick between the free version, which is rather basic, and one of the pro packages that allow them to gain full insight into reviews posted about their company and prioritize the ones they want. The main goal is to get actionable insights into where you can do better, what your strong suit is, and what errors you should avoid in the future.
Who Can Benefit from Trustpilot Reviews?
Virtually any business that offers services or sells products can benefit from collecting and analyzing customer input and that's precisely what they get with Trustpilot reviews. That's also the reason for the platform's tremendous popularity.
For example, you're running an eCommerce website, selling small electric appliances and gadgets. You're aware that a lot of people, before purchasing a product, perform online research to see how other users, the ones who have bought the product, feel about it. If they can find reviews for your products on a trustworthy platform like Trustpilot.com, and if the reviews are honest and generally positive, they will be more likely to buy from you.
Online review reach is larger than ever too.
Trustpilot now enjoys 58% market awareness in the UK and it's growing every day.

The influence of reviews in above the line advertising, London Research (2018), by Trustpilot
Importance of Trustpilot Reviews for SEO and PPC Campaigns
Search engines just love user-generated content. They give a website an instant boost, but the role of reviews goes beyond that simple logic. Here are some of the effect of Trustpilot reviews on SEO & PPC campaigns.
Earn Rich Snippet stars
A rich snippet is a structured data markup that you can add to your website to help the search engines understand what your content is all about and the information it contains. In turn, search engines display that content in search results in a way that provides more information to users too.
Simple search results contain the link and the meta description of a page or a site, while rich snippets contain a multitude of information, including the ratings and reviews, in the form of a star rating. Such results get favored and pushed to the top of the search engine result pages, driving more traffic to your company website.
Business profiles featured on the Trustpilot platform generally tend to make it to the first page of search results, and oftentimes, to the upper half of that page.
Improve PPC ads with Google Seller Ratings
As for your pay-per-click campaigns, thanks to the Google Seller Ratings extension, users can learn which advertisers are the best (best-rated, that is) for the product or service they're interested in. And to get this service, you need Google AdWords, which you probably already use, 150 unique reviews for the last year, and an average rating of 3.5 stars or above.
Google Product Listing Ads & Push to Google Shopping
Trustpilot feeds product reviews to Google Shopping. If you use product listing ads from Google, in selected markets the Trustpilot product ratings will be displayed below the product listing. If your product reviews aren't listed, you might not be meeting Google's requirements.
What About Trustpilot Analytics?
Premium users can make use of the powerful analytics features that come with a pro Trustpilot account. The Trustpilot Statistics Dashboard is an intuitive and user-friendly tool that tells you how many reviews you have for a particular rating, how many new reviews you have received in a given period, and how your profile page is doing on Google. These are extremely actionable insights that can help you create new content and improve things that need improvement, or boost things that are already working well.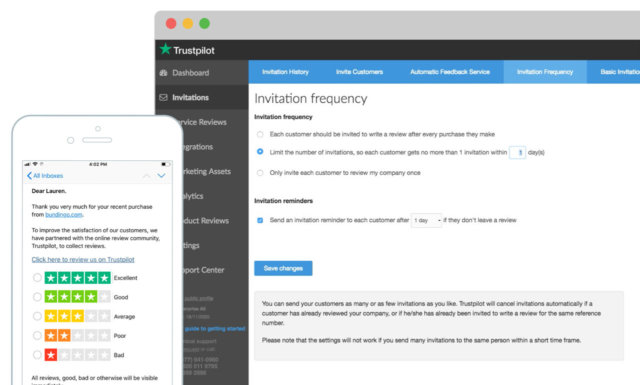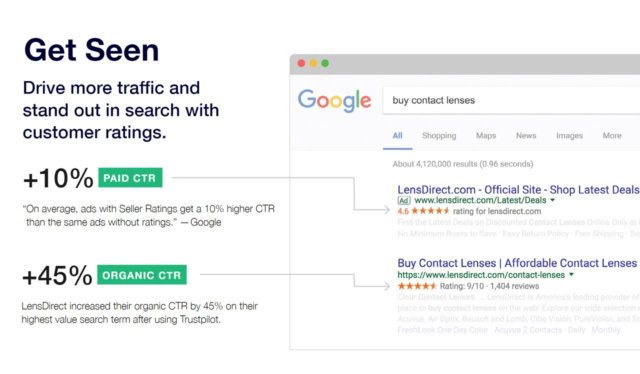 Resources provided by Trustpilot
How Does Trustpilot Compare to Other Review Platforms?
The numbers are clear and for numbers you should look at the single most relevant source, and that's Alexa. The Alexa Traffic Rank is a tool that shows how a particular website is doing compared to other websites, looking at a period of the last three months. The result is obtained by factoring in the website's estimated average number of unique visitors per day as well as the number of page views. The lower the score, the better, as lower scores mean more traffic.
Now let's look at Trustpilot's Alexa scores. More than 66% of traffic per month comes through Trustpilot compared to other review websites.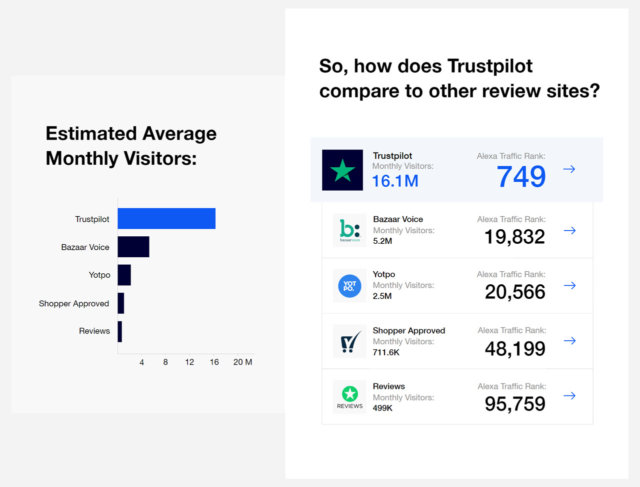 Resources provided by Trustpilot
Trustpilot Reviews checklist
Collect, keep collecting, respond to and display reviews
Ensure you have a Google AdWords strategy
Make sure you're ready for Rich Snippets
Use TrustBoxes
Analyse your reviews
Show reviews in your content marketing
Trustpilot reviews are an incredible motor for traffic and revenue as they help you get seen, sell more and, let's not forget, improve your business by fixing your shortcomings and weak spots. There's nothing like consumer feedback when it comes to finding out ways to do better. With a trustworthy and reputable partner like Trustpilot, that feedback can set you far apart from the competition and be a crucial motor for growth and expansion.
Need to Grow your Brand Trust?
Arrange a call with Lyndon CEO at 2buy1click
& find out How to Improve Conversion, Increase Sales
& Build Brand Reputation using Trustpilot Reviews