Purpose build, lightning-fast with the performance and reliability and hosting resource scaling on demand
2buy1click Ltd is Sonassi certified Partner.
Contact us for more details.
Magento hosting Sonassi perfect choice for all Magento merchants
eCommerce hosting is absolutely essential for the proper functioning of any online store, big or small. Without it, all other efforts directed towards building a powerful store are essentially futile.
Good hosting enables your store to stay online even during peak traffic, providing a smooth and streamlined shopping experience to customers.
When it comes to Magento, 2buy1click has become a certified Sonassi partner, which means that you can now enjoy powerful, purpose-built Magento hosting with premium scalability and performance features through us.
Before we dig deeper into the features that make Sonassi the perfect choice for all Magento merchants, let's learn a bit about this eCommerce hosting provider.
Why Sonassi – Speed Matters
What sets Sonassi apart from other hosting solutions is the fact it was built specifically for Magento. It started the same year as Magento, in 2008, and has been working with the eCommerce platform ever since.
In tailoring its hosting features, Sonassi made a point of being thorough. After having powered a plethora of high-performance, large-scale stores, Sonassi is now at a point where it can promise a set of features that other hosting providers cannot. Most notably, this includes a special server operating system optimized specifically for Magento called MageStack, along with a slew of top-of-the-line features and exceptionally dedicated support.
While there are several other hosting solutions that are dedicated to Magento hosting alone, Sonassi has been in it for the longest. The company boasts a team of veteran Magento devs, with years of experience running and supporting large-scale online stores.

Being dedicated solely and exclusively to eCommerce, Sonassi brings a whole new meaning to the word "eCommerce-optimised," something that many promise but only a few actually deliver.
The company is regularly praised by clients for its uncompromising quality of service, lightning-fast speed, and innovative solutions, all based on the proprietary MageStack operating system.
Let's take a closer look at some of the remarkable features that make Sonassi the perfect choice for Magento hosting.
Sonassi MageStack Operating System
Sonassi's own MageStack OS is one of the key reasons why this provider is the best for Magento 2 hosting. Built specifically for the eCommerce platform, MageStack provides an extremely fast environment for any size store.
In fact, with MageStack, you can have page load times as quick as 3 milliseconds for cached content, and 800 milliseconds for uncached pages. Considering that speed is the number one criteria both for users and search engines, it's clear why this is such an important feature.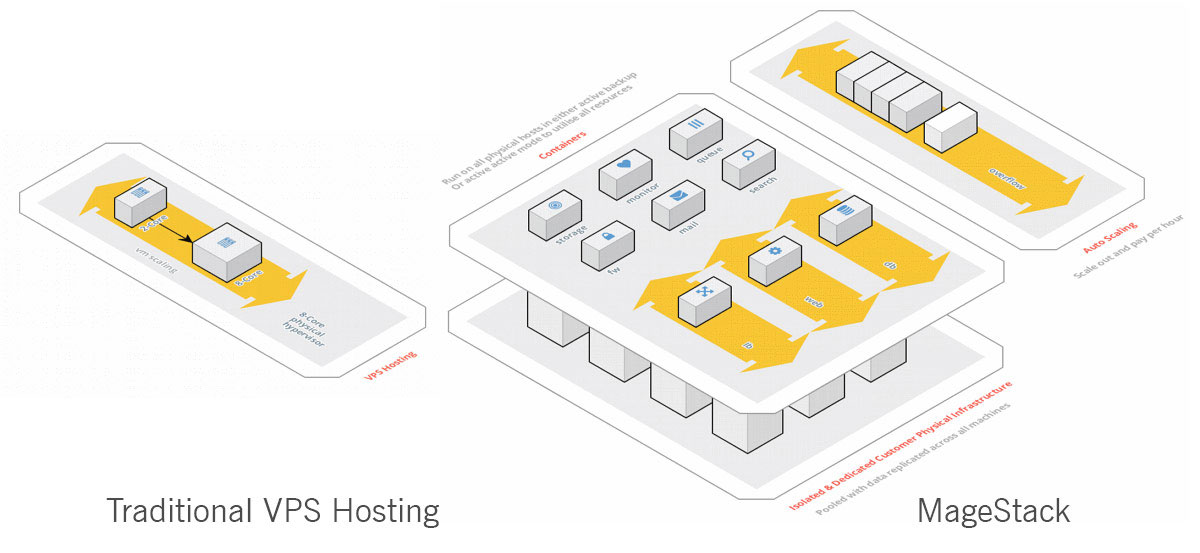 Furthermore, MageStack promises high availability even during hardware failures, comprehensive data backups, and infinite scaling possibilities, without reconfiguration.
In addition, Sonassi's services include a wide global CDN, meaning your customers can access your stores from locations that are geographically nearest to them, instead of have to access the store from a single location.
Magento hosting Sonassi Top of the line Features
Overflow Servers
Sonassi's overflow servers were built specifically to handle high-traffic campaigns, both short-term (seasonal flash sales) and long-term. These servers are readily available within 60 minutes and provide automatic scaling within 60 seconds. They can be controlled with a single click and allow for adding as many overflows as needed.
The best part is that MageStack is built to scale horizontally. This means that if you decide to add an overflow, you don't need to change a single thing in your store.
These high-capacity servers can handle 555 visitors per server, approximately 12,000 store visitors per day.
Robust Enterprise Infrastructure
Sonassi is based in the UK but has data centres across the globe. From Amsterdam and Singapore to New York and San Francisco, the company has 25 locations connected in a resilient fibre network, wholly and exclusively owned by Sonassi.
No third-party facilities or hardware means top-notch control and dedicated service without shared responsibility.
24/7/365 Support
Sonassi boasts tremendous 24/7/365 ticket-based support. This means that if you need assistance during the seasonal high-traffic times like Christmas or New Year's Eve, you will get it, as Sonassi support is always on call.
The average emergency response time is three minutes, 14 minutes for a normal priority ticket. Their ticket resolution rate is 100%.
Sonassi Magento hosting in a Nutshell
As you can see, Magento hosting by Sonassi is an excellent choice for high scale enterprises and stores that require great reliability, immaculate speed, and perfect uptime. To recap, here are some of the main features that Sonassi boasts and what makes it the preferred solution for many eCommerce businesses around the world:
OS tailored specifically for Magento hosting
High availability as a standard
Fast page load times
Auto-scaling
Comprehensive on- and off-site backups
Integrated global CDN
3-layer security firewall
PCI compliance
Fully managed with root access
99.95% SLA uptime guarantee
25 worldwide locations
Flexible stack configuration
Looking for the Fastest Magento Hosting?
Partner with 2buy1click and Sonassi
and see how together we can accelerate
your Magento online business