Continual Magento SEO Content and Brand Enhancement
Increase sales through additional traffic via Magento SEO, improved conversion and content quality.
Increase traffic, Preserve Brand Quality
SEO – Increase your Google ranking for more free traffic more sales
Quality – Improve your site content quality
Brand Perception – Maintain or enhance your branding consistency
QA – Quality control all updates made by parties working on your website (your team, marketing agencies, developers) and fixing them continually
Saves you time – We continually fix it
Positive ROI – All fixes have a cumulative effect over time to generate new sales
What Would We Do For you?
We will work down our checklist of over 40 items and fix them.
Over the months your website will continually be improved with fewer issues, including fixing new ones.
No one else offers such a valuable service at such an unbelievably low price.
Continual SEO Content and Brand Enhancement Plans
Essential

2h/mon

Premium

4h/mon

Enterprise

6h/mon

Pay Per month. No contract necessary!
+
+
+

Monthly Web Audit Tool Run

+
+
+

Monthly Analysis (hours)

+
+
+

Monthly Hours Fix as many issues as we can in your agreed plan

2
4
6

Fix SEO System sitemap, robots.txt

+
+
+

Fix Metadata Title, Description

+
+
+

Fix 404

+
+
+

Fix / Add Image Alt Text

–
+
+

Fix Images size optimisation*

–
+
+

Fix Images correct format png, gif, jpg*

–
+
+

Fix Missing / Broken / Blurred Images*

–
–
+

Monthly Status Report

+
+
+
* Image optimisation work requires more time so is only offered on Enterprise package
This low-cost service will pay back over and over again through additional traffic creating more sales, better user experience increasing conversion and maintaining your website to the high-quality demands of your brand.
Another advantage is any content quality issues that are introduced by accident are found and fixed.
So often, we see websites that have blurry product images, text broken over 2 lines or other issues. In the past we would report to clients, but they would still not get resolved. Everyone is just too busy. Now we take that burden off your hands.
Another significant advantage is that each issue found requires a different technical skill to fix. For example a missing page title. You may think it's only text, however:
What are the best keywords to put in that text?
After the text has been added is that unique on your website?
Or a broken link. What do we do about that?
Is the link added incorrectly?
What is the correct link?
If the website where the link pointed to has gone, what is the best link to update it to now?
Redirection issue, does the Backend team or server team need to address this?
You just receive the ongoing benefits of your brand being maintained to its best and additional traffic to creating new sales.
The Checks We Carry Out Monthly
This is a list of many of the items we will check and fix. The list is long and will be continually added to as we find more items that must be checked.
Run SEO Website Audit report – Example
Run SEO Website Audit report
Indexing and crawlability

Resources with 4xx status code

Resources with 5xx status code

Resources restricted from indexing

404 page set up correctly

robots.txt file

.xml sitemap

Redirects

Fixed www and non-www versions

Issues with HTTP/HTTPS site versions

Pages with 302 redirect

Pages with 301 redirect

Pages with long redirect chains

Pages with meta refresh

Pages with rel="canonical"

Links

Broken links

Pages with excessive number of links

Dofollow external links
Encoding and technical factors

Mobile friendly

HTTPS pages with mixed content issues

Pages with multiple canonical URLs

Pages with Frames

Pages with W3C HTML errors and warnings

Pages with W3C CSS errors and warnings

Too big pages

URLs

Dynamic URLs

Too long URLs

Images

Broken images

Empty alt text

On-page

Empty title tags

Duplicate titles

Too long titles

Empty meta description

Duplicate meta descriptions

Too long meta description
Visual / branding review of website
Fix images

Too big

Wrong format

Missing

Poor quality

Cropped wrong

Misaligned

Identify brand quality issues

Brand inconsistencies

Font / Logo / Type case and format

Identify layout issues / Mobile 1st / Desktop 2nd

Fix or report mobile layout issues
Deliverable
Monthly summary report of before and after fixing which demonstrate the value of improvements we will continually make on a single page.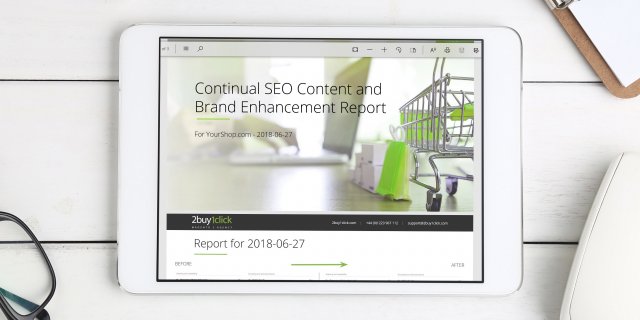 Need to Boost your website SEO?
Arrange a call with Lyndon CEO at 2buy1click
and Increase Sales through additional traffic via SEO,
Improved Conversion & Content Quality