Deliver relevant content to users in milliseconds with Algolia powerful search API
2buy1click Ltd is Algolia certified Partner
Build an optimized and performant search experience for your Magento store
Algolia is a hosted search engine that, when integrated within a Magento eCommerce website, improves the online experience and increases conversions by delivering lightning-fast, relevant, and meaningful results.
Algolia is used by thousands of brands and businesses delivering billions of results each month, in under 100ms and often even under 20ms. As 2buy1click is a certified Algolia partner, this powerful solution can now be integrated into your Magento store quickly and seamlessly, helping you improve user engagement and boost conversions.
Being AI-powered, Algolia allows for almost instantaneous delivery of the most relevant pieces of content, with improved browsing and recommendation experience. This is particularly vital in eCommerce, although other kinds of online businesses can also benefit greatly from this sort of improved search experience.
Algolia boasts a powerful, ever-expanding set of features, offering assurance that the solution plans on staying on top of the latest trends when it comes to search optimization.
This solution is based on a powerful, hosted search API, allowing users to integrate a fast, ultra-relevant search. In the case of eCommerce sites, this means a better shopping experience for users, which leads to higher purchase rates.
Algolia also packs powerful analytics tools that offer precise, relevant insights into data that helps improve UX and customer journeys across all segments of the website. Merchants get to better understand their users and their needs to adjust their response strategies accordingly.
In addition, Algolia packs a set of features for A/B testing, helping users identify the most efficient relevance strategies, instead of just guessing.
Thanks to the highly customizable rules feature, merchants can optimize internal search relevance and discover (and respond to) user intent in a more efficient way, which has a direct positive impact on default rankings.
Get Customers from Search to Purchase faster
The service also features a special InstantSearch option, a set of UI components that allow for better sorting, federated search, "search as you type," result pagination, and other solutions that enhance the search experience.
Algolia also helps Magento merchants expand their personalization efforts by delivering tailored search and discovery results to their users.
Next, the Crawler feature bypasses the need to construct pipelines between different sorts of content, different pieces of content, and teams managing that content by automatically extracting content from all across the website.
Algolia comes with an intuitive visual editor that allows merchants to craft their search and discovery experiences in a way that fits and complements their brand image and business goals.
Algolia makes excellent use of natural language understanding and search in order to help find answers to queries tucked deep within the website content and, ultimately, get customers from search to purchase faster. It even features AI-generated synonyms to deliver relevant results no matter the exact word that was used in the query.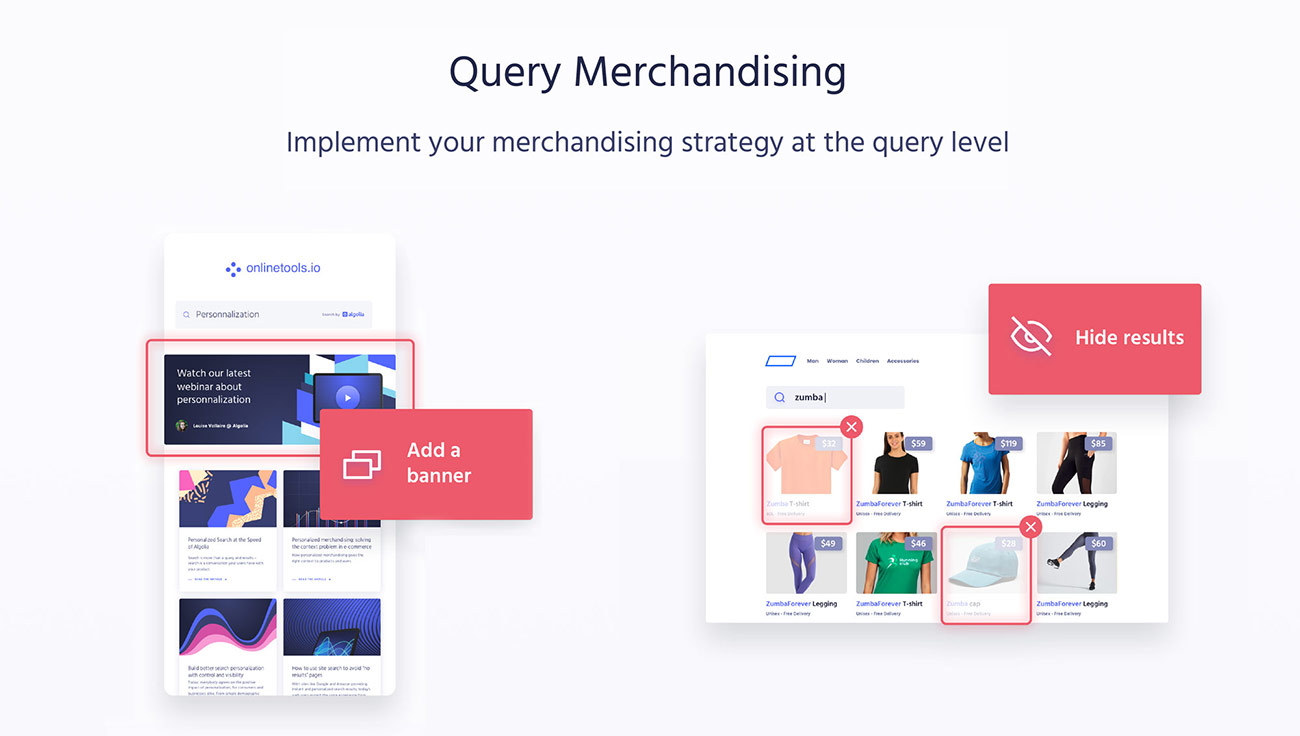 Now that we have established what makes Algolia such an exceptional solution for boosting engagement and conversions through an improved search functionality, let's see what it is that makes it ideal for Magento shops.
First of all, if you opt for this solution for your built-in search needs, you can count on a quick and seamless Magento – Algolia search integration with 2buy1click, a certified Algolia partner and experienced Magento specialists.
Second, you will be able to tailor and adjust the search functionality to perfectly fit your Magento store's specific merchandising and business logic. You will be able to easily create custom landing pages that optimize conversion and boost traffic to your shop. Finally, you will also have at your disposal some powerful analytics tools to help you better understand your customers and their needs.

Magento Algolia search integration for seamless search experience
Speed is an enormous factor of success for any sort of website, and perhaps even more for eCommerce websites. Speed affects a website's search engine ranking, bounce rates, and CTR. Algolia makes sure your entire processing workflow maintains constant and superb speed. For instance, with Algolia, your users' search requests will always have priority over operations such as indexing.
The second-most-important factor for a Magento shop's search functionality is relevance. You want to make sure your users get just the results they need. This improves retention, loyalty, and, of course, conversion. Algolia is based on a tie-breaking algorithm with a variety of criteria for matching different items between them, assuring that the best possible matches are displayed first.
It's important to note that the methods and criteria that the Algolia search engine uses to identify and rank results are absolutely transparent and Magento merchants can review them at any time. They are also open to configuration, which means that the entire system is adaptable to a shop's unique needs.
Algolia is based on a belief that high-end search solutions go hand in hand with a superb user experience. Therefore, a Magento Algolia search integration provides websites with end-to-end search functionality and a seamless as-you-type search experience with instant results, vastly improving the overall UX of your store.
Accelerate conversions on your Magento store
With frictionless search and discovery experience
from Algolia and 2buy1click