Although the Internet is loaded with excellent articles and tutorials on search engine optimization for Magento websites, a surprising number of merchants neglects to follow these best practices or they fail to do so correctly.
SEO (search engine optimization) is absolutely vital for the survival of an eCommerce website, no matter how awesome the product and how terrific the shop design. If certain SEO parameters are not set properly, the shop won't show up in prominent places in search results, meaning less traffic and, well, less revenue.
That's why we decided to talk about some of the most common SEO mistakes that Magento site owners make with tips on how to avoid them.
Leaving the Default Title
A lot of eCommerce merchants, especially if they're inexperienced, forget to change the default title, leaving their pages with absolutely useless titles such as "homepage" or "home." It's not that they want to rank for those keywords – they simply forget to change them into something more representative of their business.
In case you haven't changed your page title, make sure you do so. Also make sure your title contains your primary keywords and describes your products accurately. The title needs to be unique and it should be between 60 and 160 characters long.
Meta tags are basically a way of telling Google what your site is all about. It's particularly important for eCommerce since product items with proper title tags and meta descriptions are often displayed as rich snippets and users are much more likely to click on those (as they provide more information).
Each product, category, and piece of content should have unique meta tags. Start with title tags, which should be around 60 characters long, since Google will cut them if they're longer. They should contain the keyword and something to attract the customers – for example, if it's a sale or a special offer, the title tag should mention that.
As for the meta descriptions, they will be displayed below the title in search results. They should be about 155 characters long, unique, with keywords mentioned in the first part and repeated as synonyms or secondary keywords in the second part. Ideally, a call to action of some sort should be included as well.
2buy1click has offered its client Continual SEO Content and Brand Enhancement service which helps Increase Traffic and Preserve Brand Quality.
Since Google (or other search engines) cannot see your images, you need to provide a description for each of them. In eCommerce, it's particularly important because a lot of people do their shopping research through Google Images pages. In order to tell the search engine what your image represents, you need to enter alt text (alt descriptions).
The best practice is to add the alt text during image upload. At that state, you'll also want to give your product image a unique, informative name (instead of leaving it as img_012.jpeg, for example).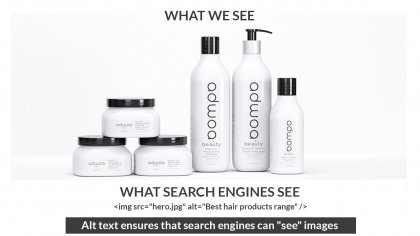 Not Modifying the robots.txt File
We have talked about imporatnce of robot.txt files before. The robots.txt file is an essential file located in the <head> section of each page, telling Google how to crawl (visit), read, and index your pages. The default settings for this file may not be the ideal for your Magento site, so you need to check that and make sure all the right directives are set.
It's important to make sure all the pages you want indexed and ranked follow the allow and index directives, meaning you're basically telling Google to visit them and index them. On the other hand, you also want some pages excluded from those processes, meaning you have to set the directives for them to disallow and/or noindex.
If you are unsure how to do this and need help, check 2buy1click SEO Content and Brand enhancement page for a list of items we can help with to boost your rankings and traffic.
Duplicate Content & No Sitemaps
Search engines prefer original, unique, high-quality content. However, many websites have bits of duplicate content here and there throughout the website. This is especially common in eCommerce sites, specifically in product descriptions.
Sometimes merchants leave manufacturer descriptions for the products they sell, and that content is not just duplicate throughout the site, but it can also be found at other places on the web.
Sitemaps play an important role in search engine optimization as the crawlers use them to find out what pages can be found on your site. They are also important for visitors, who often consult them to find out where to find certain pages, products, and so on.
Make sure your sitemaps do not include your staging URLs. As soon as your page has a proper URL, go to the sitemap and update it.
Incorrect Canonicalization
Canonical tags are the essential tool for telling Google which pages to consider relevant in the case that there are two or more of the same kind. In addition to being a way to avoid duplicate content, canonicals are also important for making sure Google indexes precisely those pages that you want to be indexed and nothing you don't.
In ecommerce, duplicate pages or pages that shouldn't be indexed are particularly common. Almost every shop has URLs that contain things like "?p=7, ?=sortby" and so on. Pages with such URLs should not be indexed and one way to make sure they don't is to use rel=canonical. That way, only that particular version of the page will be indexed.
Also, when setting your canonicals, make sure to do it right. One accidental typo will ruin the entire effort, so it would be best to consult with an agency such as 2buy1click that can do this quickly and efficiently.
ECommerce websites are often multilingual. This means there are versions of the same shop in different languages. Because they're the same shop, Google can see them as duplicates, and we already talked about why that's not a good thing earlier.
This is especially important for shops that have different versions in the same language. For example, .com and .ca are both shops in English, but one of them is a Canadian domain. In order to prevent them from being viewed as duplicates you need to insert a hreflang tag. This code will tell Google that those are just different language instances of the same shop.
Not Using the Staging Server
As you develop your Magento website, you will most likely have access to a stating server, which you can use to tweak everything until you're ready to go live. A lot of folks neglect to use the staging server and what happens is that any mistakes that might have been made will become visible on the live server. If Google crawlers visit your site at this stage, it will be indexed with all the mistakes, some of which may be downright SEO disasters. Therefore, to avoid this, always use the staging server during the development phase.
These were some of the most common mistakes Magento merchants make that may harm their position in SERPs. After reading this article, we suggest you to check for any of these issues and fix them if needed. If you are not confident enough or don't have the time to do this personally, please contact us for superior SEO Content and Brand Enhancement service.
SEO Issues – We got you Covered
Book a call with Lyndon CEO at 2buy1click
& and Increase Sales through additional traffic via SEO,
Improved Conversion & Content Quality