Over the last years, visual (image) search has become a huge trend. In eCommerce, people have grown to rely more on what they see than what they read in descriptions, even in reviews. A huge percentage of online searches for products is conducted via Google Image, and, according to SEJ, 63% of users who click on an image proceed to visit the website where the image is posted.
One of the reasons for this traffic-increasing trend lies in the fact that Google has removed the View Image button, presumably after a dispute with Getty Images. Essentially, this was meant to discourage users from "stealing" photographs and stock images, by making it harder for them to access the full-size image. While it is definitely not a welcome change for average users, it is certainly beneficial for eCommerce, since people now click on the Visit button more, navigating to websites and increasing their traffic.
A smart eCommerce merchant will definitely make use of this trend, so here are some of the tips for optimizing the image search in your favour.
Explore the Possibilities of Reverse Search
Reverse search is a feature offered by Google, thanks to which users can upload pictures they took themselves (or found someplace online) and then reverse search for them to find the same or the similar images/items.
For example, if you saw a pair of shoes you loved on the subway and took a picture of the shoes, you can use reverse search to find out what brand they are or at least find a shop that sells similar shoes.
One way Magento merchants can make use of this is to upload several images for each and every one of their products and complete them with descriptive, informative description and Alt text.
Encourage User-Generated Content
When we shop online, we almost instinctively look for user-generated content, because we trust our peers more than we trust companies. We look for ratings, reviews, but also for images of other people interacting with the product we're interested in. For instance, if you're buying a wig, it would be useful to see a picture of a real person wearing said wig to see how it fits and what it looks like "in real life."
Here it would be a good idea to use your CRM tool to find out the customers who are highly engaged with your brand – who have shopped with you a few times, left reviews and favorable ratings, and so on. You can then ask them to share photos of the products they purchased from your shop and share it on their social profiles, along with the brand mention. You can then use those photos in your shop, along with other product images.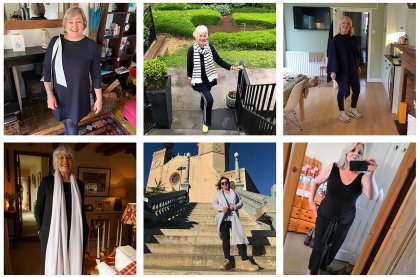 eCommerce merchants often wonder what is the best image format for their shop and their social pages. Two of the best and the most common formats are JPEG and PNG and each has its own virtues.
JPEG is the format of choice for many, since it can keep the quality at decent levels even when compressed, and compression is an important part of image optimization as an SEO practice. After all, when your images are compressed, your pages load way faster.
PNGs, on the other hand, don't lose quality, ever. They also handle transparency well, which makes them the format of choice for logos. The problem with PNG is that it can be huge. If your shop has a lot of product images (and we hope it does!), it can slow down the load time significantly if you are using a lot of PNGs.
You'd be surprised how many times merchants just leave the generic image file name, like IMG_123.jpeg. While it's understandable, this practice is detrimental to image search. Your image can come up but neither the search engines nor the users with slow-loading connection will know what it represents.
Or, they use the same name for a batch of 100 images, with a word followed by a number, like redshoes1, redshoes2, and so on. Imagine having to sort all that out? Search engine crawlers don't appreciate that kind of file naming practice, so you better change the names into unique, more descriptive ones. Also, make sure the naming also carries over to the image HTMLs.
If your SEO practice does not pay equal attention to image keywords and alt text as it does to other standard factors, you're missing out on a lot of image search-related action. Alt text (alt description, alt tags) has a twofold purpose. It makes sure the customers can see what the image is all about in case it doesn't load properly, which often encourages them to visit the shop and see the product from there. It also helps Google understand what your images represent because crawlers can't actually "see" images in their visual form.
2buy1click has offered its client Continual SEO Content and Brand Enhancement service which helps Increase Traffic and Preserve Brand Quality.
Don't Forget Voice Search
Another important aspect of alt text is its benefit in terms of voice search. Voice search has been on rise, as more and more users use speech to perform searches. Of course, these searches are not limited to textual content. Users want images, too, which is exactly what makes proper image naming and the use of alt text so important. If your shop is optimized for voice search in all aspects, from navigation to images, you will have a considerable advantage over your competitors who are still sleeping on the voice search concept.
Oftentimes, a shop will get products from a wholesaler who sells to many other shops as well. If a merchant decides to use the images provided by the manufacturer or the wholesaler, those images will not be exclusive to the shop because others are using them, too, and won't bring traffic to your site.
Stock photos are a similar issue. Sure, they're convenient and cheap, but in the long run, they never pay off. Because of this, you have to make sure to use original photos as often as possible, and if you're using stock or manufacturer products, at least put some original content (text copy) on them, to make them stand out.
Until recently, chatbots were used mainly to answer textual questions and perform tasks delivered using verbal messages. With the expansion of image search, specialized companies are delivering chatbot solutions that can be applied to images, too. In general, these tools display product suggestions based on the images the customers upload to the chat window. Combined with the ability to manage certain aspects of customer relations, chatbots clearly represent the future of eCommerce, improving user experience and reducing staff-related costs.
Traditionally, online marketing and SEO have been focusing on quality copy and technical aspects of ecommerce websites. Today, we need to recognize the fact that images are becoming increasingly important and adjust our shops accordingly. Otherwise, we risk being run down by the competition that has already jumped the visual bandwagon. Hopefully, we managed to give you some ideas as to how to leverage this particular field and keep your shop high up in the SERPs.
Image Search Technology Working for eCommerce
Book a call with Lyndon CEO at 2buy1click
to found out How to Keep your
Shop High up in the SERPs