Save Thousands by Taking Payments with Stripe on your Magento Store
Fed Up with Paying High Fees?
Are you fed up with paying high fees to WorldPay / SagePay for your credit card payments?
If so, then I know exactly how you feel.
Merchant accounts charge monthly fees, require PCI-DSS compliance and charge different % for each kind of credit card. So it's complicated for you to predict what your credit card costs are.
I bet you feel ripped off by those fixed monthly costs and unpredictable % of each transaction.
Lower Costs and Better Integration!
Until now WorldPay, SagePay, Barclays Merchant services, were the only way to take credit card payment. The current solutions use old technology, iFrames or redirects to take payments. Now today there is a new solution with lower costs and better integrated with your website.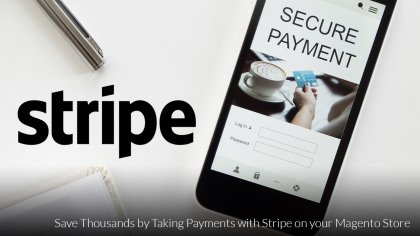 My name is Lyndon Wright CEO of 2buy1click Ltd, and for the last 7 Year's, my team has worked on Magento eCommerce websites. To help our customers increase sales and cut costs.
The Merchant solution we recommend is Stripe.com. No monthly fees flat rate of 1.4% + 20p Per transaction and £0.00 cost for PCI compliance. Stripe.com is one of the new Fintech companies that are challenging the big banks by creating super low-cost solutions.
Stripe.com Offers these Benefits
Over other Marchant Account Suppliers:
Lowest cost rates – 1.4% + 20p per transaction and No Monthly Fees.
No PCI-DSS Compliance costs.
Unique integration with your Magento to take credit cards on your checkout.
Option to sync of all payments to your Xero.co.uk Package.
We saved one of our customers over £24,000 in Merchant fees by switching to stripe!
The direct syncing of Stripe transactions to Xero has allowed us to reconcile over £800,000 in orders with less than £100 error!
Sign up for Stripe only needs an Email address and you can be taking payments with Stripe within Days.
What would you do with the saving Stripe will give you?
Invest in your website to Drive more traffic?
Increase conversion?
Or treat your self Book a call with Lyndon CEO at 2buy1click to find out how we can switch you to Stripe and start saving now.
Make the Switch Today!
Book a call with Lyndon CEO at 2buy1click
and find out how we can switch you to Stripe and start saving now!