For eCommerce websites, having plenty of visitors on a daily basis is great, but at the end of the day, what matters more is having plenty of paying customers.
Window-shoppers and those who spend hours on your website browsing can potentially be converted into actual buyers and it's up to you and you alone to turn them into customers. And that's precisely what a powerful and effective call-to-action button can do.
Call-to-action or CTA is a device designed and used with the purpose of promoting a specific immediate response. In eCommerce, a CTA is almost always a button and the desired immediate response is a sale.
A CTA tells the customer what specific action he or she should take. It can tell them to create an account or sign up to a newsletter, to enter their email for a giveaway, to add a product to their shopping cart, to proceed to checkout, or to complete a purchase.
In order for it to be effective, the CTA needs to be persuasive. Let's see what it is that makes an CTA effective and how you can improve your buttons:
Use Clear, Actionable Copy
It doesn't sound like special advice or something you couldn't think of by yourself, but you'd be surprised at how many eCommerce sites forget this simple rule.
In order to be effective, a CTA button needs to contain copy that represents just that – a clear CALL TO ACTION. The exact words will, of course, depend on what specific action you want to prompt.
The rule of thumb is to always be clear.
You have to literally tell your visitors what you want them to do. Don't beat around the bush or use witty metaphors. If you're not sure whether a text you came up with is clear enough, drop it and go with a simplified version instead.
Some of the clearest, most efficient CTA button texts are also the most efficient ones:
Add to Cart
Buy Now
Shop Now
Join
Subscribe
Place Your Order
Download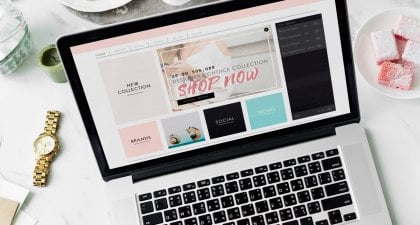 This tip may appear to contradict the previous one, but if you manage to be smart about it, you can actually have both – a CTA button that is both extremely actionable and unique.
Original, smart, and unique CTA buttons are powerful because they grab your visitors' attention and make them more cooperative. If you delight them with funny, smart copy on the button, your chances of conversion will increase significantly.
In order to achieve this, take standard CTA copy and replace it with something slightly different but just as clear.
For example, if your brand style allows it, consider Gimme instead of the plain old Get It or Buy. Yes, in some cases it may be too much and it's definitely not suitable for all eCommerce sites, but the point is to find a clever and clear message that works with your brand
Unless you're dealing with some highly advanced AI tools for eCommerce personalization, we don't mean actual, full-blown personalization here. No one can expect their CTA buttons to say "Buy Now, Jim," although that will probably be possible sooner than we think.
Here, by "personalize" we mean to use the power of direct speech. Sprinkle some "you's" and "me's" on your CTA copy to create an emotional effect on your visitors, gently pushing them towards your goal.
For example, instead of Sign Up you can say Sign Me Up and instead of View Cart you can say View My Cart. This simple psychological trick makes the visitors feel as if they're on their own turf, so to speak, making them more comfortable and therefore more likely to perform the action you want them to.
Using the first person means you're speaking to your customers' needs and making a connection with them, and that's always a good thing in eCommerce.
Another efficient of getting your visitors to perform the action you want them to perform is to let them know what value they can expect from it.
The value proposition is an incredibly powerful tool, as it lets people know that, in this exchange, you're being not just fair but also generous.
Ideally, the value proposition is communicated at earlier stages and the CTA only serves to remind the customer of the promise. For example, you might have sent out emails promoting a special 25% off deal or offering a free eBook download. The CTA copy should both confirm and emphasize the promised value.
In eCommerce, the value is usually a discount. Save Up to 25%, Get Free Coupon, Free Subscription, Get Free Shipping, Use Discount Code, etc. – these are all good examples of using the value proposition in a CTA.
The point is simple – if you're offering something for free or at a reduced price, make sure your CTA serves as a reminder of that promise.
In eCommerce, advanced checkout security procedures, attention to personal data protection, and secure card processing are absolutely imperative. If your shop isn't secure enough your clients will take their business elsewhere.
If you are using advanced, state-of-the-art security solutions in your shop, why not let your customers know in your CTAs?
If you add the word "safe" or "secure" to the button, users will be more likely to click on it. The same goes for guarantees, money-back policies and so on.
Some examples of terms you might include are:
Secure Checkout
Check Out Securely
Certified
No-Risk
Money-Back Guaranteed
100% Refund
100% Privacy Protection
Convey a Sense of Urgency
People are more likely to react and buy if they feel that they don't have much time left. This sense of urgency is a powerful motor for conversions.
Again, like with free deals and discounts, urgency and limitations are communicated at earlier stages and the CTA serves to seal the deal.
This means it should include timing words, like Shop Today, Get One Now, Buy Today Only, Get Your Limited Offer, and so on.
Combine this with copy underlining the urgency (Sale Ends Soon, Offer Expires In…, Only 4 Left in Stock…) outside the buttons for the best results.
Use Bold, Contrasting Colors
The color scheme you choose for in your buttons decides, to a great extent, how much your CTA will stand out. The rule of thumb is to use an actual color, not white, black, or shades of gray.
Also, it needs to be a color that stands out from the background but doesn't clash with it, either.
Obviously, the exact color you'll use will depend on your site design, so talk to your designer and find a solution that won't be an eyesore on the page.
Your CTA buttons should be bold but not too loud, daring but not rude. The easiest way to go about this is to test a few color combinations and see which one fits that description best.
For Help in creating Engaging Content and CTA buttons, contact 2buy1click Team to help your Store Sell More
Use the Right Shape and Size
Similar to the issue of CTA button color, the shape and the size of your button is something that depends on your website, its design, purpose, brand, and style.
However, there are a couple of rules that are pretty universal. Firstly, the button should be big enough so that any visitor can notice it and click on it quickly and easily.
As for the shape, rectangular shapes and similar variations seem to be the classic solution for CTAs that works best. Many have dabbled with round or even more experimental buttons, but it appears that people like predictability and prefer shapes that are already associated with certain actions.
So, you can experiment with slightly rounded edges, 3D effects, shadows, and so on, but don't stray too far from the classic rectangular shape, and don't forget to make it big!
Some designers feel that the CTA button should be used alone and believe that adding other text below or next to it would ruin the interface and the integrity of the layout. However, on the more practical side of things, additional text can emphasize the message of your CTA and make it more effective.
For example, your CTA button says Sign Up for Newsletter. It's a classic, functional CTA. But what if we add No Spam, We Promise, beneath the button? It's clear this additional text will greatly improve the effectiveness of the button.
Another good example would be adding Sign Up Not Required beneath the CTA saying Start Your Free Trial. People respond well to this sort of ease and convenience (not having to bother to sign up) and are more likely to click on your button.
Finally, as with everything in eCommerce and online marketing, when in doubt – test! Use split (a/b) testing to see which CTAs work better than others. Do this for every aspect of your buttons: colour, shape, size, placement, copy. That's the surest way of getting to a place where all your CTAs will be effective conversion machines.
Need Help with your CTA's?
Arrange a call with Lyndon CEO at 2buy1click
for Help in creating Engaging Content that will
Improve Conversion & Help your Store Sell More