Reducing Sebo's Magento running cost by 50%, and streamlining their shipping process, therefore reducing the cost of packing per order for the leading manufacturer of upright vacuum cleaners.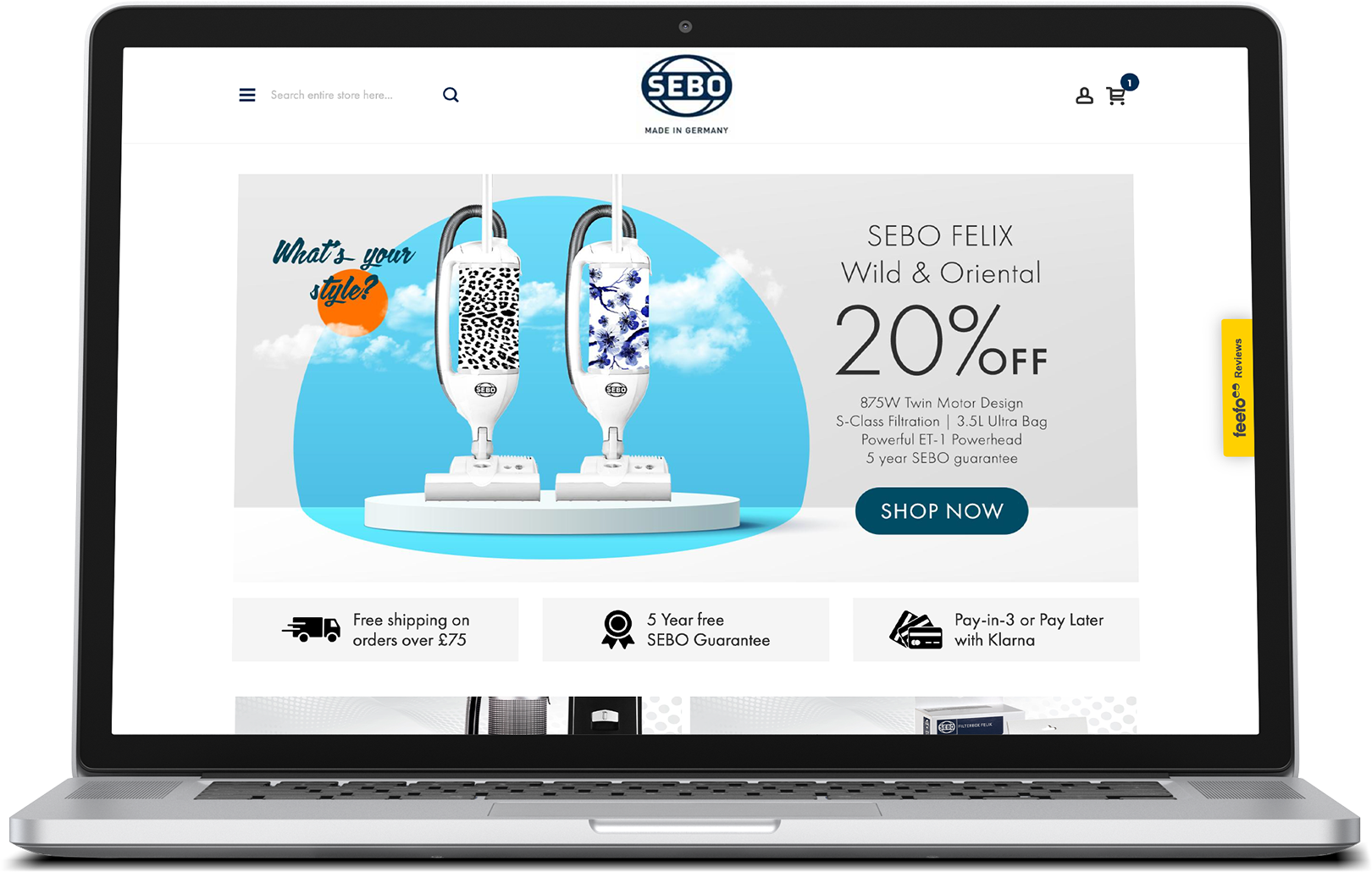 Cutting Magento Operational Costs and Optimising Shipping Process
SEBO is the world's largest manufacturer of commercial upright vacuum cleaners and boasts a presence in over 20 countries. SEBO has become an established brand name in the retail market, winning many accolades from consumer magazines for the quality, performance, and reliability of its vacuum cleaners.
SEBO had grown to a size where they needed an advanced Magento agency to take their website features to the next level. There were also opportunities to lower the costs of Magento and additional advanced functionality.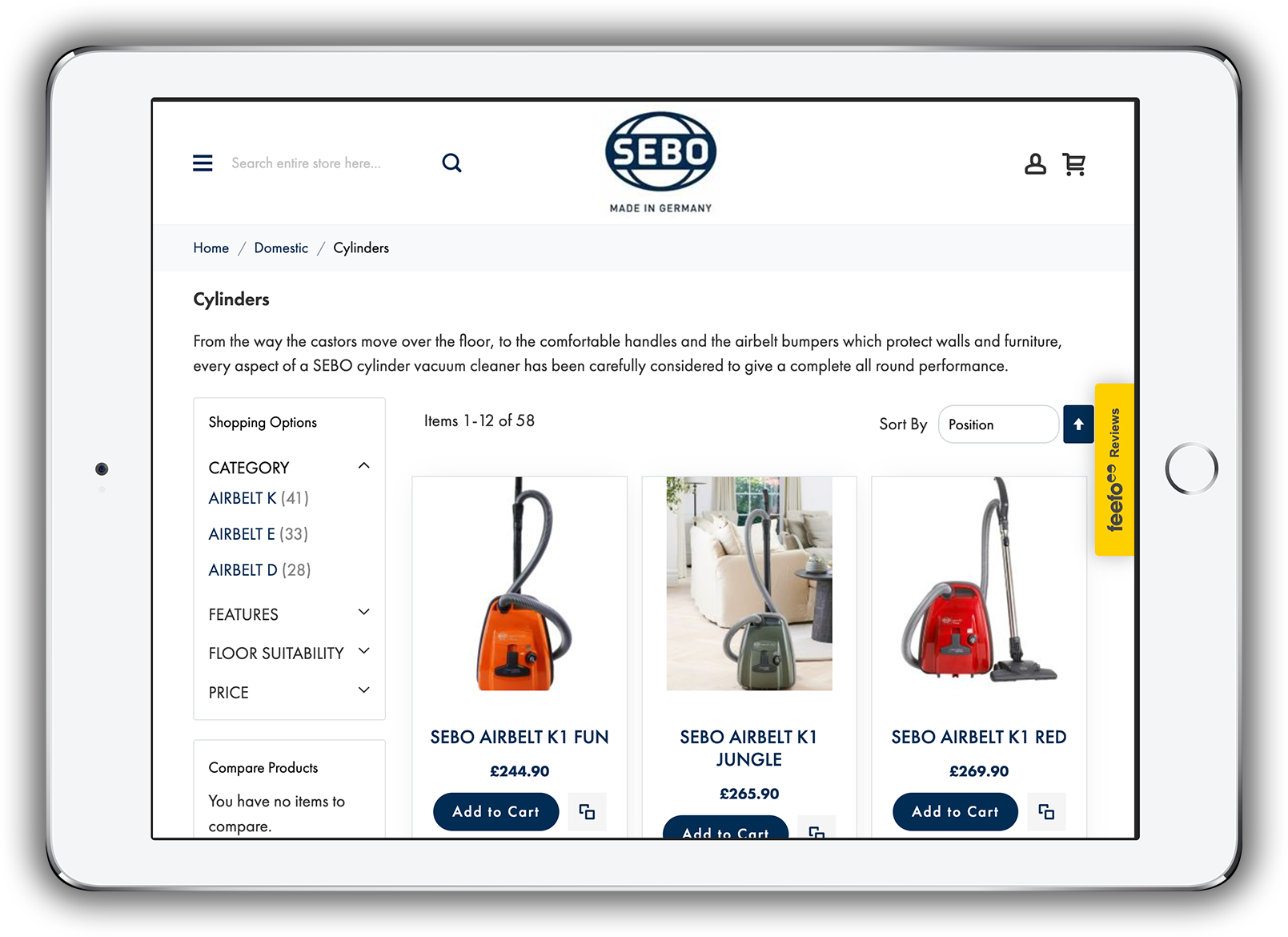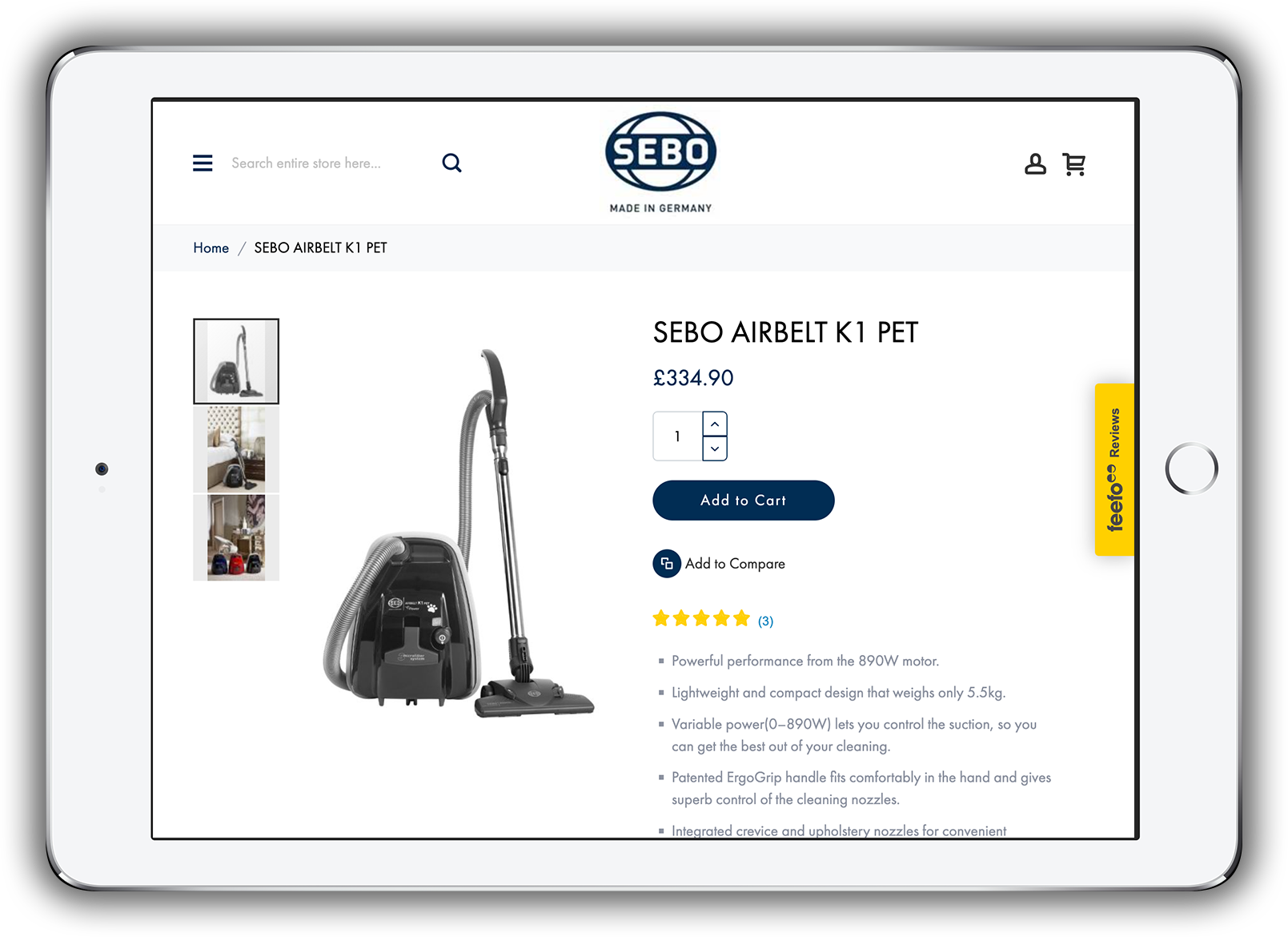 The Challenges
Customer Satisfaction and Design Improvements
The challenge was to enhance the product selection as part of the visual transformation improving visual appearance and ease of use for both the client and visitors with the new interactive slider, page builder and blog implementation.
We added a page builder along with a significant focus on improving the usability of Mobile.
The page builder allowed the SEBO marketing team to quickly make updates, add new products and enhance the content without any Agency input. This included tailoring the perfect mobile version of product pages.
Merging two Magento Websites
Sebo was running 2 independent Magento installations, causing double the hosting and maintenance costs.
We merged both Magento websites into 2 stores on 1 Magento installation.
The result was more than 50% reduction in Hosting, and Security update costs, as well as further benefits, such as new features added to one store being automatically available in the 2nd store.
Shipping Solution Integration
There was double keying of the shipping addresses being manually copied and pasted into different shipping providers to obtain the shipping labels.
We added a modern shipping service which automatically contacts the courier, prints all the labels, and sends digital manifests directly to the shipper.
As a result, 100% of the time taken to create labels was freed up for the packing staff. Significant increase in the speed of packaging and sending orders, as the order information was created instantly. This saved costs and eliminated shipping address errors.
Migrated to Magento Specialist hosts
The current server was not optimised for Magento hosting, resulting in checkout errors and significantly impeding the speed of the website.
We seamlessly migrated the 2 Magento sites to the new host.
The Magento store's reliability and performance increased, and hosting costs were reduced.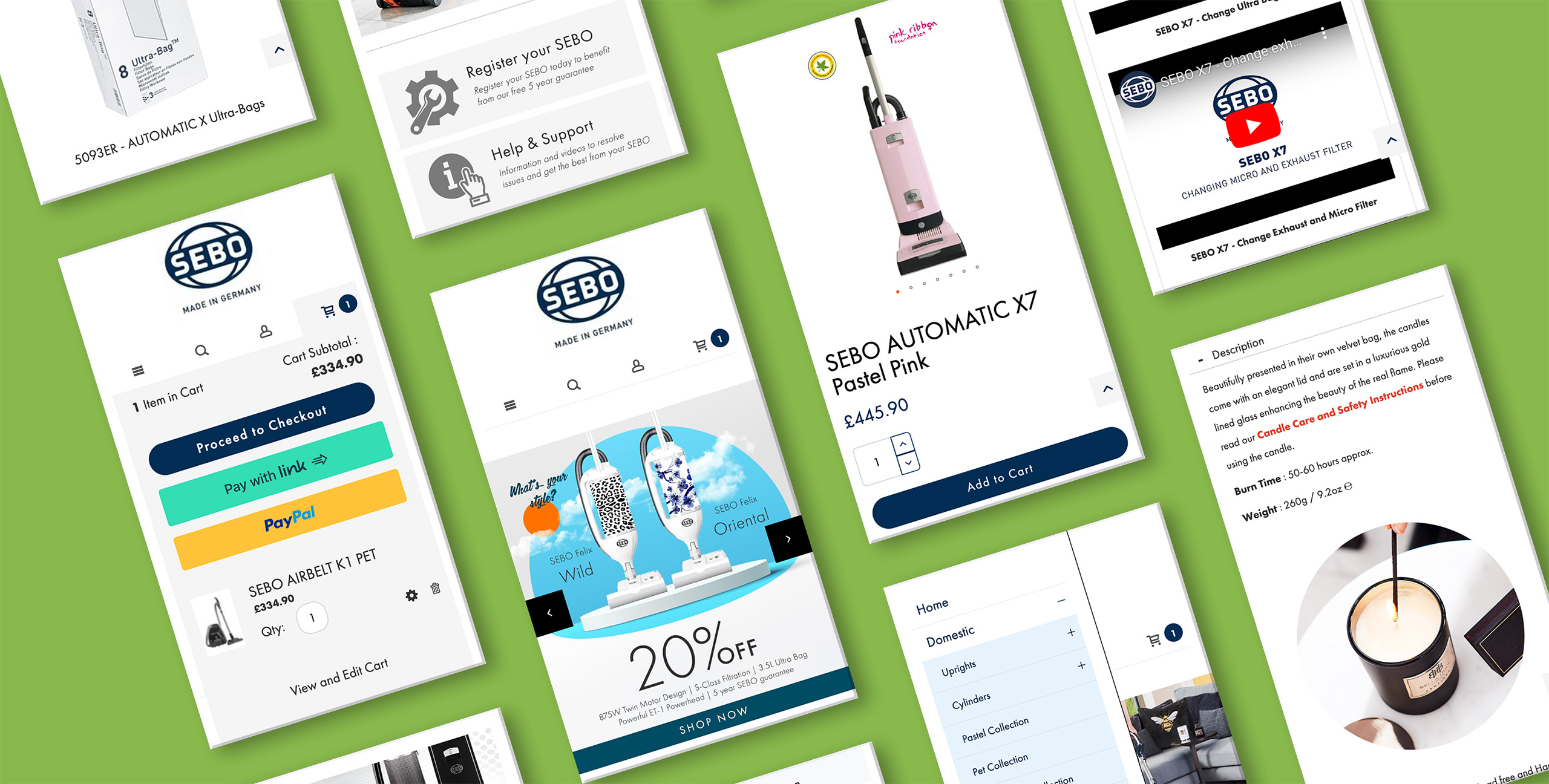 The Results
SEBO success facts
50%+
reduction in hosting and security costs
100%
staff time reduced creating shipping labels
Major
speed improvement with the new hosting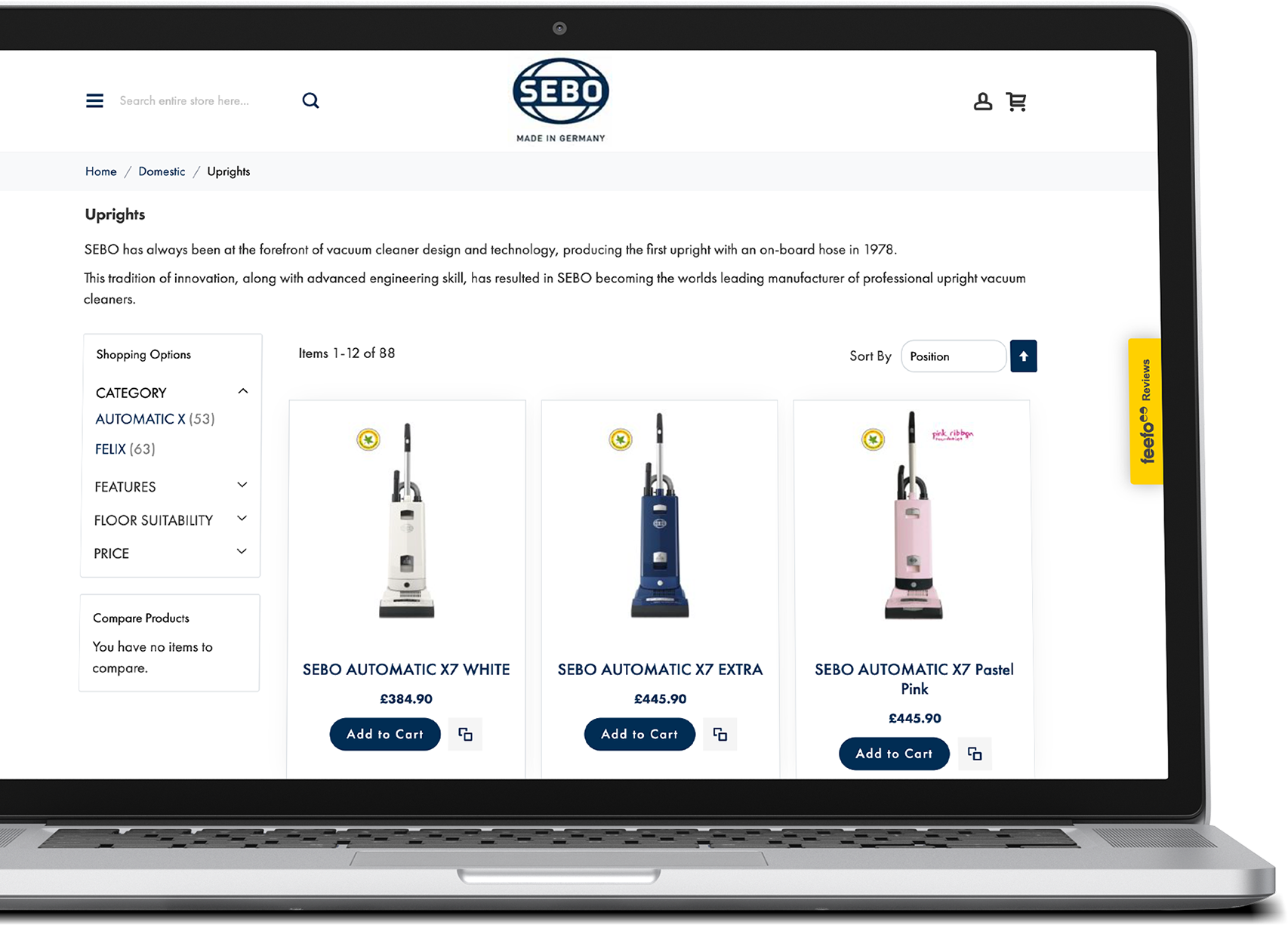 Key Features
Some of the key factors that contributed to the SEBO's growing success
Stripe Integration
Added Home Slider
Newsletter Signup
Enhanced Design
Added Free Gift
Implemented GA4
Let's Speak
Find out how partnering with us can help
accelerate your online growth and success
Clients' Success is Our Passion