Forever Crystal wanted to leverage all the benefits of upgrading to Magento 2 while at the same time benefit from an "uplift" of their website design. New modern, responsive website was launched with an addition of the Pop Up which generated 27% increase in their list growth.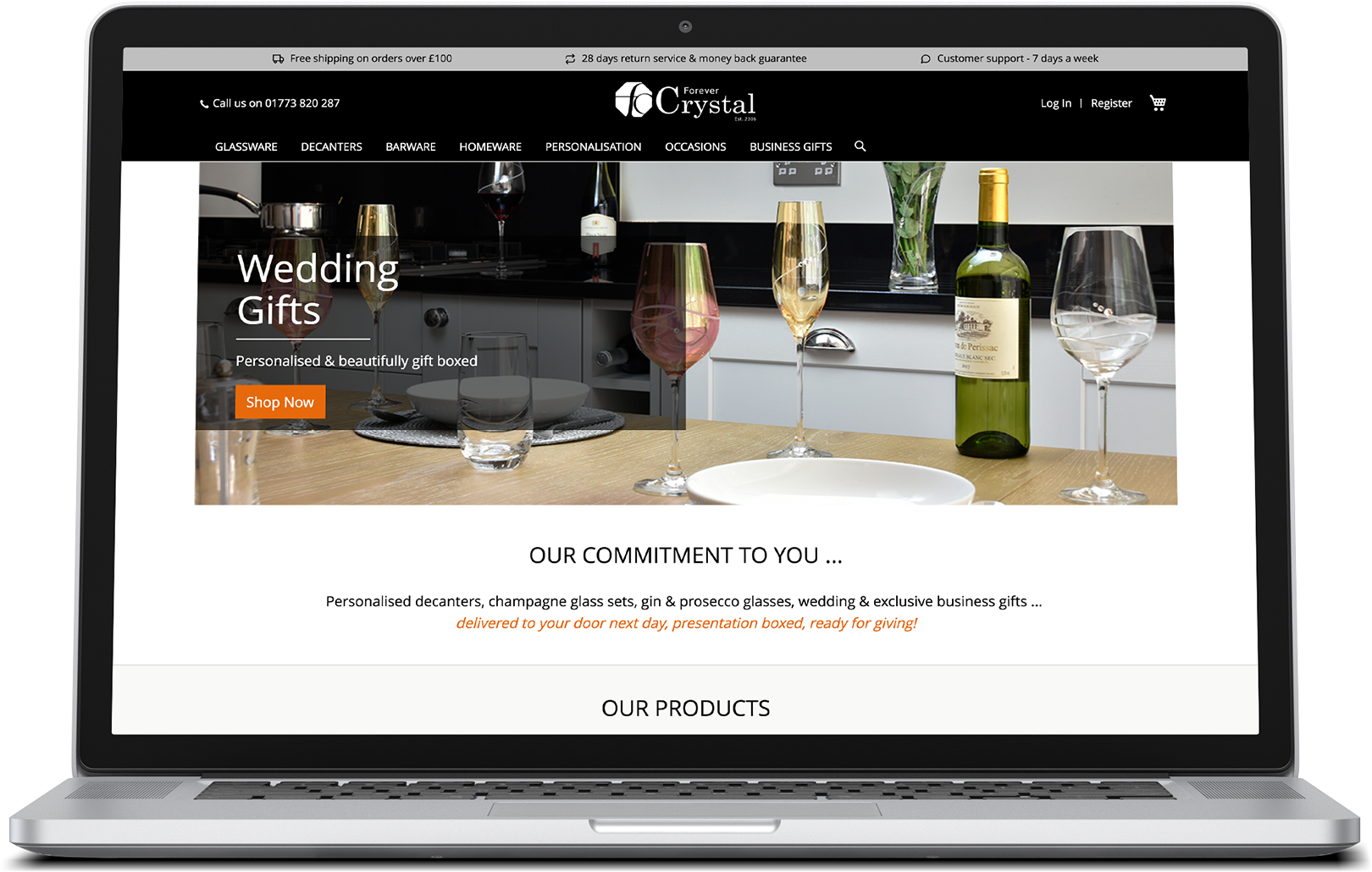 Automating Processes, Improving Visuals & Revenue, Building Up Loyalty
Forever Crystal is a family operated business, selling high-quality glassware whose product range is aimed at the consumer leisure and giftware market with premium packaging.
Forever Crystal approached 2buy1click to re-platform from Magento1 to Magento 2 while at the same time boost website functionalities, improve visuals and enhance customer experiences. The result is a modern, stylish, UX friendly website ensuring end customer's expectations are fully met.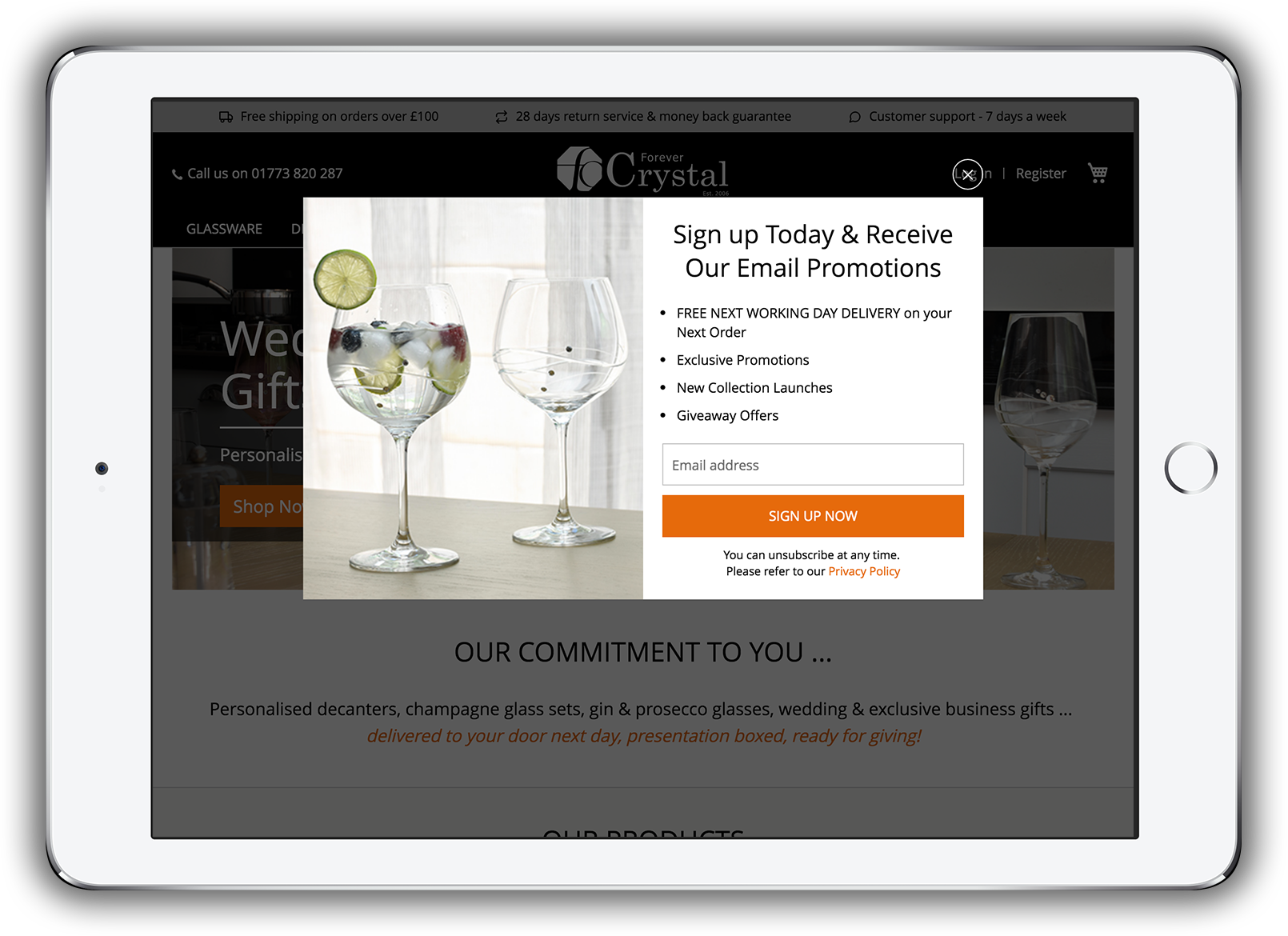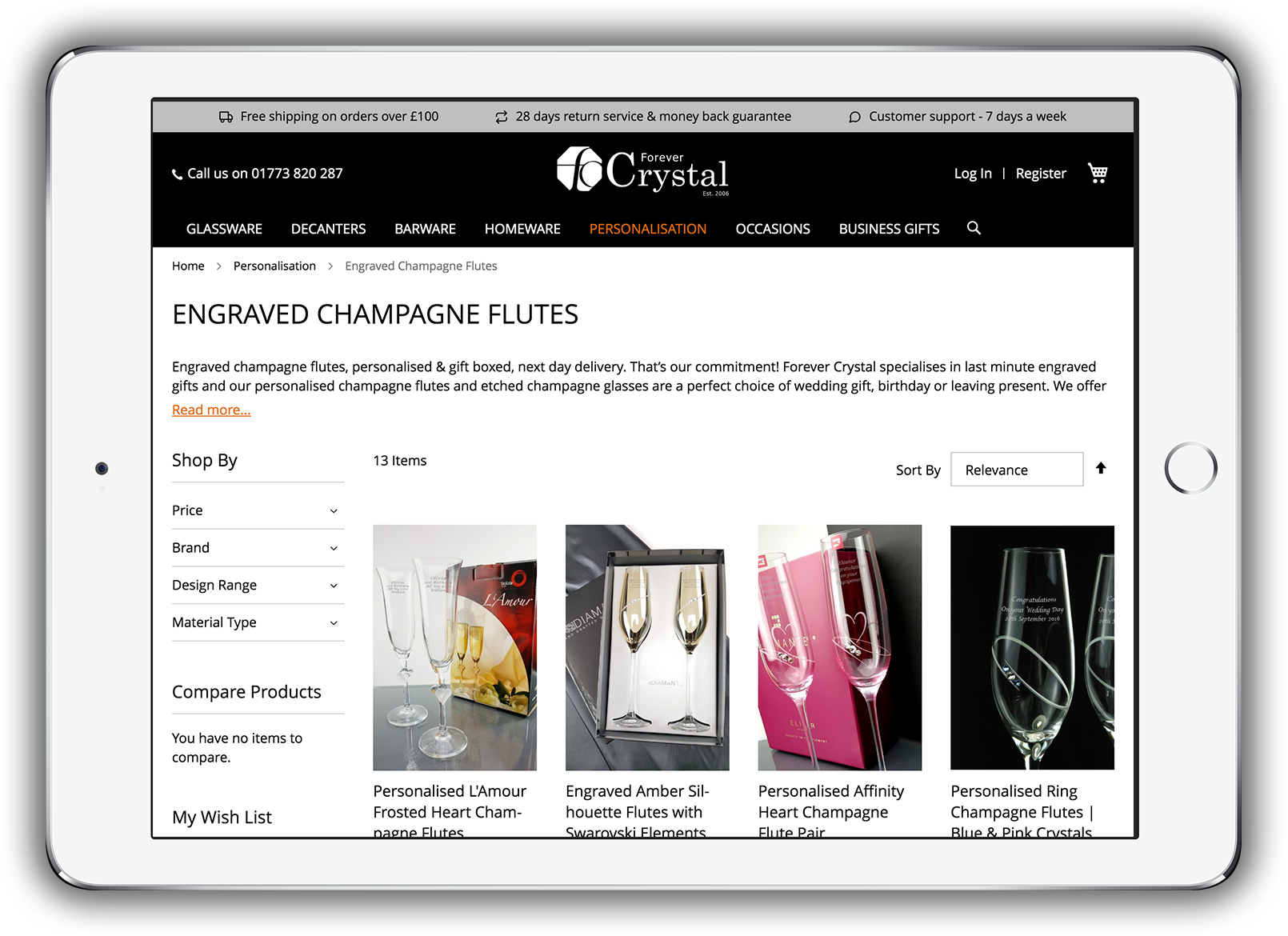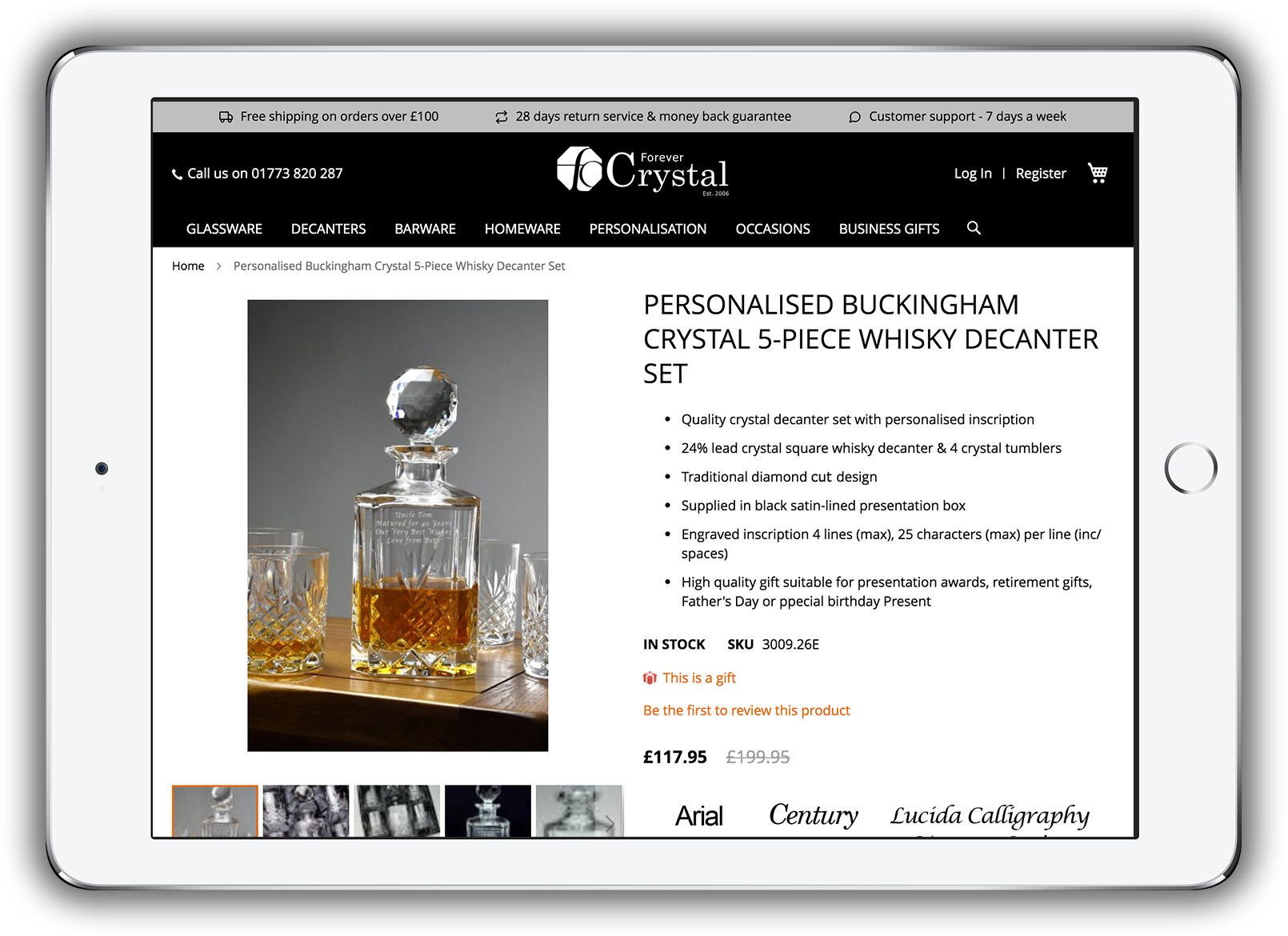 New Modern Responsive Design
Leveraging the full potential of Magento 2 website, the website gained new look that is fully mobile responsive and UX friendly. The Megamenu addition contributes to ease of navigation with an emphasis on the visual presentation of the products.
First Visitor Lead Capture
A first-time visitor entry and exit Lead Capture popup solution was added resulting in their email list growing by 27% over 3 month period which accelerated their online sales and increased conversion while at the same time building customer loyalty with a unique offer.
Personalisation
One of the key aspects of the clients' business is the presentation aspect which includes the ability of product personalization. 2buy1click developed a custom solution to fit Forever Crystals' needs in full, where Forever Crystal specialises in last-minute engraved gifts.
Gift Wrap
Along with the presentation aspect, Forever Crystals' business model is based on premium packaging. Another feature that accompanies personalised gifts is the Gift wrap option which allows customers to select gift wrap design of their choice including gift message.
Automated Processes and Revenue
Through development work, we helped the client increase revenue and automate processes with implementations of One-step checkout, Stripe and Paypal Express integration, M2EproAmazon connection and Ship Theory automation.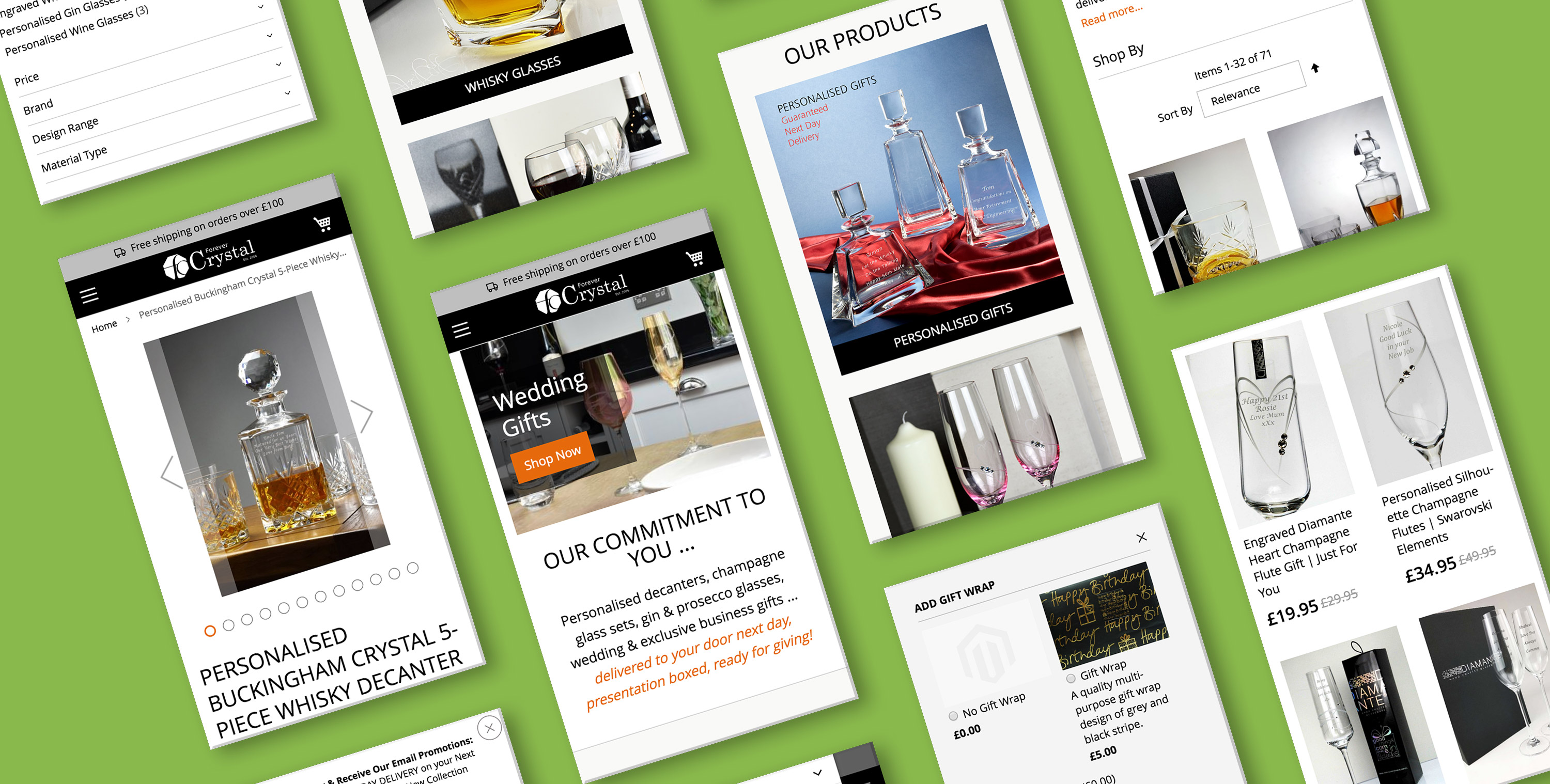 The Results
Forever Crystal success facts in less than three months period
27%
increase in the list growth
8.6%
sales generated using pop up
100%
project delivered on time and within budget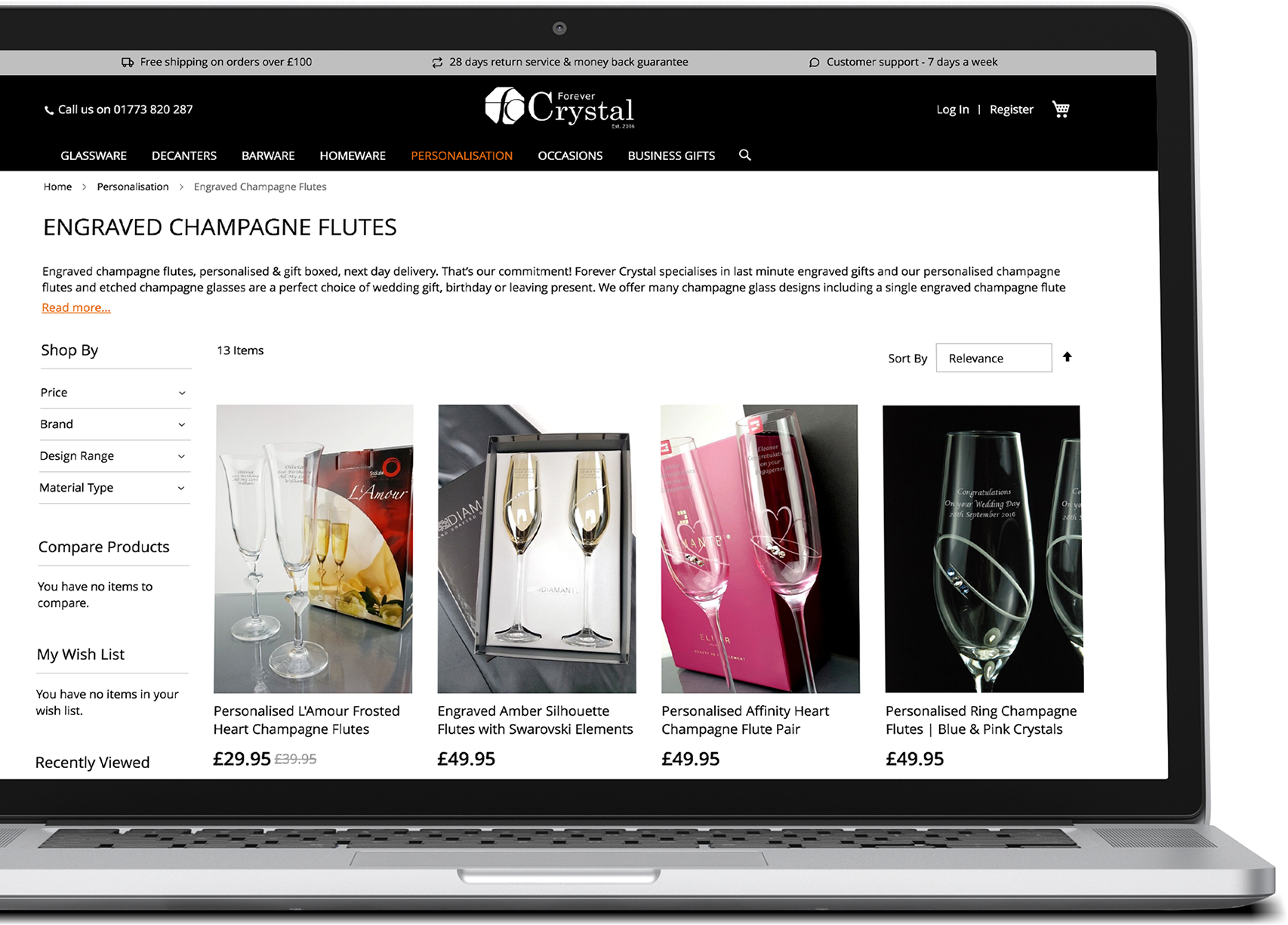 Key Features
Some of the key factors that contributed to Forever Crystal's success
Personalisation
Gift Wrap & Message
One Step Checkout
Lead Capture Pop Up
Reduced costs via Stripe
Mobile UX friendly
Let's Speak
Find out how partnering with us can help
accelerate your online growth and success
Clients' Success is Our Passion