So, you're running an online store and you're already using all the promotional and traffic-driving tools available, from email campaigns, Facebook ads, Google AdSense to content marketing, SEO and affiliate programs. Good for you! In times like these, you can't afford not to be on top of every single marketing channel.
But sometimes it's always good to go back to the basics a bit and think of a time in retail when brick and mortar was king. Believe it or not, there are many oldschool marketing tactics that can still work very well in an eCommerce environment and gift cards are a good example of that.
Gift Cards as a Tool for Driving Conversions
Gift cards have always been great gifts because they provide a great way to give someone a gift without being afraid that they won't like it. It's much easier for the buyer of the gift to offer a gift card and it's sometimes much better for the receiver of the gift because that means that they essentially get to choose what they are going to get.
A lot of eCommerce merchants forget about this lovely technique for gaining new customers and increasing conversions. While discount coupons, special offers during holiday seasons, and loyalty programs are all great, the power of the gift card is sometimes underrated.
In this article, we're going to explain how gift cards can be successfully used to drive conversions.
Gift cards sometimes get a bad rep for being impersonal and bland. But think about it; are they really that impersonal? Let's say you have a friend who just got engaged and you're going to their engagement party. You can't just buy them a set of wine glasses, everyone else will. How about a gift card from their favourite home décor store? That way you give them a chance to pick something they actually like, want and need.
That kind of gift is:
Thoughtful (you remembered what their favourite shop was)
Convenient (a gift card can be easily redeemed for goods)
Caring (you didn't get them something you like, you gave them a chance to get something they like).
In short – it's a perfect gift.
Now, what does all this have to do with marketing and conversions? A lot, actually. Because, thanks to your gift card, you will have a set of very satisfied (potential) customers – the couple getting married and the person getting them an engagement gift will all have positive impressions of your shop, hopefully. In a sense, gift cards are a lot like word of mouth recommendations, because the person giving the card is essentially telling someone else that they should buy something from a certain store.
2buy1click has helped a number of clients implement Gift Card to Increase Conversions, Improve Marketing Efforts and Boost eCommerce Sales
In eCommerce, gift cards are virtual objects that are extremely easy to share. If you make sure to add a couple of social sharing buttons to the gift card form or certificate, you'll give the recipient a chance to share it on their social media. If you add a field for sending a personalized thank-you message and share it online – even better.
Receiving a great gift also results in positive emotions, so the recipient will actually be more likely to share. "Hey everyone! Look at this absolutely amazing and thoughtful gift I just received!!!" When we're happy, we want everyone to know about it.
So, your gift card in all its beauty and convenience reaches new crowds thanks to social sharing. User-generated content of this kind basically means free publicity for your business.
When a person receives your branded gift card, he or she suddenly becomes aware of your existence – before that, they might not have ever heard of you. But now they know, and they know what you sell. The next time they need something that your store has, you'll probably be the first business to pop into their mind.
Also, offering gift cards is just good brand practice. You want to get your name out as much as possible without being annoying. Gift cards are subtle, yet highly efficient promotional tools.
It's also important to make sure your involvement with the recipient doesn't end the moment they receive the card. Send out helpful emails, such as reminders of their card balance and expiration date, especially if they don't use it all up all at once.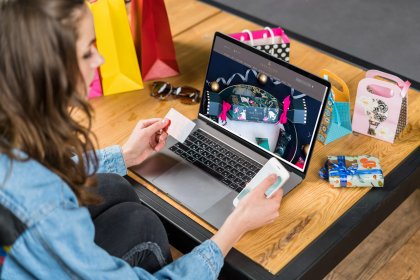 A Way of Attracting New Customers (and Engaging the Old Ones)
In most eCommerce businesses, customers can roughly be divided into four categories:
Regulars (they started buying from you long ago and still make regular purchases)
One-time buyers (they only shopped with you once and never again, but are still on your email list)
Window-shoppers (on your list, but never bought anything)
Not-yet-customers (those who don't know about your shop yet)
Basically, every merchant wants the twos, threes, and fours to become ones. In the case of gift cards, you'll want to use cheap, low-value gift cards and send them out to selected customers, after having segmented your email list. Those in the first group don't need any incentives, so focus on the others. Send a low-value gift card to those who have only bought from you once, but still read your newsletters and visit your shop. Not only will they be delighted and therefore more likely to shop, but they'll also probably spend over the gift card balance, which is straight profit for you.
The same goes for those who have never bought anything from your shop. Remember, you don't have to wait for others to send gift cards to their friends from your shop, you can send gift cards yourself to people you believe are on the verge of being converted into buyers.
Today we have exceptional tools available for automation and segmentation of promotions and marketing. However, those only work if you feed them data, so it's vital to gather as much as possible.
Gift cards can act as a worthy data collection tool, if you're smart enough to use them.
Let's go back to our engagement present example from earlier. Because someone sent your gift card as an engagement present, you are now in possession of some valuable information: the approximate engagement date, the name of the person getting engaged, and their email. One year from the engagement date, you can send out an email to the recipient, congratulating them and sending perhaps a low-value gift card. Of course, you will use the email to promote your shop and keep the memory of your store fresh in their heads.
Also, because users are required to provide some data during signup when they purchase and send a gift card from your shop, you will have this information too. Analyze the data, discover the demographics and preferences and then use that insight in your marketing campaigns on Google, Facebook, or any other channel you're using. The bottom line is that promoting gift cards is a great way to gain a lot of useful information regarding the demographics of buyers that are most attracted to your store's offers.
Consider offering occasional discounts on your gift cards. It may not make sense to you at first, since it'd appear you'd be spending more than you earn, but here's the thing: people tend to overspend when they have a gift card at hand.
Let's say you offer a $50 gift card for $35. Obviously, you'll sell more of these than you would $50 cards, because of their increased appeal. A lot of people will spend more than $50 with that card, and even if it's a couple of dollars it can add up to an excellent sum in the end.
Discounted gift cards are great for companies, too. Come holiday season, they'll appreciate the fact they can buy two dozen gift cards at a reduced cost, which again invites a nice number of new users to shop and spend over the gift card limit.
Another thing you can do is offer one of those "5 for the price of 4" deals or something along those lines. The effect is the same as with discounted cards, especially when trying to attract buyers who want to get the gift cards in bulk, like companies who want to give them to their employees as a holiday gift, for example.
Needless to say, this sort of thing is great for customer retention too, and thanks to the word of mouth, it will help you with new customers, traffic and conversions.
Finally, remember to make your gift cards customizable, since personalization is crucial in marketing these days.
Gain New Customers and Engage existing?
Book a call with Lyndon CEO at 2buy1click
and find out how we can Help implement Gift Card
to Drive Conversion and Boost Your Store Sales