You'd think that shopping through websites instead of in brick-and-mortar stores is as futuristic as we're going to get in this lifetime, but you'd be wrong. Ecommerce is one of the liveliest, most dynamic industries out there, and it's an industry that never stops evolving. Right now, the hottest new trend is social commerce, which basically integrates the social media experience with traditional eCommerce.
In short, it means buying things through social channels, instead of directly from websites. In this article, we're going to investigate this new trend and show you why every merchant that aspires towards steady growth should tap into its possibilities.
Social Commerce – What It Is and Why It's Good
Essentially, social commerce is an amalgam of social web and commerce – eCommerce, to be specific. It represents a more streamlined and definitely more user-friendly shopping experience that relies on and is combined with traditional social interactions. It involves groups, comments, reviews, recommendations, and other user-generated content, using these avenues to boost sales. In addition, it uses social platforms to bring shoppable items to one place in an experience that is enriched with price comparisons and peer reviews.
For the average user, the main appeal of this sort of shopping lies in its efficiency. It spares them the effort of having to go from one website to another in search of the product that represents the perfect combination of quality, price, and reliability.
Let's take a closer look into some of the benefits of social commerce:
Real engagement and organic traffic. Basically, every time your brand posts original content and the audience interacts with it, your engagement increases, and that's always a great growth-booster. Every like or comment you get on your posts is a brick placed in the foundation of brand loyalty, and, since it's organic, it's a foundation that's likely to last.
Better SERP positioning. Social commerce can help you rank higher on search engine results pages. Google is very favourable to the original content and authentic user engagement. The more you get of those, the higher you will rank. Plus, with a good social strategy, you can drive significant organic traffic to your website, which is great news not just for your conversion rates but for your SERP positioning as well.
Built-in metrics. A lot of social media platforms come with their own set of analytics tools and metrics. Facebook offers particularly efficient tools in this department. Its "Audience Insights Tool" allows you to use demographic data and preferences to segment your audience and then target them accordingly.
Better customer retention and loyalty. Social interaction between brands and their audiences is known to be one of the best motors for powering customer retention. When customers feel as if a brand is there for them and their needs, they are more likely to spend their hard-earned cash in that particular shop. Plus, you can use social media to inform the audience of promotions, news and special offers, which is also essential for retention.
Great potential for growth. More and more people are joining social media each day. In addition, more and more traditional social media users are trying out social commerce and its possibilities. All this means more customers for eCommerce websites, and therefore, more continuous growth.
Which Platforms Are Taking Part?
With the potential for growth that comes with social commerce, it's no wonder all the major social platforms are interested in jumping on the bandwagon. After all, all these conversations about products, reviews, ratings, and recommendations increase the visits and hits they are getting as well.
However, some social networks are not satisfied with merely providing the venue for that conversation – they want to become a bona fide sales platform, too.
Instagram
With over one billion active users, Instagram is one of the fastest-growing platforms. Highly visual in its nature, Instagram is a particularly suitable venue for brands. Almost every major retail brand is on Instagram now and they have been pushing the platform to introduce features that would integrate the "classic" IG experience with online shopping. Instagram was keen on exploring these avenues too, which resulted in some fresh social commerce features. Specifically, we are talking about Shoppable Posts, in which users can see all the details and essential information about a product, most importantly – its price.
Shoppable stories are a great addition too, with "See More" and "Swipe Up" buttons allowing the users to explore the products even further.
In addition to these features, Instagram also introduced the "Shop Now" button, which, when tapped, takes the user directly to the product page. The user, therefore, doesn't have to leave the app, navigate to the brand website and look for the specific product page. This streamlines the shopping experience and is, therefore, a tremendous sales driver.
Pinterest
Initially a visual platform for collecting ideas and inspiration for all things creative, Pinterest has followed the social commerce trend and introduced some features to keep up with that trend. Even without those features, Pinterest was a great platform for merchants thanks to its context-based search and a rather straightforward product exploring experience.
Next, the platform introduced a feature called "Buyable Pin" with a pretty self-explanatory purpose. They later replaced that format with "Product Pins" that, when clicked, take the user directly to the product page of the retailer's website. The purchase is, therefore, not carried out through Pinterest but through the brand website, which is highly beneficial for traffic. In addition to this traffic-boosting property, the "Product Pin" has helped increase the number of sales for a lot of brands, thanks to the perfectly integrated social, browsing, and shopping experience.
Facebook
As for the world's most popular social media platform, Facebook naturally packs huge eCommerce potential. It all started with shop pages or shop tabs, a feature made available to brands with profiles on Facebook. These pages allow the users to shop directly within the app. Merchants, in turn, can handle all sales within the app, and this feature doesn't cost them anything as the social magnate offers it for free.
But Facebook didn't stop there. Like it's daughter platform, Instagram, Facebook now has shoppable posts, in which brands can tag not only people but also a product itself. Clicking on the tab takes the user to the product page and, from there, to checkout, in a streamlined social commerce experience. And to follow the Instagram model even more closely, Facebook now has ads within stories as well.
The latest addition to the Facebook social commerce experience is augmented reality ads. Brands that opt for this sort of technology are allowing their users to "try on" a product before purchasing. Augmented reality is a massive driver of sales, and by including it among its features, Facebook proved to be very serious about its potential as a social commerce platform.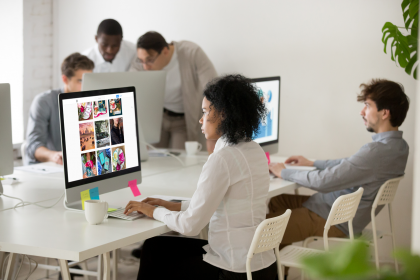 Harnessing the Potential of Social Commerce
It's clear from everything we've said above that social commerce is the future of online shopping. Merchants who don't want to get burned by the competition need to do more than just set up social profiles and use the eCommerce features that come with the platforms.
For one, they need to create informative, engaging content that will spark the viewers' interest. For instance, if you are a fashion retailer, you can post shoppable looks with tags to each product and come up with fresh, innovative ideas for products that are getting a bit stale – whatever can provide a broader context to the product qualifies as good, engaging content.
Next, you may want to consider investing in paid ads. No brand in the world, no matter how big and how famous, can make it without paid ads, especially on Facebook and Instagram. In addition to increasing the visibility of your brand, ads also come with tools that help you segment and retarget your audience. For example, you can display sponsored posts to users who have recently viewed a product in your shop, showing them a similar, related or "product they might like," enticing them to make an additional purchase.
Working with social media influencers is another imperative for merchants interested in making the best out of social commerce and its possibilities. If possible, get in touch with an influencer and have them feature one or more of your products in their posts and stories. Make sure they tag your product and your brand and have them tell a compelling story about it, highlighting its virtues. Honest reviews and tutorials published by influencers are also extremely beneficial for your business.
Finally, don't forget about user-generated content. Search engines just love this sort of content. Plus, there isn't a better sales booster then real people hearing and seeing other real people reviewing and recommending your products.
New to Social Commerce?
Arrange a call with Lyndon CEO at 2buy1click
to found out how to Increasing Sales
using Smart Social Media Strategies