Magento didn't become the top eCommerce platform by accident. Rich in advanced functionalities designed to drive traffic and conversions, the platform allows you to optimize your shop for the best possible user experience, and a huge part of it is product search.
As efficient as the site search is out of the box, there are a couple of things Magento merchants can do to additionally help their users find what they're looking for and increase sales and shop revenue.
It's really quite simple – enabling eCommerce site search allows visitors to quickly find the item they're looking for, instead of having to browse through product lists and categories. By allowing them to find what they need with little effort and without wasting time, you're increasing your sales potential.
Optimized site search can be seen as one of the direct factors influencing high conversion rates. In fact, according to Econsultancy findings, when it comes to conversions, visitors doing site search are 1.8 times more effective than those who don't (4.63% vs. 2.77%). The same study found that, consequently, visitors performing site search helped increase the overall revenue by 13.8%.
These are considerable numbers that make one thing crystal-clear: no Magento merchant can avoid optimizing their site search in order to make the most of it. So, let's take a look at some of the methods for using the site search to increase conversion and sales.
Understand Your Visitors' Search Behavior
The best way to start optimizing site search is to use the Magento reporting functionality to find out what your users are searching to find. This means high volume search terms, but also miss spelled words and terms that are not performing correctly – for example, if they're not returning the right amount of results.
Now check if the results a user is getting per specific search term are the best possible results for that term. It needs to be the item that fits the search term the closest and it also wouldn't hurt if it was one of your more expensive products or a group product.
Remember to use synonyms – not all your visitors use the same exact terms, even if they're looking for the same product.
Finally, adjust your product data. Make sure it shows up when users perform a specific search.
Contact 2buy1click Team today for Help in adjusting your site's search to better serve your potential customers and understand your users needs better
Integrate Google Analytics
While Magento does come with some quality reporting features, it wouldn't hurt to integrate the world's best (and free) analytics tool created by Google.
In addition to providing invaluable insights about your website traffic, keywords that people use to reach you, customer demographics, CTR, bounce rate and other things, it can also help you optimize site search.
Google Analytics comes with a low learning curve, which means that, even if it seems scary at first, it can be mastered rather quickly.
As for the metrics to focus on, look for top-performing queries, top-performing products based on clicks/conversions, no search results, and a number of filters used.
It goes without saying that simply having the search box somewhere on your website doesn't cut it. It needs some tweaking in order to work its magic.
First of all, it needs to be placed in a strategic position. The location of the search box should be such that no visitor has to actually look for it. It needs to be right there, in plain sight, preferably in an intuitive position. People are generally used to finding the search box on top of the page, so that might be the best spot for it in most cases. Centre-page or top right are also favorable spots for this purpose. Finally, it might be a good idea to place a search box on each of your pages.
Also, make the box large enough. If it's too small, a lot of visitors will simply miss it. It also has to allow enough room for common search queries, including long-tail ones. Also, use a magnifying glass icon that everyone already knows equates to search functionality.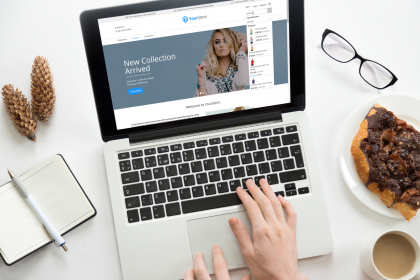 Make the Best Use of Autocomplete
In site search, autocomplete works by predicting the search query before the user finishes typing it in. This functionality is beneficial both for the merchant and for the users. On the user side, their search is executed even faster, thanks to the autocomplete. Plus, the autocomplete may actually offer better results than what they would have typed on their own.
As for the merchant, the autocomplete can gently direct the visitors to the shop's most relevant products, the ones that are the most in-demand or those you want to sell quickly.
You can also use autocomplete to promote variants or synonyms of keywords that serve the same search intent but with better conversion rates. Such products can be pushed to the top of the autocomplete list, so they come up first.
And for maximum benefits, consider enhancing the autocomplete feature by including the thumbnail images of the products, along with the prices, right there in the search results.
Set Search Result Filters
A typical eCommerce search term is likely to produce hundreds, if not thousands of results the user then has to sort through. This can be tiring and frustrating and may cause you to lose some potential customers.
In Magento, it is possible to add filters to the search functionality and improve its performance. The filters can be sorting options like relevance, popularity and trend, or it can be price, availability, colour, size, and more. You can even add reviews as a filter, allowing the visitors to search for items based on how they're rated.
Optimize for Longtail Keywords
Every SEO expert will confirm that every search functionality, be it a search engine or a site search box, absolutely has to be optimized for long-tail keywords. A short, simple keyword like "sweater" simply won't do – there are too many sweaters in your shop alone, let alone on the web.
Therefore, you need to make things more specific. After all, web users are becoming more and more specific in their search intent and you simply have to adjust to that. Your shop needs to be ready for searches like "pure wool brick red cardigan" or "black cotton women's trousers."
This means you need to make sure you're working with semantic-based search functionality, perhaps by using an extension.
So there you have it. If until now you weren't paying enough attention to your shop's search feature, we're certain that you're going to start doing so. It's quite easy to optimize site search using a couple of simple strategies and making a few simple but meaningful tweaks. It's a small effort that can pay off significantly in the long run, so brace yourself for an incoming increase in revenue!
Why Your Site Needs Good Search ?
Book a call with Lyndon CEO at 2buy1click
and find out how Proper Search Implementation
can Help increase your Revenue