In eCommerce, the design of the store can decide its fate to a great extent. You can have the highest quality products, competitive prices, and excellent shipping and delivery options, but all that isn't worth much if your visitors don't find your website pleasant, appealing, and intuitive to use. Good user experiences are imperative, and this aspect of retail greatly depends on the design. In order to make sure your Magento store is up to par in terms of design, you have to follow the latest design trends, which will allow you to keep your traffic high and drive your sales.
Here are some of the hottest new Magento Design web trends to look out for in the coming 12 months.
Every seasoned UX designer will tell you that placing content in a grid makes it more intuitive and organic. Grid layouts offer a clean, comfortable view of the page, soothing the visitor instead of overwhelming them with the sheer amount of products on display. eCommerce websites typically have a lot of categories, lists, and products to showcase, and placing them all in grid gives the whole site a minimalistic look that also looks and works great on mobile.
A sticky header can greatly improve the user experience on your website, hopefully resulting in higher conversion rates and more sales. For those outside the web design niche, a sticky header is a header that follows the user as he or she scrolls. That way, all the content you have placed in your header (logo, menu, login, cart, language, currency, etc.) remains directly accessible, without having to scroll back up to find it. This is particularly useful for very long pages, which would require a great amount of scrolling to get back to the header from the end of the page.
Another trend we are noticing these days is the use of MegaMenu, an excellent, user-friendly tool that helps merchants create all sorts of menus, organize products into categories and subcategories, and much more. MegaMenu allows users to quickly reach any destination on the website in just one click, and it is a life-saver for huge shops with complex structures and hundreds of pages.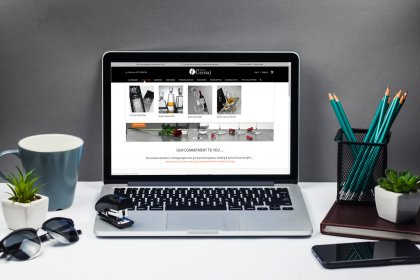 Parallax and Video Background
Visitors love engaging, dynamic websites with modern design and UX solutions. Over the last couple of years, we have seen a global increase in the use of parallax backgrounds and eCommerce websites are starting to use them more and more too. Parallax is an effect that creates an illusion of depth and immersion and usually leaves an excellent impression on website visitors. In Magento, it can be implemented rather easily and with impressive results. The same goes for video backgrounds, which add dynamicity to the pages and pull the visitors deeper in with a more immersive experience.
Big sliders, often fullscreen ones, are another relatively new web design trend that can successfully be implemented on Magento homepages. Like parallax and video backgrounds, these sliders add dynamicity and tell a compelling story about your brand. Use high-quality images to add some extra emphasis on some of the products you would like to highlight.
These sliders can be combined with CTAs for a truly stunning effect on the visitors. CTA (Call to Action) buttons are, of course, not a new thing but the way they are designed on most websites is starting to become stale. Combine some innovative micro-copy for the button text with fresh design solutions and colour choices and consider having the CTAs slide into the page and you might be able to grab the attention of your users and turn that into more conversions than you have been seeing with the same old CTA buttons.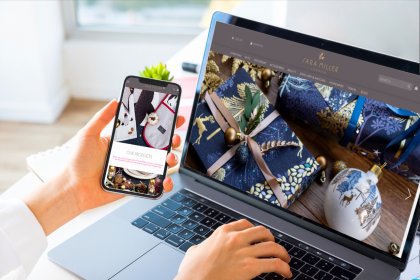 Like animated effects, hover effects, which are triggered when the user hovers the cursor over a button, an image or text uncovering additional content or features, can serve multiple purposes. Hover effects can help a lot in making your design more intuitive. Like other micro-interactions, they contribute to strong, solid navigation, improving the UX on your site and leaving your visitors satisfied and more likely to complete a purchase.
If you are looking to follow the latest design trends and help your Magento store keep traffic high and drive more sales, contact 2buy1click Team for a new amazing look.
Product Quick View and Product Badges
eCommerce users appreciate it when a website helps them find out as much as possible about a product or service they're interested in as possible. More information usually leads to a better chance to sell, so Magento merchants need to explore all possible avenues for getting that info out there and into the minds of the shoppers. Features like Product Quick View do just that – they are unobtrusive yet efficient, and visitors appreciate the fact they don't need to open a separate window or tab to get the information.
Similarly, product badges capture the shopper's attention without being too pushy and loud. These badges can indicate a product's price or status, sparking their curiosity. It's a discreet and elegant way of pointing your visitors in the direction you want them to go.
Ghost buttons, also known as "empty" or "hollow" buttons, are transparent buttons that perform a very powerful function. Being absolutely unobtrusive and minimalistic, they don't clutter the design of a page and instead, can grab your visitors' attention in a way that won't annoy them. Ghost buttons are not necessarily CTAs but can be used as such, and they are ideal for sites with very minimalistic designs.
Speaking of minimalism, more and more Magento websites are opting for this style, as it is time-proven as the best way to be both functional and elegant. "Minimal" doesn't mean "empty" or "dull" – when done well, it means that you understand what your visitors are here for, what they're looking for, and how to serve it to them in the best possible way without too much noise. In terms of user experience, minimal designs are often very effective, as they can help provide a smooth, streamlined shopping experience.
Is your Magento Store in need for a Makeover?
Arrange a call with Lyndon CEO at 2buy1click
and found out about Latest Design Trends to
Help Increase Your Magento Store Sales