Whether you're already on Magento 2 or you're just getting ready to migrate your store in light of the June 2020 Magento 1 end of life, you should use this time to take a step back, review, and reevaluate your online store, its performance and goals, and perhaps make some needed improvements. 
Magento 2 is a terrific platform with a sturdy framework and a plethora of innovative features that, when used as intended, can help you reach your sales goals. Still, best practices show that there are some things that merchants can do to further improve their business, increase traffic and conversions, beat the competition, and go beyond what Magento 2 offers in terms of basic features. 
We invite you to check out these sure-fire tips for boosting the performance of your Magento 2 store.
It should go without saying that page load speed is one of the things that can make or break the user experience on any website, including eCommerce store. Speed is critical, especially for mobile devices, and especially since 2018, when Google announced that page speed would be a ranking factor for mobile searches. Fast websites are preferred both by users and search engines.
Ideally, all your pages should have a load time of 2-3 seconds max. Slow loading sites lead to high bounce rates, as no user will want to wait for your slow store to load when they can simply complete their purchase more quickly and efficiently at a competing store.
Google PageSpeed Insights is a tool that you can use to understand the speed you're currently dealing with and there are a number of extensions you can use for your Magento 2 store to make your website load faster and thus become more appealing to users and Google alike.
Do you have a product that you want to highlight, promote, or sell more of? It can be a high-quality product that, for some reason, isn't performing well, or a bestseller that is important for your brand. Either way, you should consider putting that particular product in the spotlight by featuring it in a prominent position on your homepage. With some smart web design solutions, such as interactive sliders, zoom-ins, or quick view, you can provide additional information that will attract even visitors who came to your store for something else. Think of this homepage spotlight as the best place in a brick-and-mortar shop window. If it manages to catch their eye, people will stop to look at it and will want to find out more.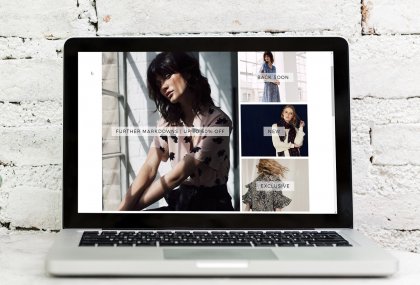 Streamline Your Checkout Process
Did you know that the eCommerce average for checkout bounce rates is as high as 25%? That is one-quarter of visitors who actually intend to complete a purchase, and then, for some reason, decide not to. The main reason for high bounce rates is a checkout process that is not sufficiently smooth, efficient, and fast.
There are many strategies that merchants can employ to improve the checkout process and make it more streamlined. Whether it's customized checkout, one-step checkout, various auto-fill options, and clearly marked, self-explanatory steps, you should do everything you can to make your customers feel comfortable during this crucial part of their eCommerce experience.
With help of 2buy1click team, enhance your store with a user-friendly One Step Chekout to speed up the shopping process and improve customer experience
Who doesn't like free stuff? Sometimes, the cost of shipping is so high it almost exceeds the value of the purchase, which often turns people off and causes them to quit and bounce. Of course, you can't offer free shipping always and for everything, but what you can do is come up with a list of products you want to push, and then offer free shipping for them. Or perhaps set a value above which all items are shipped for free, like the classic "Free shipping for orders of $100 and up" promotion. There's a good reason why so many merchants use this strategy – because it really works. You can also offer free shipping on certain days, like Fridays or holidays. Just take a few moments to crunch the numbers and see when and where it would pay off most to offer this deal.
People like it when they're given a choice, even if they don't necessarily need it. Offering multiple payment options can leave a great impression on e-commerce customers, making them feel as if they're in the hands of a business that knows what it's doing. Multiple payment options are particularly important these days when credit cards are far from the only preferred methods of payment. More and more people are interested in using cryptocurrency to buy things online, along with PayPal and similar services that are already so popular that no respectable store can afford not to offer them as payment methods.
You'd think that people consider eCommerce newsletters to be spam or junk mail, but you'd be surprised just how efficient a carefully planned newsletter campaign can be. The main purpose of newsletters is to make sure people are aware of what you're offering. If you have a sale, a special promotion, or new arrivals, people need to know, and a newsletter is a great way to keep them in the loop. Of course, in order to be successful, a newsletter needs to include high-quality content and carefully placed CTAs leading people directly to where you want them to go on your store pages. Timing is essential here, too. You don't want to overwhelm people with e-mails too frequently, but you also want to make sure your communications are regular so people don't forget about you.
Search Engine Optimization
Good SEO is one of the things that is absolutely essential for any website, Magento 2 stores included. This practice consists of a number of techniques, from on-page to off-page ones, and it can sometimes seem too complicated to inexperienced merchants. Magento 2 already comes with some SEO-friendly features, but merchants definitely need to invest additional efforts to make sure their store rank high on search engine result pages for the key terms that best describe their offers. From long-form content pieces and optimized images to carefully researched and implemented keywords and metadata, you have to apply it all, otherwise, your store will be basically invisible.
2buy1click has offered its client Continual SEO Content and Brand Enhancement service which helps Increase Traffic and Preserve Brand Quality.
High-Quality Visual Content
These days, it's all about making a strong visual impression on your store visitors. Thanks to Pinterest, Instagram, Tumblr and Flickr, web users have gotten used to images and videos that are high quality, aesthetically pleasing, relevant, and engaging. Magento 2 merchants should keep this simple fact in mind when creating their visual content strategy. Each and every one of your product images should be a high-quality photo. If it's not a good picture, you better not use it at all, otherwise, your visitors might be put off. On the other hand, beautiful, professional photography makes you appear professional and trustworthy, which improve the way people experience and interact with your brand.
From e-mail campaigns to order fulfilment, these days, there are plenty of automation solutions for eCommerce that can make your life so much easier. By relying on automation to perform some of the tasks you would otherwise be doing manually, you're not just saving up a lot of time – you're also reducing the margin of error. Remember, machines don't make mistakes, people do.
A lot of eCommerce websites appear to be too cluttered, noisy, and distressing to visitors, who easily get overwhelmed by the sheer amount of images, text, and CTAs. While you definitely want to make sure all the essential info is there, you also have to make sure not to overdo it with the content of any kind. Magento 2 is an ideal vehicle for creating a clean, neat, elegant and professional e-commerce website, so don't ruin it by burying its beautiful layouts in tons of clutter. Also, pay attention to the navigation on your website. It should be simple, intuitive and functional since it is the main element of good user experience.
Need Help with your Magento 2 Store?
Arrange a call with Lyndon CEO at 2buy1click
for Help in Boosting the Performance
of your Magento 2 Store