In late November 2018, Magento released its long-anticipated update, Magento 2.3. The ecommerce CMS platform developers announced the update as one that is meant to empower Magento merchants and fuel their growth while also allowing Magento developers to meet their clients' needs and expectations more easily and efficiently than ever.
In order to do so, the platform made sure to implement some important feature updates as well as brand new features. The new features and improved core functionalities are expected to work together and complement each other to offer the best eCommerce experience yet for everyone involved, that means developers, merchants, and customers.
Let's take a quick look at some of the most important changes that came with Magento 2.3.
Magento 2.3 comes with over 30 security fixes as well as some brand new features that will, undoubtedly, prove useful both for merchants and for third-party developers.
First thing we need to emphasize is that this is a major release with some incompatible changes compared to the previous version. This fact makes a difference on how Magento should be upgraded.
Therefore, upgrading process is not as simple as before and you do need help to make upgrading process go smooth. We advise you to contact an experienced agency or Development team such as 2buy1click that can make this transition process painless, seamless, and cost effective.
One of the most important upgrades in the new Magento is improved inventory management thanks to the Multi-Source Inventory feature. This should be particularly useful for big shops with complex inventory and shipping processes. It will also be of tremendous help to those with multiple physical warehouse and storage locations, which can now be managed with great ease from a single admin.
The new feature also allows for tracking inventory at each source, allowing for much easier inventory management. Operations can be streamlined using rules for prioritization and auto-control of sources for filling orders for each shop in real time. Integration with third-party systems for inventory management comes as the cherry on top.
Progressive Web Apps Studio
This new feature is great news for developers in particular as it allows for full support for progressive web apps. With more and more people accessing eCommerce sites on mobile, it is vital to make your website feel like web apps and that's precisely what this tool does. Looking and working as an app, the shop becomes way easier to use on mobile and you won't even need to install anything new or upgrade anything to enjoy these improvements.
While native Magento 2 support for these app-like sites will be fully enabled, the Studio is an open-source initiative which means we can only expect it to grow with new features and improvements.
GraphQL is now fully integrated into the Magento API system. This powerful but flexible storefront API allows for more robust, complex queries with fast and reliable responses even on weaker networks and systems.
Also included in the new update are bulk and asynchronous APIs. Their primary purpose in eCommerce is to allow for better control of the timing and execution visibility of API calls. Designed to be completely scalable and to work in synchronicity, they no longer have to wait for other operations to complete. Logically, this speeds up performance, which was the main objective of this update.
The declarative schema functionality is a major improvement that will particularly please Magento developers. Until now, if you haven't updated your Magento for a while and you're updating to a version that is way ahead of your current one, the upgrade script for each of the releases in between would still execute, slowing things down significantly. Not just that, but developers were required to learn precisely what each of the installs brought to the new version.
Thanks to the new declarative schema, developers can now declare what the final database state they want to achieve is, and the system adjusts automatically. All that is redundant is cut off and developers don't have to write code for each of the new versions.
This one will be particularly useful to massive shops with SKUs that count in the hundreds of thousands. Thanks to sharding and parallel processing of indexers, product updates, as well as other common indexing operations, are now up to 60% faster, which is truly remarkable.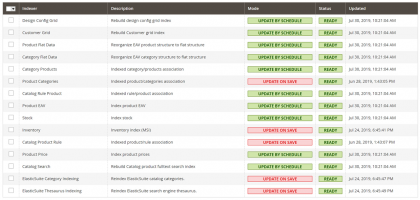 Magento now comes with a new two-factor authentication mechanism as a native feature, meaning you no longer have to use third-party extensions for making sure your shop is secure. On top of that, Google ReCAPTCHA support is updated for the even more efficient prevention of fake logins.
No one knows your shop better than you do, so you should be the one to decide whether to upgrade to Magento 2.3 right now or wait for a while.
However, if you're running a massive shop with multiple warehousing locations, the new inventory management features that come with the update should make your operations more reliable and definitely much smoother.
The release of Magento 2.3.0 revealed tons of revolutionary new improvements and features, and newer releases will surely introduce more things. If you are still on Magento 1 version there is no better time to upgrade to version 2. Magento no longer supports PHP v.5.6, which could be an issue for older websites.
Migrating from Magento 1 to Magento 2 involves major changes in database structures, theme and working with new API. You will need to have the migration expertly managed to avoid any data loss and downtime. That is why you need 2buy1click expertise to guide you in this process.
Upgrade to Magneto 2.3
Book a call with Lyndon CEO at 2buy1click
& Empower your Magento Website for
Best eCommerce Experience