Before we start discussing merchandising and promotions tactics for Magento store owners, let's try and understand what these terms mean. Merchandising is the practice of promoting your product using different methods and strategies. For example, merchandising in a physical store means making beautiful and enticing window arrangements, placing impulse-buy products next to the cash register, highlighting certain products by placing them in high-frequency areas of the store, and so on. But what does merchandising mean in an online store? And how can you implement these tactics in Magento?
Magento is an eCommerce platform that offers extraordinary merchandising and promotions opportunities, thanks to its customization features and several handy extensions. It needs to be said at this point, however, that if your store is still running on the old version of Magento, you would really be doing yourself a favor by moving to the new version – Magento 2, which offers even more possibilities.
Here's a beginners look at some of the best merchandising and promotion features that Magento offers you.
Visual merchandising in category pages can be done in either automatic or manual mode. Automatic mode is, naturally, easier, but it has one problem – sorting and arranging products according to, say, seasonal trends, stories and looks can be a bit difficult.
Manual merchandising, using the Magento visual merchandising module, on the other hand, allows for more actions: multi-select drag&drop, hero product quick add, and so on. And there's a handy trick here too – you can implement merchandising rules, which will allow your top displayed products to update automatically based on these preset rules. The more valuable data you use for the rules, the more effective they will be. The data is used through attributes, which should include page views, sales volumes, margins, basic color labels, seasons, trends, and so on.
To add attribute-based rules, just go to "match products by rule" and then select attributes you want to use.
As for hero products, you just need to add SKUs (stock keeping units) under automatic sorting condition, but don't forget to separate them with commas.
Also, you may want to consider a third-party app, which implements advanced rule-based visual merchandising features. Currently there are different options on the market and 2buy1click has helped our clients implement and further expand these functionalities to suit their business needs.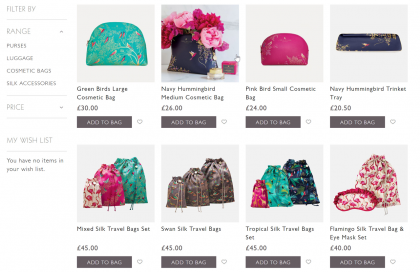 Site search functionalities are very important from the point of view of merchandising. Before introducing Elasticsearch with Magento 2, Magento was known for having very basic, even poor and definitely underwhelming site search functionalities. You had to rely on third-party extensions, and, to be honest, even with Magento 2, you can still benefit from introducing a high quality site search.
When it comes to merchandising in terms of eCommerce, the personalization of pages is very important. It cannot be done in physical stores, but it is a very important and valuable feature for web pages. Personalized product recommendations are among the staples of conversion rate optimization strategies.
Knowing this, it's no wonder the market today offers a number of third-party and proprietary solutions for this sort of thing. These solutions look into your visitors' behavior while they are browsing your website and then make personalized recommendations. Magento Enterprise Edition also offers customer segmentation, which allows you to step up your customer-level promotion game significantly, by using paid advertising and email channels.
Your product detail page is where your would-be customers usually make their decisions. Once they take a closer look into your product, your customers may either proceed to "Add to Cart" or turn around and leave your site. This essential part in terms of conversion rate optimization really requires your attention, as even small changes can go a long way.
First of all, you need high quality product images. High resolution, beautifully lit and color-balanced photos are a must, along with user-generated images and lifestyle photos (preferably in-house photos, not stock!).
Also, Magento allows you to add several images per product, so make sure to take advantage of that opportunity.
The same goes for product videos. Many merchants neglect this rich media element, and they are making a big mistake, especially since they help your customers get a clear picture about details, specifications and characteristics of your product.
Finally, product descriptions – with Magento and its out of the box features, you get to use short descriptions and long descriptions. Make sure to use this latter opportunity and be sure to write descriptions of your own instead of just relying on manufacturers descriptions and details. It's these little things that make a world of difference in terms of conversion rates.
Magento's out of the box layered navigation is a bit chunky and not really as efficient as it could be and as it will eventually become, if the good people behind the platform decide to pay some more attention to this particular functionality.
The same goes for most third-party integrations, unfortunately. But you can still do a lot in terms of successful merchandising if you just pay a little extra attention to attributes. Think about your product attributes and ask yourself if they are really useful for your end user.
If your answer to this question for a particular attribute is "yes," then go ahead and use the attribute as filterable. If not, just toss it away. Otherwise, your layered navigation will result as confusing and hard to use. This way, your users will filter products based on what they actually need to filter by – color, size, type, or brand, for example.
After you have set up all the technical details, remember to offer regular sales, promotions, special offers, coupons, bundles and so on. The holiday season is your time to shine, so make sure to plan your holiday promotions carefully. Use these elements to engage your customers to buy more, to subscribe to your newsletter in order to stay informed about special offers, throw in some perks and rewards for returning customers, for those writing reviews and so on.
When you do have a featured offer, think hard about how you want to promote it and where on your website you want to place it.
Magento offers plenty of opportunities for efficient merchandising. Make sure to use them, maximize product engagement and watch your conversion rates grow, slowly but steadily.
Need To Implement Merchandising & Promotional Tactics to your Magento Store?
Book a call with Lyndon CEO at 2buy1click & Find Out
How we can Help Boost Your Conversion and Sales