For the third consecutive year, Gartner 2019 Magic Quadrant has positioned Adobe (Magento) as a Digital Commerce Leader.
Gartner, the world's topmost IT analysis and consulting company, publishes a series of market research reports every year or two. These reports, based on qualitative data analysis, serve to point to specific market trends, such as maturity, market participants, and directions. These analyses are performed for several distinctive IT industries, digital commerce included.
After an evaluation of abilities to execute and completeness of vision, Gartner has identified Adobe (Magento) as a Leader in Digital Commerce for the third year in a row. This year's report evaluated 13 vendors, basing their evaluation on the vendors' ability to execute and their completeness of vision.
The Gartner Magic Quadrant (MQ) is a series of market research publications produced by Gartner Inc. These reports use an evaluation matrix to analyze the positioning of technology-based companies and rate technology vendors according to defined criteria. The Gartner MQ is used to evaluate a vendor before a specific technology product, service, or solution is purchased.
Magic Quadrant rates vendors based on two criteria: completeness of vision and ability to execute. These component scores result in a vendor position in one of four quadrants: Leaders, Visionaries, Niche Players, and Challengers.
The Adobe (Magento) Magic Quadrant leader positioning is elaborated in the report using a number of evaluation criteria, clearly pinpointing the vendor's strengths and demonstrated abilities.
Magento as Magic Quadrant Leader Strengths
According to the Gartner MQ report, the Magento's core commerce platform includes a native WCM module (PageBuilder), providing substantial value to the product. In addition, the platform offers essential solutions for better management of digital commerce, from order management and shipping to data and analytics.
Explaining that Magento Marketplace represents a robust application exchange market with more than 4,800 extensions directly from the native admin user interface, the report recognizes Magento as a large global ecosystem of tech partners, developers, agencies, and SIs.
The Gartner MQ report also recognizes the impact of Magento Commerce AEM integration and the subsequent June 2018 acquisition, primarily for enterprises which can now enjoy a tighter integration and a more comprehensive suite with Adobe marketing and analytics solutions.
The report finds it clear that the acquisition made Magento a more robust, reliable, and overall stronger platform. And with the previous product void in configuration and AI capabilities now filled, the integration resulted in a significant increase in enterprise deals for Magento, which, before the acquisition, catered mostly to small and medium businesses.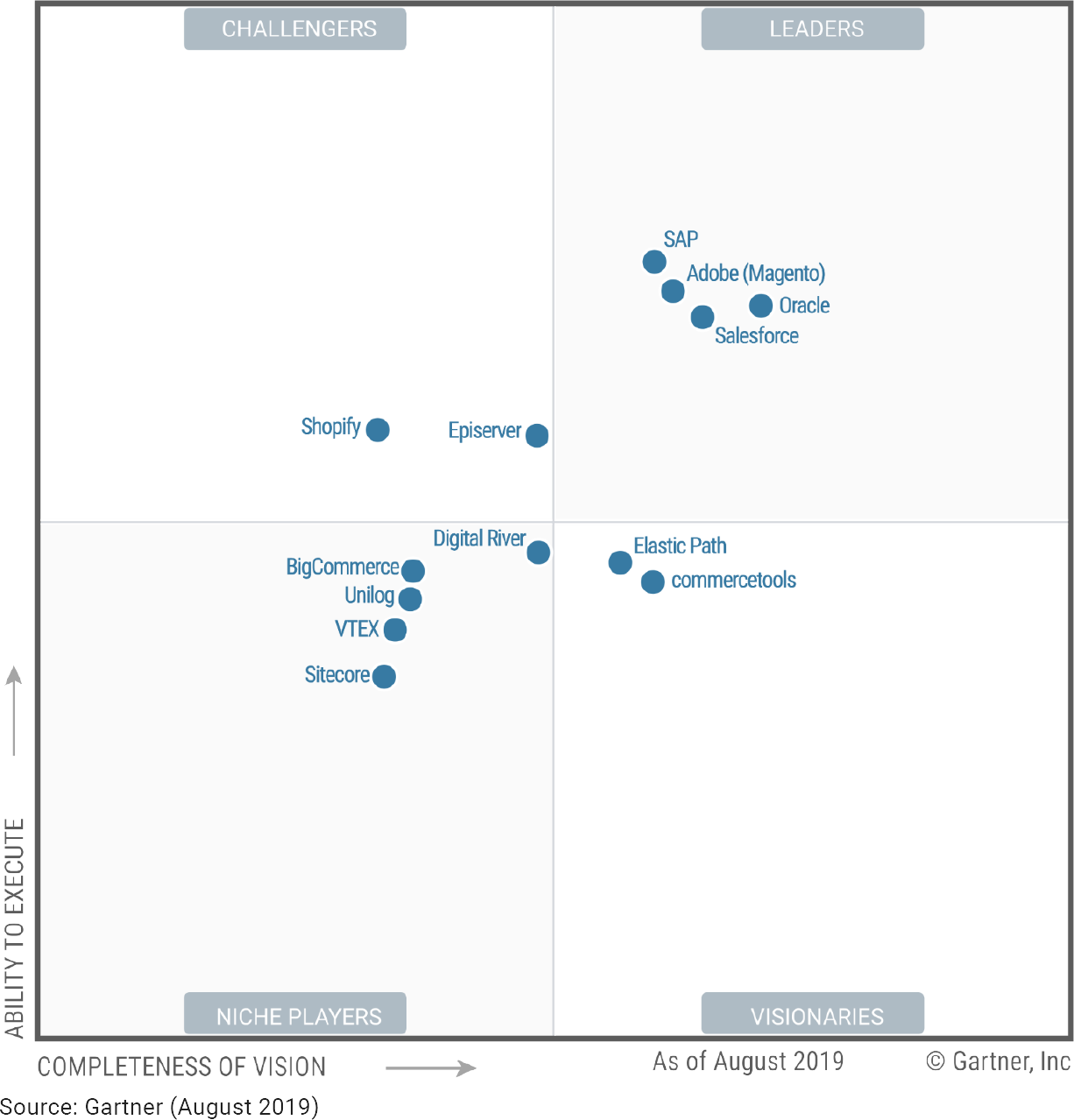 Magento as Magic Quadrant Leader Demonstration of Abilities
Magento, as a Digital Commerce market leader, demonstrates the ability to:
Provide depth and breadth of commerce functionality to include B2C and B2B
Trade capabilities across multiple industries and business models
Provide market channels that can scale up to support large volumes of transactions
Provide sales and support services directly and through an application, software, and integration partner network
Innovate, usually demonstrated by technology changes to trading platforms, new products and product features, virtual core, and external investment
The Magento Commerce platform offers the development of eCommerce solutions with the highest functionalities and overall security required for Adobe's renowned user experience and new ownership, making Magento more secure as an organization, taking its business to a higher level.
A complimentary copy of the Gartner, Inc. 2019 "Magic Quadrant for Digital Commerce Platforms" research report can be downloaded here.
Magento is one of the most powerful eCommerce development platforms in the market today.
If you are looking for a flexible CMS, mobile-friendly configuration, Advanced SEO, multi-lingual and multi-currency support then we feel Magento might be the right choice for you.
Magento eCommerce Web Development
Arrange a call with Lyndon CEO at 2buy1click
and find out how we can support your Business' eCommerce
Growth and Development through Magento