Feefo allows collecting and analysing verified reviews gathered directly from genuine customers

2buy1click Ltd is Feefo certified Partner.
Contact us for more details.
Feefo Reviews system for Magento 2
When it comes to boosting traffic, conversions, and brand reputation, customer feedback is an evergreen essential. We all want to hear or read about a product or a service before we commit to a purchase, which is where user reviews come in.
And when it comes to integrating reviews into your website, the Feefo reviews platform is one of the best. If you're running a Magento eCommerce store, you will be happy to hear that Magento 2 Feefo reviews can be added to your website in no time.
2buy1click is a certified Feefo partner that can help you connect with this platform and start collecting and analyzing verified reviews from real people and displaying them across all your channels.
The Feefo reviews system is extremely streamlined and, thanks to the platform's rigorous verifications, designed in a way that guarantees genuine, honest, and moderated reviews.
A customer purchases a product or uses a service, after which the merchant sends Feefo the customer's information. Feefo reaches out to them and asks for a review which, after moderation, gets published on the company's Feefo page.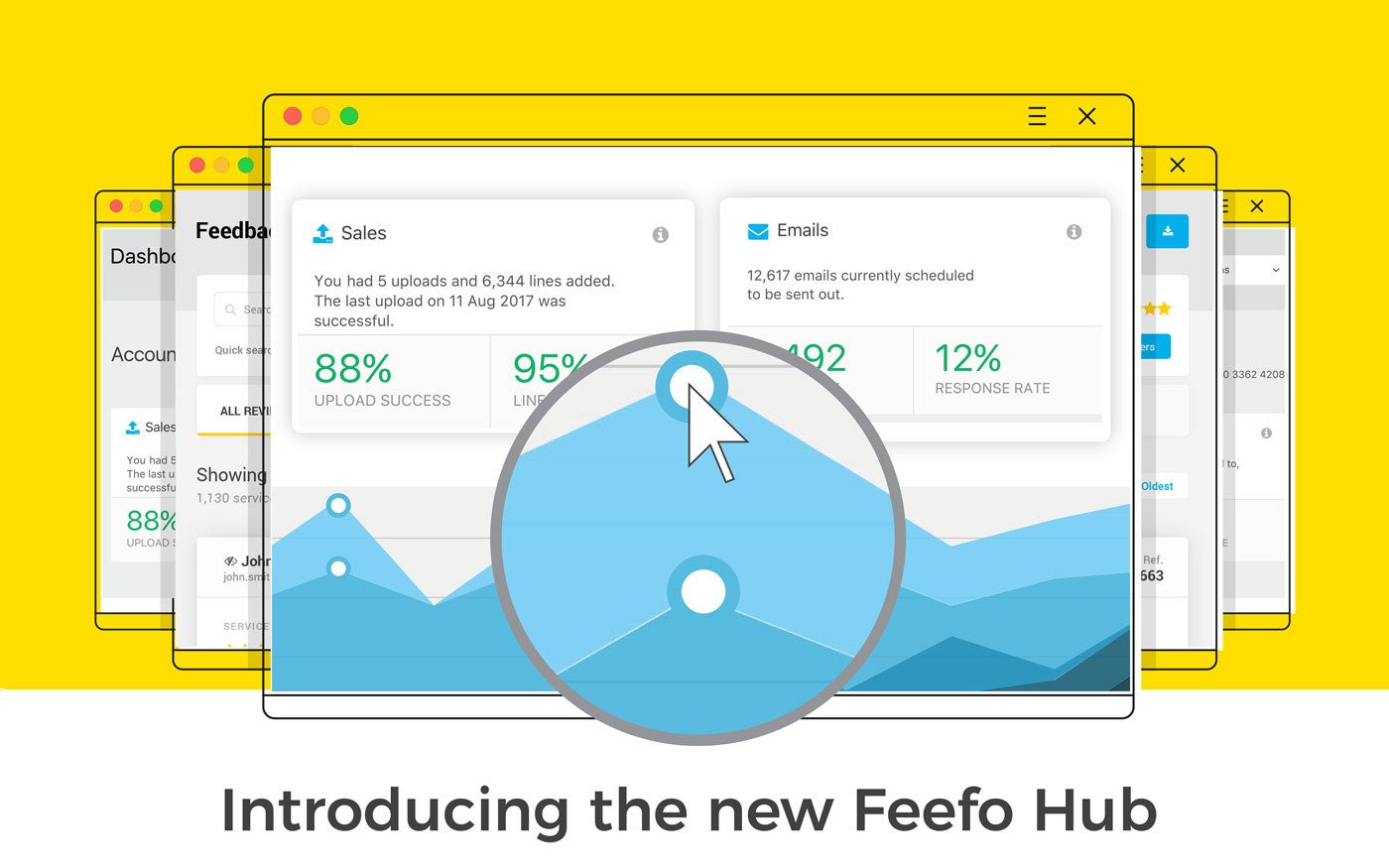 The platform has recently launched a new Feefo Hub with an improved dashboard for the smooth management of reviews and advanced filtering. The Hub allows merchants to only see the information that is actually relevant to them and respond to every part of the review at once. Product and service responses can be sent simultaneously and their reviews can be separated for convenience.
What Sets Feefo Apart From the Competition
Customer reviews are tremendously helpful both from the commercial and SEO side of your business so it's no wonder that there are so many reviews platforms out there. And yet, Feefo has managed to beat out the competition and establish itself as one of the most trustworthy customer feedback tools.
What sets it apart most is that Feefo only gathers genuine, honest reviews from real people. No bots, no AI-generated or fake reviews of any kind.
Secondly, Feefo provides users with a set of ever-improving AI tools for generating valuable insights and analytics that help a business meet its customers' demands more efficiently. This, in turn, builds brand loyalty and retention and helps improve sales.
Magento 2 Feefo reviews can also help merchants increase traffic and sales directly. Here's how:
With Feefo, you can display reviews directly with your products or services. The customer doesn't need to go to a third-party service to find out whether your product or service is worth their money, they get real customer reviews right there. This directly increases the chances that they complete a purchase, boosting your overall sales and revenue.
In addition to "traditional" reviews, with Feefo you can also add a photo and video reviews to your Magento store. That way, your prospects can see your products in action, which adds an extra layer of trust and credibility.
In addition to Google stars, Feefo also helps Magento merchants work towards a Google seller status, another thing that can skyrocket a business in no time.
Feefo helps you reach wider audiences thanks to the ability to share reviews across all major social networks.
Feefo also helps with your SEO efforts and your search engine visibility and ranking. Search engines favour reviews and tend to rank websites that feature this functionality higher. In addition, Feefo helps you qualify for Google stars, which get displayed directly in search results and have been proven to boost conversions tremendously.
As we've mentioned, Feefo is more than just a reviews solution. It can also help you get valuable insights into how each of your products is doing individually. This helps you boost products that are already doing well into doing even better and improve products or services that are not performing the way you want them to perform.
Depending on the plan you opt for, you can use Feefo's Campaign Manager, a remarkable and user-friendly tool that provides merchants with deeper insights into their customers' preferences and behaviour.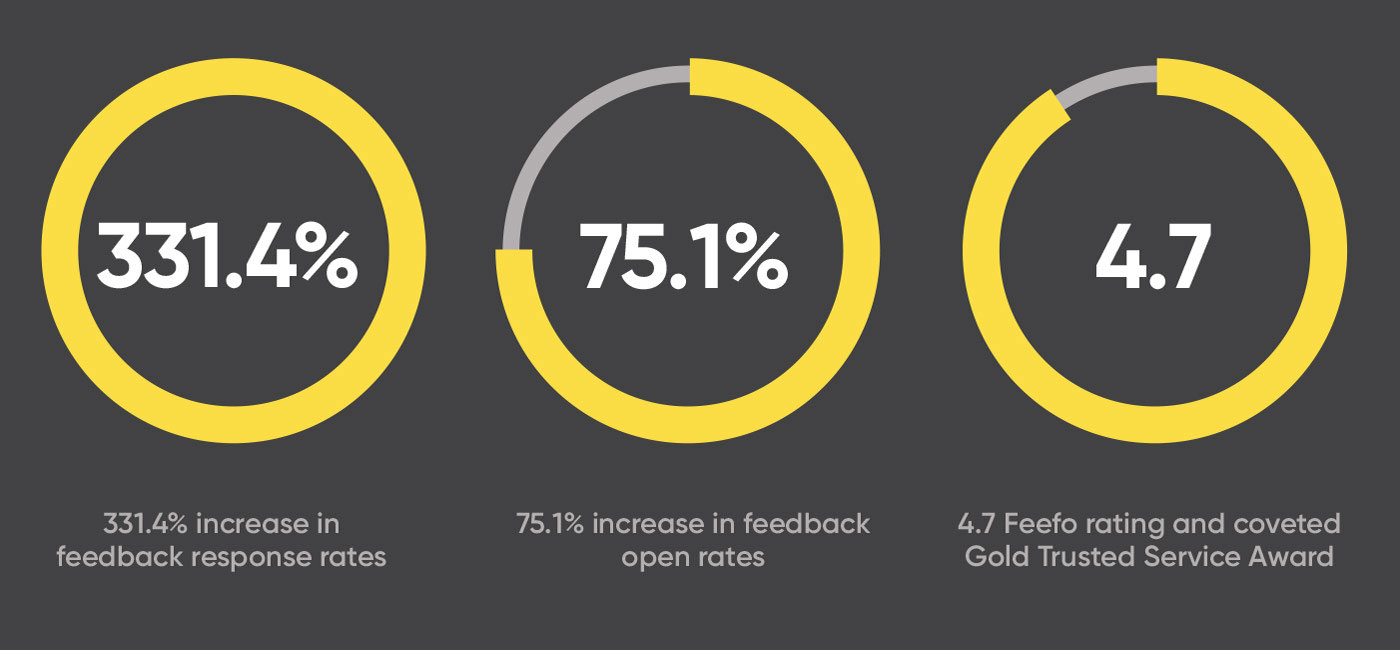 The Perfume Shop increases website conversions by 13.5% thanks to Feefo's AI-powered Smart Themes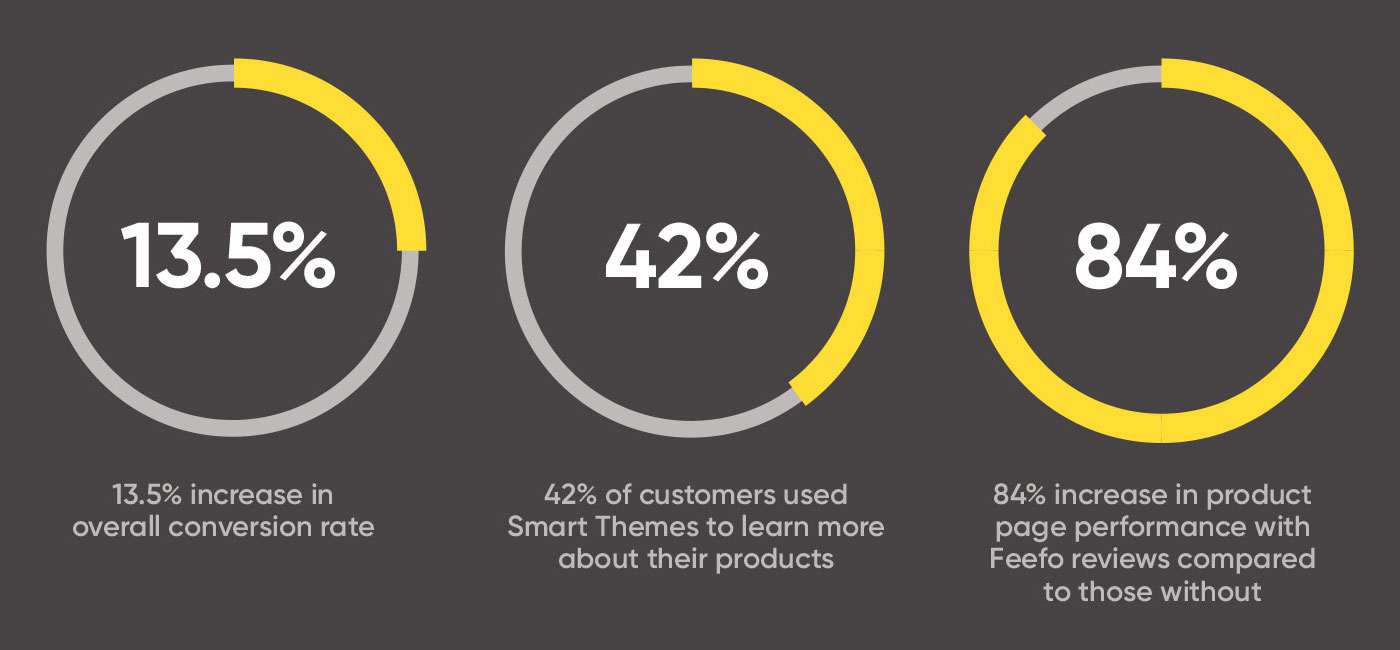 The Training Room increase response rates by 331% using Campaign Manager Tool
Feefo reporting is straightforward and customizable, making sure merchants only get the reviews and analytics they actually need and can use.
The latest AI technology allows Feefo users to identify recurring trends and pain points that affect their business and the Insight Tags help them tag, track, and report on the most important themes across their feedback. This saves a lot of time that would otherwise be used to sift through the reviews in search of those that can actually be valuable.
In addition to the SEO, brand reputation, and analytics benefits we mentioned above, Feefo comes with a couple of other highly useful features for all Magento merchants.
For instance, thanks to a feature called Feefo Places, merchants can now collect feedback not only online, but in their physical stores as well.
For those spending considerable amounts on ad campaigns, Feefo can be of great help here as well by automatically enhancing the campaigns with review snippets. As for Facebook campaigns, Feefo can be seamlessly integrated with those too.
In addition to reviews, Feefo users can also use surveys to reach out through any channel and collect feedback.
Finally, Feefo comes with Net Promoter Score features, providing merchants with instant insight into how their customers feel about their business and what they can do to build a better customer experience.
SEO, Brand Reputation building?
Build your credibility and rankings
by adding Feefo to your Magento Store.
Arrange a call with Lyndon CEO at 2buy1click today