Everyone in the eCommerce business (or any sort of sales or service business for that matter) has one imperative in mind; to get more customers and sell more services and products. But what a lot of us keep forgetting is that returning customers are perhaps even more important. That's why today we're going to suggest six fail-safe tactics to keep your customers coming back for more.
A study recently showed that if you increase your retention rate by only 5%, your profits will grow by 25% to 95% depending on your industry. This sort of insight can be a bit challenging for eCommerce and retail to apply because the competition in this particular industry is fierce and it's very hard to keep your customers loyal.
Returning customers are particularly precious simply because they're more likely to buy again. Plus, they can recommend your business to others and boost your number of new customers too through word of mouth and other forms of recommendation.
Here's what you need to do to keep your customers coming back for more in upcoming period.
Have an Active Social Media Presence
These days, social media is everything. Even the most "serious" corporations and institutions, including governments, maintain some form of presence on social media.
When it comes to customer retention, the trick is to stay in their minds even after they've made the purchase. If they're satisfied with what they got from you, by reminding them of your business through your social media activity, you'll be engaging them to buy more.
Of course, it's not enough to just be there. You can't rely on funny cat videos either. You need to show them you have something great to offer. Post images of your products with quick links to the shop, or explore the possibility of selling directly from the social media platform.
Social media offers amazing potential for feedback and feedback-driven improvements. Use it to get in touch with your customers and find out what they want and need, and then make sure you can offer it to them.
Content marketing is a crucial part of any digital marketing strategy. In eCommerce and retail, it serves not only to lure in new customers but to keep the old ones, too. But, it can't be just any kind of content.
Regardless of your industry, good content means content that is well-written, strongly related to the niche or industry in question, well-researched, informative, authoritative and engaging. Also, long-form content (for instance blog posts that have more than 1,800 words) can work better than shorter form, despite decreasing attention spans – it all depends on how engaging your content is to your audience.
A particularly important form of content marketing for customer retention is post-sale marketing. This means sharing content with customers who already bought from you in order to keep them engaged. Such content can be aimed at helping them solve a common issue associated with the type of product or service they bought. Or it can be a detailed tutorial for using the product. The main purpose of post-sale marketing is making sure that they don't forget you and that they'll come back to your store when the have the need for something that you can provide them.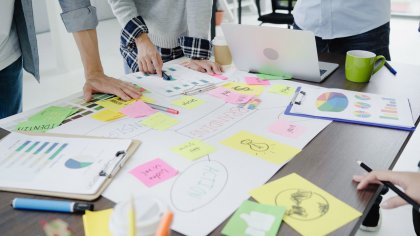 We all hate having to deal with customer service. More often than not, we don't get our answers, we lose a ton of precious time and patience, we get frustrated, annoyed, sometimes even insulted. Customer service should be quick, reliable, helpful and friendly. But unfortunately, that's rarely the case.
Customer retention depends a great deal on the experience your clients have with your customer service. If the support you provide is slow and rude, you can say goodbye to returning customers. They simply won't come back.
What you need to do is take all the negative things about customer service and turn each of them around. Put yourself in the position of a customer and then build a service that you would like to deal with as a customer. When it comes to customer service, the golden rule says that a customer should only have to contact it once to get the problem solved.
Even if you don't have the time or manpower to handle all of your incoming questions, there are other things you can do. For example, building out a great and thorough help desk or FAQ can go a long way towards improving your customer service, allowing your customers to get answers to their questions without ever having to engage you.
Whatever your product or service, it's the features that count. The features are what separate you from your competition. They decide whether a potential client is going to buy your product or go to the competitor.
Product features are the most important sales point for first-time buyers and for returning ones as well. Make sure to stress the features that you can offer and your competition cannot.
These days, certain features are considered standard. But you can always bring them up a notch. For instance, instead of support that works standard business hours only, offer customer service that is available 24/7, including weekends and holidays. Offer overnight shipping, free tracking of orders, chatbots that guide customers through the purchase process, personalization options, etc. Whatever it takes to surprise and delight your customers, that's what you need to do to stay atop the competition.
Contact 2buy1click team for guidance in implemenation of features that can help achieve more Personalised Shopping Experience for your Customers.
A lot of businesses shun incentive programs because they fear they could affect their profits negatively. That isn't true at all. A good incentive program can go a long way, both in terms of profits and customer retention.
Offer discounts or free shipping to your customers and they'll keep coming back for more. If you offer products that are typically reordered on a regular basis, try offering a free product for buying in bulk, or for purchasing a certain amount. When a customer needs to reorder something, he or she will stick with you if you have something cool to offer, otherwise, who's to say they won't take their business elsewhere?
Product Range That Works Synergetically
If you're running an eCommerce business, you probably know all about upsells and cross-sells. But are you making the best use of these options? Make sure to offer related products at checkout, but don't stop there.
Marketing should never stop, even after the purchase has been made. Now that you've got a customer's attention, offer products that you feel might interest him or her. Send emails with related products, especially if they're currently on sale or if they are similar or related to the product they've purchased.
For example, if a customer bought an electric massager that runs on batteries, offer a multi-pack of batteries or an electric charger that works with the massager.
Getting the customers to come back for more is of the utmost importance since it can lead to increased sales not only through constant purchases but through referrals as well. Happy customers who return to you regularly are your best form of marketing because these are the people who are most likely to recommend your store to others, and that's free, high-quality advertising.
Remember that, no matter how elaborate your marketing strategy is, the key is in listening to what your customers say, both positive and negative. If you act on that insight, it should loop the customers back to your business and keep them loyal.
Strategies for more Returning Customers
Book a call with Lyndon CEO at 2buy1click
to found out Magento Strategies that can help your
Store have more Returning Customers