Did you Migrate Magento 1 to Magento 2? We sincerely hope that by now most Magento users have done so by now. For those who have not yet moved their online store to the excellent new version of this popular and powerful platform, today we want to talk about what you can expect from this version and what some of the most important features are.
Improved Architecture Performance
One of the most noticeable, and certainly most welcome improvements that Magento 2 brings is the new modular design, as well as new database design. Why is this important? Because not only does it requires less hardware but it also makes customization easier and faster. The whole platform feels much lighter now and, due to CSS pre-processing, your pages load faster, which is, of course, extremely important.
Things have changed in the deployment department as well, as now users have greater flexibility towards private and public clouds. APIs have improved too, third-party integration is now easier and faster, which means more flexibility and customization options.
Easier and Faster Testing
Even though the platform is robust and reliable, regressive testing is still a must with Magento, regardless of the version. You change something or add something new, and naturally you want to check in case the change caused something else to crash, as it, unfortunately, sometimes happens.
Testing was somewhat of a challenge in Magento 1, so the people behind the platform decided to improve this functionality and make life easier for Magento merchants. The new version has a built-in testing framework with automated testing, so now the efforts you invest into testing your pages are really going to be minimal, allowing you to focus your time and attention on developing your site further.
Better Shopping Experience
When you Migrate to Magento 2, rest assured that your visitors will be able to tell the difference. Perhaps they won't know what exactly changed, but they'll notice that their overall experience is more pleasant, intuitive and fast. Some of the innovations in this department include the Ajax Add to Cart feature which allows users to add a new product to the cart without having to reload the page afterwards, as well as one-click account creation. Both of these new features are enormous time (and nerve) savers that your customers will greatly appreciate.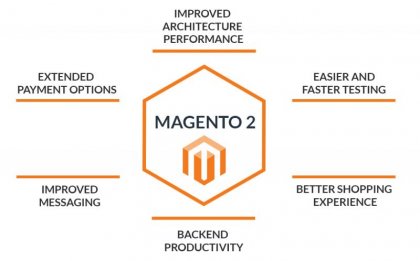 This one is for the devs. New Magento 2 features help developers save time while going through backend data and making changes. The interface changed and for the better too. With Magento 2, managing everyday tasks is much easier thanks to the possibility of creating, saving and sharing your presets. Another great bit of news is that the new interface is very intuitive and more user-friendly than the previous versions. Learning new functionalities and functions is easier now even for those who do not possess much technical knowledge and development skills.
The way you add product videos (or any videos at all, really) changed as well. You no longer need to spend time on customization before you can successfully add a video to your page – just paste a link, name the video and throw a few lines of description onto it and that's it. You can even customize the preview image.
You'd think this one doesn't deserve special mention but anyone who has ever had any business with messaging in Magento 1 knows that this is an area that had its bugs and issues and was definitely primed for improvements. With Version 2, Magento teamed up with RabbitMQ, a message broker software supporting a range of protocols, whose main purpose is using queueing to prevent dropped messages. Now, not only does the messaging work faster but it also allows you to see exactly which integrations are not working properly or are downright failing.
Magento 1 had plenty of payment options, but the new version offers even more. The old platform supported Braintree, Authorize.net and, of course, PayPal, but Magento 2 now has integrations with WorldPay and CyberSource, among others. More payment options means more flexibility and that is always a welcome feature for an online store.
The main goal of every new version deployment, no matter what the product is, is to make things easier for everyone involved, from merchants and developers, to end users. And that is precisely what the new Magento 2 features do. From customization to maintenance, Magento 2 is loaded with improvements, so if you haven't moved to the new version yet (migration anxiety is very common among Magento merchants) we hope that this little preview will help push you in that direction.
Migrate Your Store to Magento 2 Now!
Book a call with Lyndon CEO at 2buy1click
& See how we can help you Migrate to Latest Magento 2