If you are even remotely interested in the eCommerce business and related platforms, you have probably noticed that Magento tops every "Best eCommerce Platforms" list year after year. Sure, the competition is strong and there are other high quality ecommerce platforms that are doing fine as well, but Magento seems to have become to other platforms what Google is to Yahoo!, Bing and others, especially for large businesses.
The eCommerce business is a tough one. Today, more and more companies decide to take their business online and many of them don't even have physical points of sale anymore. Online stores range from micro ones selling vintage clothes and DIY stuff to major conglomerates and multinationals. Ecommerce is definitely not a bubble that is going to burst any moment now.
Ecommerce, and Magento as a cherry on top, are here to stay, so let's see just what it is that makes this platform, and its Enterprise edition in particular, stand out so prominently above the others.
When you are a small, up-and-coming business, most other open-source platforms probably work just fine for you. But once you start gaining more momentum, your needs start growing as well and you need better resources, better performance and better support from your platform. Solutions are there, but they are pricey, as they are reserved for the "big players."
In the uncomfortable transitional period between being a small business and extending your operations on your way to the big leagues, there is a gap in terms of affordability that Magento fills perfectly. As long as you have a solid profit margin and can actually afford to invest just a little bit of funds into your online store, Magento promises a healthy ROI and delivers just the upgrade you need.
As we said, there are plenty of platforms out there that you can try out in your growth period. But only a few of them (if any at all) come with the same value for the money that Magento offers. Yes, you have to pay a little extra for Magento Enterprise. But this platform constantly delivers fresh updates, new features, bug fixes, support and even training, which makes your investment truly worth it. How did Magento manage this? The answer is simple – they remained faithful to their open source philosophy. Thanks to this model, merchants can easily improve and customize any part and aspect of their site as they wish.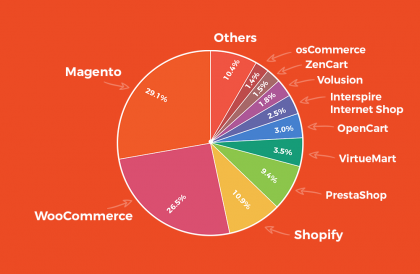 Image based on AheadWorks study – CMS most preferred by online stores in 2017
Magento simply never overpriced itself. Not when they were a small platform, not when they became the market leader. Today, most business gurus will tell you that unless you charge a premium for your product or service, there is no way you can survive on the market, let alone establish yourself as a leader. Magento ignored this advice and proved them wrong.
It does make sense in many cases, but if you're in a position like Magento, trying to dominate your particular field, you simply can't price yourself out. What Magento Enterprise did instead was introduce pricing per server for small stores. As stores expand and their needs grow, they start requiring better hosting solutions, so their license fee increases too. But by the time this happens, stores can already afford it, so it's a win-win situation for everyone.
Magento was the first ecommerce platform to introduce many of the features and tools that today are considered basic and default. For instance, customer segmentation is today considered to be the alpha and omega of ecommerce marketing, and almost all platforms have introduced it, but did you know that Magento did it years before anyone else?
And this is just one example. Magento released a number of apps and features before they became so in demand. This, of course, did wonders for its competitiveness, not to mention the fact that it established Magento as a beacon of innovation in the eCommerce business.
When Magento says it's more a family than a traditional platform, it's not lying. The moment you join, you become part of a tight-knit community of users, developers, designers and everyone else involved with the platform one way or the other. Magento organizes regular meetups, conferences and trainings. There are forums, discussions, groups and much more. The purpose of all this is to give you all the support and resources you need to grow your store as much as you want and can.
And what does Magento get in return? It gets clients that have absolutely no intention of leaving it for another platform. A great trade-off, is it not?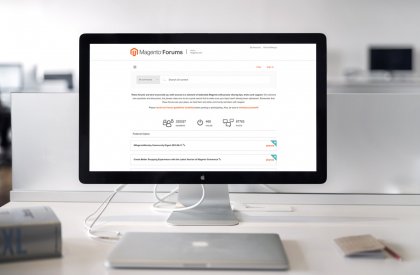 Considering Migrating your Online Store to Magento?
Book a call with Lyndon CEO at 2buy1click
to see How we can Help you
Immensely Increase the Efficiency of your Online Store