People generally resist change, especially when they are comfortable with something that they have been using for a long time – something they are both pleased and very familiar with. But change can be good, especially if with change you can see improvements and get a fresh perspective. This is truly the case when it comes to making the switch from Magento 1 to Magento 2.
The new version of the popular ecommerce platform has been around for a while and many merchants have already moved their stores from Magento 1 to Magento 2. However, a significant number of users remain hesitant about the migration. If you are one of these people who are still on the fence about the move, here are some main reasons why moving to Magento 2 is a good idea.
Improved Performance All Around With Magento 2
Whether you are a seasoned, knowledgeable user or a novice just trying to figure out how online stores work, performance is probably the number one factor that influences your overall experience with Magento. Magento 1 is great. It works well, and has pretty robust performance characteristics. But truthfully, Magento 2 works even better and some of the known performance issues from Magento 1 have been successfully resolved.
One of the most important improvements of Magento 2 compared to the previous version is that it now officially supports the latest PHP versions, including PHP 7. This allows for stronger security and, of course, the stores can run much faster. PHP 7 works beautifully with Magento, which is why we strongly recommend using this language when building an online store.
Another improvement that came with Magento 2 is built-in Varnish caching. In Magento 1, users had to use a third-party module for Varnish, so it's definitely more convenient now. The Caching of static content is also much improved.
Furthermore, Magento 2 resolved another long-standing issue with Magento 1, and that is too much JavaScript all over the place. With the new version, JS is bundled up, allowing for a lighter, faster browsing experience on the user's side.
Also, there is no need to adjust images manually. Scaling and optimizing images now takes place directly on the server.
Magneto 2 Has A Better Admin Panel
The old admin panel on Magento 1 was fine – it was rather easy to use and very intuitive and practical. Believe it or not, it works even better in Magento 2 thanks to a few minor but very welcome tweaks. For example, the navigation interface has been slightly changed in a way that allows easier navigation within the panel itself, and, hence, an easier and faster admin experience.
Monitoring how your sales are going is made easier through the introduction of some new features and a  better distribution of the old ones on the interface. You can check out everything from last search items, bestsellers, average or last orders and lifetime sales to revenue tax and shipping & quantity.
The dashboard is now more customizable than before. If there are any columns you don't really ever use, you can easily move them to the bottom and organize them any way you'd like. The same goes for adding or removing columns in the dashboard. Magento 2 is, again, much easier to use even for users who do not possess vast software knowledge and experience and who would normally have to contact their developers every time they want to make a change in the admin panel.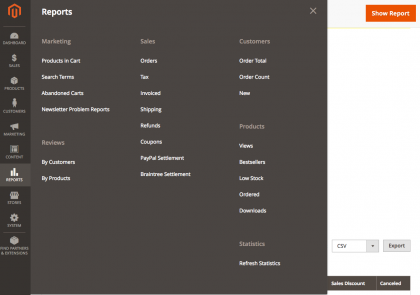 Uploading and organizing products is also optimized in Magento 2. There is a special tool that leads you through the process step-by-step, which is ideal for beginners and for those who don't want to spend too much time doing that. In addition to products images, you can now add product videos, a feature that was not available in the previous version of Magento. Finally, Data Import has also been improved and is now much faster.
Marketing and Content sections contain basically the same options as before (Promotions, SEO&Search, User Content, Themes, Pages, Widgets…) but now they are organized more neatly and can be used more efficiently.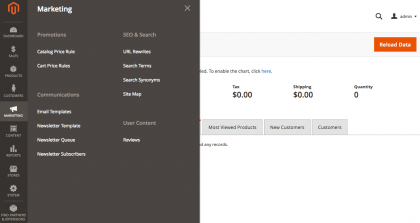 If you are worried that the process of migrating from Magento 1 to Magento 2 is going to be a cumbersome one, fear not. Thanks to the Data Migration Tool, you can easily move your entire store to the new version in a matter of minutes.
Magneto 2's Frontend Experience
As you can see, thanks to the new and improved admin panel, working with your store from the inside has been made much more user-friendly, but what about user interface and design?
Well, rest assured that this has been improved as well. The new Luma theme for Magento 2 looks great and is definitely a refreshing improvement compared to the classic Magento theme. The pages load more quickly too, and users can now view primary page content without having to wait for the entire page to load.
Web design is, of course, fully responsive, meaning your store can be viewed with full functionality from any hand-held or mobile device. This is, or should be, a standard now, especially after Google started awarding better rankings to fully responsive sites, but we all know that, sadly, not all ecommerce platforms come with these features and not all web stores work well on tablets and smartphones.
Checkout, as well as registration at checkout, is now faster, more efficient and user-friendly. The old checkout options were fine, but when it comes to providing your customers with absolutely top-notch online shopping experiences, there is always room for improvement, right?
As for billing and payment, Magento 2 offers built-in PayPal, WorldPay, Braintree and several other payment methods. Customers can rely on high security standards as their personal information is sent directly to payment gateways, which is considered to be the most secure way to go about it.
Finally, it is important to mention that more and more companies are making extensions exclusively for Magento 2, as Magento 1 is on its way out the door. This, paired with all the great practical improvements, should be motivation enough for all online store owners, as well as for Magento developers, to commit to making the move to Magento 2.
Migrate your Magento 1 site to Magento 2
Book a call with Lyndon CEO at 2buy1click
to find out how we can migrate your Magento 1 site to Magento 2.