Magento held a fantastic event in the UK (Meet Magento UK 2019 or #MMUK19) organised by Team JH, that served to bring the eCommerce community together and explore the latest technologies, trends, and strategies related to Magento development.
2buy1click was very proud to attend this thrilling event for the second year in a row, taking place this year on June 19, at The Mermaid in London.
With close to 600 Magento enthusiasts, developers, and merchants packed under one roof, it was clear that this year's #MMUK19 was going to be a great opportunity for us to network and share ideas with many like-minded professionals.
The panel, led by PayPal eCommerce Evangelist Rob Long, included Sophie Alway (Product Manager at Gene Commerce, Aidan Connor (Global Digital Platform Manager at Mayborn Group), Joe Russell (Head of Design at JH), and Mark Conatser (Software Engineer at HiConversion), among others.
Once again, organizers did a great job putting together a program that covered a wide array of topics with presentations delivered by an incredibly diverse and exciting panel of speakers.
Here are some of our key takeaways from #MMUK19: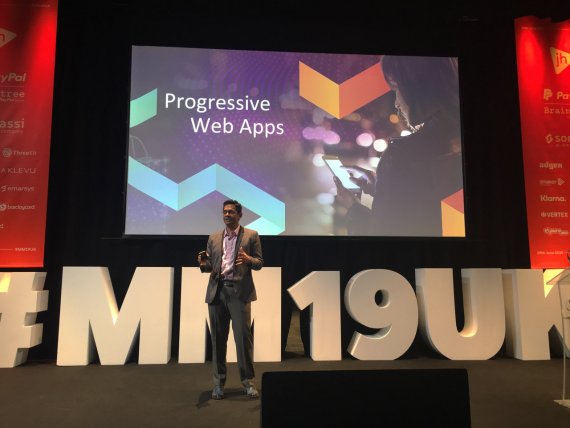 It takes a community to close the Mobile Revenue Gap
Members of the panel stressed that while the mobile responsiveness of eCommerce websites has increased traffic, there is still a long way to go in terms of increasing revenue through responsive experiences.
On the most popular web shopping holiday of the year, Cyber Monday, mobile represented 51.4% of overall site visitors, making 2018's Cyber Monday the first where more than half of traffic came through mobile devices. However, only 34% of revenue can via mobile. Why the discrepancy? Experts believe that a lack of properly optimized mobile experiences is the main problem. eCommerce businesses can't afford to continue losing so many opportunities, which is where the Mobile Optimization Initiative (MOI) comes in.
The premise of the initiative is that while every merchant is looking to enhancing mobile revenue, no single merchant can come close to matching the testing and learning capabilities that the collective merchant community can produce when working together.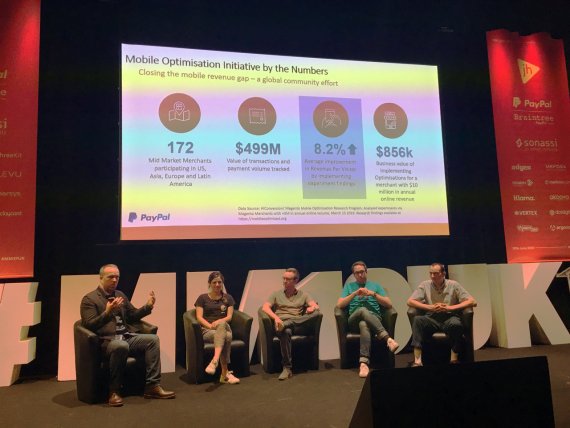 RPV is how we measure the successes and failures of an eCommerce Store
Measuring the success or failure of your e-commerce business is very hard to do with complete accuracy. However, the panel discussed the RVP formula as a viable solution. The formula takes into consideration every unique visitor who enters your shop and your total revenue, giving you a clearer picture of how your store is doing.
Revenue Per Visit (RPV) = Total Revenue Earned In a Time Period / Total # Of Visits In Same Time Period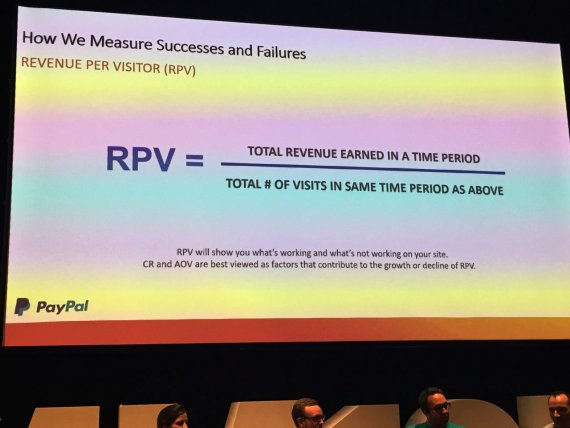 By calculating the RPV of your store, you will know what's working and what's not. CR and AOV are the deciding factors of the growth or decline of your eCommerce store.
120 experiments are live today
Coupon Collapse, Floating Checkout Button, Simplified Cart Header, Auto Cart Update, and many other tests are running on 172+ merchant sites participating in the Mobile Optimization Initiative. That means $499M+ in transaction value and payment volume being tracked!
Data from over 6 million transactions (and growing each day) has been analyzed to capture insights that were previously unattainable.
The results are unexpected
Another major discussion included how to remove distractions from your eCommerce store. The panel suggested a few ideas, including:
Collapsing the coupon and promo code
A 3.34% RPV lift is expected from collapsing coupons.
Remove wishlist
Wishlists were created with the vision that they would enhance sales, but that vision has not become a reality. The wishlist has turned into a way for shoppers to procrastinate on making a shopping decision. Disabling this feature will motivate customers to click on the "Add to cart" button when an "Add to wishlist" feature is not available. Tests say that disabling the wishlist feature could result in a 5.62% phone RPV lift.
Removing breadcrumbs
Breadcrumbs become redundant with effective navigation. The Magento community is testing the results of removing breadcrumbs to see if this will reduce distractions as many have theorized.
Running tests like this has produced surprising results. In the case of removing breadcrumbs, we thought it would cut down on redundancy when a site already has effective navigation, but also reduce distractions and smooth out the buyer journey. In actuality, the results showed an average -7.09% RPV lift — a significant decrease.
The key takeaway here is that experimentation is challenging what we thought we thought we knew about eCommerce best practices.
PWA (progressive web apps) was a popular topic of discussion at #MMUK19. The Magento and PWA buzz was picked by multiple speakers as a topic of great interest. Eric Erway and Shaun Osbourne interacted with merchants and shared their views on the topic, speaking on how this innovative technology can simplify commerce operations.
Key Takeaways regarding PWA: 
It's time for progressive: Progressive Magento is here. It is time to look beyond apps. Creating a baseline for your store will help in establishing goals.

Try it for yourself: Real merchants, partners, and developers are already using the PWA version. You can prototype in minutes.

Get involved: Magento community support is everywhere. One can join the progressive movement from anywhere in the world.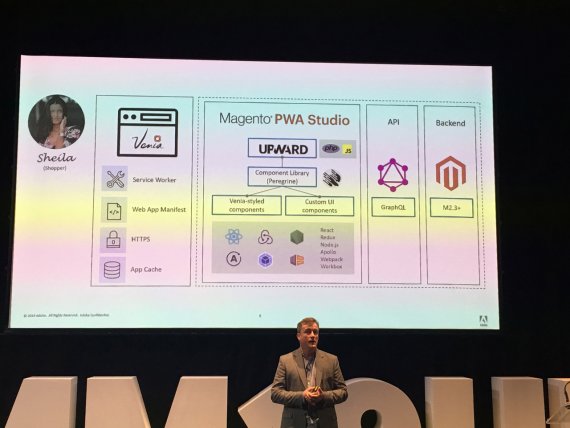 Shaun Osbourne shared some excellent pieces of advice from early adopters of this progressive movement.
Implement browser-based UI testing

Decide on SSR "Early"

Develop a strong versioning category

Don't invalidate the cache

Load features on demand
He also spoke about the role of front-end and back-end developers and shared some tips for them.
Build the FE team

Heavy interaction with the FE team is needed

A switch in FE mindset is needed to one where all data is delivered as an API and not as part of a Magento render cycle

There's still a considerable amount of back-end developer roles that are not PWA specific.

The front-end developers will go ahead and create slow GQL queries – don't stop this, instead optimize them.

BE devs will need to amend existing queries whilst also adding new ones.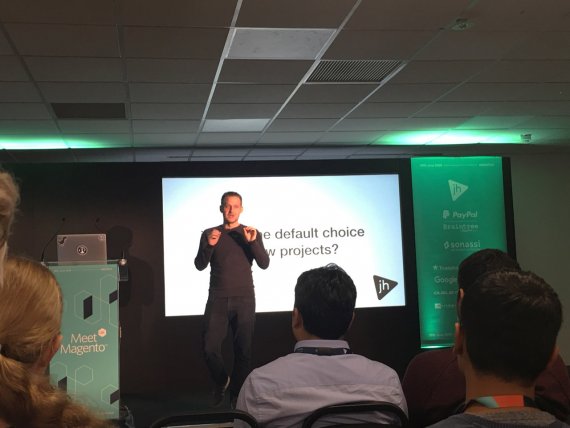 The Magento community couldn't have chosen anyone better than Philip Jackson for the closing session. He started with a quote by Theodore Roosevelt, "Do what you can, with what you have, where you are."
He was quite focused on the Magento community during his session. He mentioned that people don't build communities, rather, communities build people.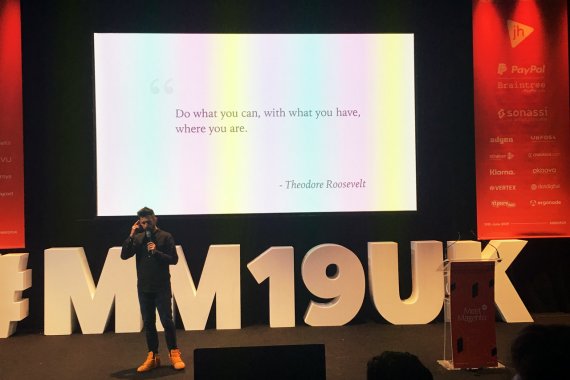 For the 2buy1click team, this was another great experience that lead to exciting new connections within the industry. We gained insights into the latest offerings of the Magento community and emerging technologies.
The event provided a chance to meet fellow attendees and talk innovation. The sponsors of the event were hand-picked in order to bring the best in the industry and for us, it was a chance to find out what new offerings our clients could benefit from potentially.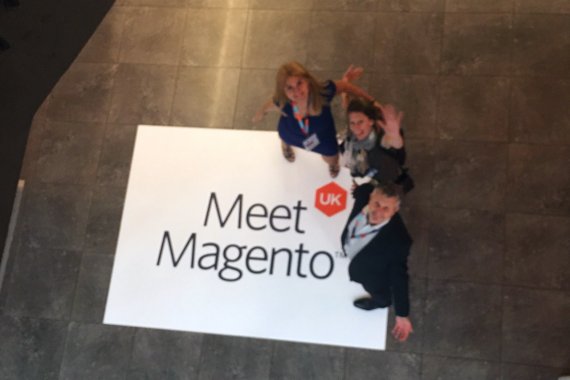 Right Development Team?
Book a call with Lyndon CEO at 2buy1click
for Experienced, Skilled and Knowledgeable
Magento 2 Agency Team