2buy1click is extremely proud to have attended the 4th annual Agile Serbia conference – Agile In & Beyond IT, held on June 12 in Belgrade. As a forward-thinking company, we are on a path of constant improvement and development, one in which we strive to apply our knowledge, experience, and expertise in order to create amazing solutions that add value and achieve lasting success for our clients.
As we are always inquisitive to see how we can continue to evolve and improve, we decided to attend this conference in order to expand our horizons and learn about the latest trends in Scrum and Agile project management principles, since we do employ these methodologies and systems ourselves. 
Scrum and Agile Project Management
Those that are not familiar with the terms, tend to use "Scrum" and "Agile" interchangeably. However, a real distinction between the two exists.
Agile refers to a set of "methods and practices based on the values and principles expressed in the Agile Manifesto," which includes things such as collaboration, self-organization, and the cross-functionality of teams.
Scrum is a framework that is used to implement Agile development.
Agile Serbia Conference – Speakers and Talks
The Agile Serbia Conference was organized for the fourth time by Agile Serbia and Puzzle Software, with the main topic being "Agile In & Beyond IT."
This year's speakers were remarkable, with the keynote speaker being the co-creator of Scrum and creator of Scrum@Scrum – Jeff Sutherland – probably the biggest Agile and Scrum star on the planet.
Internationally-recognized experts and inspiring speakers such as Sander Hoogendoorn, David Evans, Stefan Tilkov, Riina Hellstrom, Aino Corry, and Mirko Kleiner all contributed with talks and discussions related to Agile Software Development, Business Agility, and Enterprise Agility.
The event was organized in three different stages – the EPIC stage with the main lectures, the DEV stage with open discussions, and the EXE stage with workshops. There were also supporting stations, including the Agile Coaching Corner for consultations and the BIZ Corner for networking.
This year, a special Pre-Conference Agile Education Day was organized for the first time as a whole-day session dedicated to introducing Agile to those unfamiliar with the concept. The moderator of the discussion was Milos Zekovic, an Agile Coach with more than 10 years of Agile experience in many different industries. This was a great opportunity for anyone who needed an introduction to the principles and values of Agile and to ask questions about the methodology.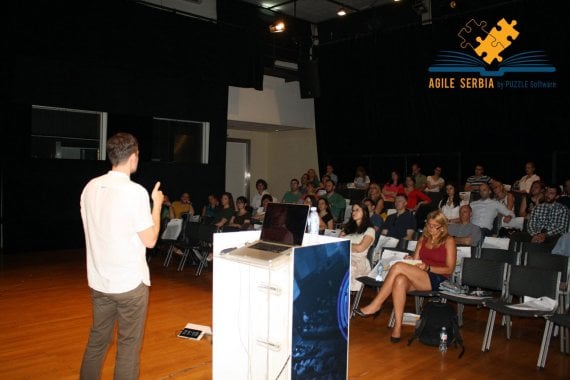 2buy1click at the Conference
The team was spread out attending different lectures and stages so we could get the most out of the conference experience and later share the knowledge amongst ourselves.
Here is an overview of the topics discussed and concepts that interested us the most.
The highlight of the conference was obviously keynote speaker Jeff Sutherland, who introduced us to implementing Scrum with multiple teams in order to speed up processes.
Scrum@Scale: Enterprise Agility – Jeff Sutherland
Scrum@Scale, created and developed by Jeff Sutherland, is a framework that enables the transformation of each department and service in any organization and can efficiently coordinate an unlimited number of Scrum teams.
Through his recent experiences and real examples of success in companies such as Sabb and Toyota, Jeff explained how a small change can move the system (big or small) towards improvement.
He further explained why a simple fractal model is essential to high performing Scrum@Scale and why collocation is critical to performance. He also discussed how to implement distributed teams that feel collocated. Also, Sutherland talked about why he believes that the saturation of Scrum across the entire organization is essential to business agility.
It's a small world after all – Sander Hoogendoorn
The next speaker was Sander Hoogendoorn, an independent dad, consultant, software craftsman, architect, programmer, coach, personal mentor, speaker, trainer, writer, and traveler, as he likes to be referred to.
Sander changes organizations and teams and coaches them to optimize their processes, practices, architecture, code and tests. We enjoyed his talk so much that we took a team picture with him.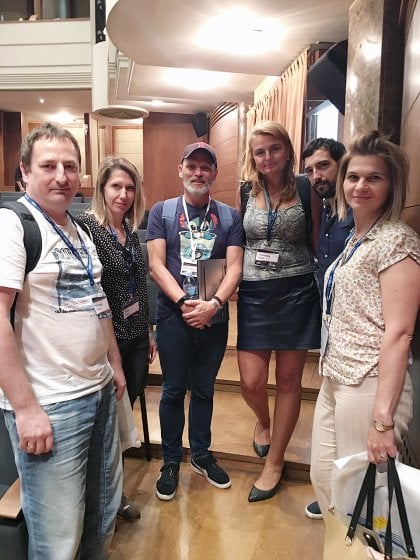 The topic he covered was "How thinking small is changing software development big time." He discussed Cynefin, how development goes wrong, how to go beyond Scrum, why self-organization is hard, why continuous delivery allows you to stop doing projects. The message of his inspiring talk was that we need to evolve towards smaller teams or even micro-teams, flat organizations, no management, even shorter cycles, and smaller components.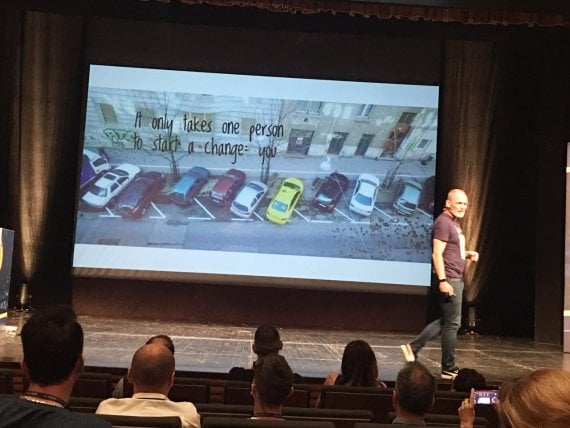 Agile HR – Redesigning performance management in tech organizations by Riina Hellstrom
Succeeding with Agile is a people question. The four biggest challenges for adopting agile (State of Agile '18) are all people and culture issues.
In her talk, Riina introduced parts of AgileHR and took us through practical case examples on redesigning a gaming company's performance management model by using Agile methods and thinking.
Some of the key items she highlighted were: focus on the future, focus on ongoing feedback, cycle time, and low-performance interventions.
What we really liked and started implementing within our own working practices is the simplification of processes, not trying to cover everything, co-creation, validating feedback, focusing on transparency and trust.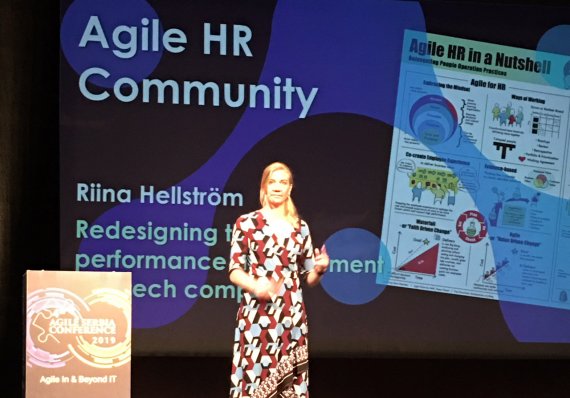 Architecture, Organization, Processes and – Humans – Stefan Tilkov
It's well-known that software architecture, organization, processes and the humans affected by them are interrelated. But how does this translate into advice for a practitioner's daily work?
Tilkov discussed some of the ways we can determine whether the development efforts we're undertaking suffer from too much or too little focus on architecture. From a number of real-world examples, he demonstrated some of the good and bad results of how we can get more of the former and less of the latter in our own projects.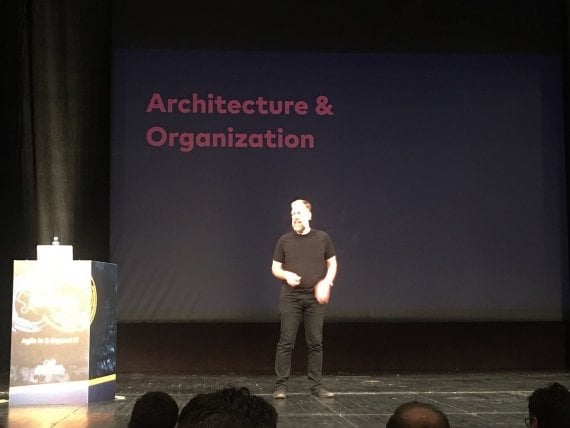 Lessons Learned in Agile Transformations – Aino Vonge Corry
Aino introduced us to Agile transformations through real examples from Danish companies. The presentation demonstrated real examples and challenges some companies face and how they overcame them, as well as cases in which they did not.
Some of the key takeaways from her presentation for us were the wake-up call, the importance of staying in touch, champion sceptic, time for reflection, small success, and being fearless.
After an intensive day of lectures, discussions, and talks we were happy to take part in a workshop by Marko Majkic – Mastering Coaching Techniques to Boost Your Team.
This was an interesting demonstration of useful techniques to boost a team's morale, help resolve issues, deal with the conflicts, and improve communication.
This workshop and the highlights we received from the 4th Agile Serbia Conference really helped the 2buy1click Team appreciate the great working culture, processes, team spirit, and respect we all share and constantly contribute to as a team.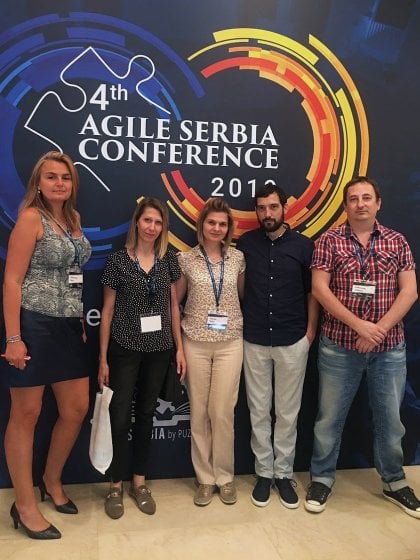 Right Development Team?
Book a call with Lyndon CEO at 2buy1click
for Experienced, Skilled and Knowledgeable
Magento 2 Agency Team