Abstract
TP24 sell LED lamps to many of the new house builders in the UK. They sell through 3 channels, direct to consumer, via distributors and shops and direct to trade /new house builders. They already had a Magento site that was outdated and not connecting with their other business systems.
The goal for the new sites was to present the TP24 brand with the quality and look you would expect from the leading LED lamp supplier. The sites branding had to match their corporate branding and the presentation of their products needed to be easy to navigate, configure and buy.
This was the easiest web development projects I have even been involved in, and I have been involved in a lot" Gary Lorimer – Marketing Manager TP24
Problem
The starting point for this project was to develop a new Magento site to replace the existing one. This original site was suffering from single developer being unavailable to maintain and develop the site. This resulted in problems of orders not syncing with accounts, hard to update product data and prices. Their product catalogue was about 15,000 sku's and managing the order processing.
A nice to have was for the site to have different pricing for retail and alternative custom prices for each trade customer.
Their new range of light fittings are highly configurable with colour, number of lamps and different finishes. This had not been possible to do in the current site.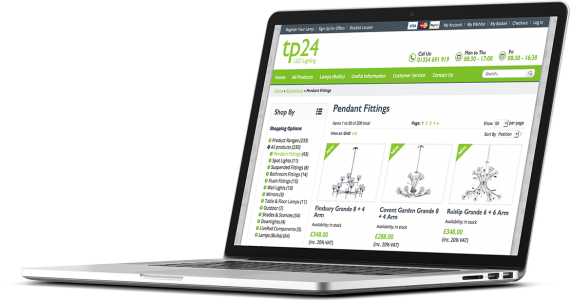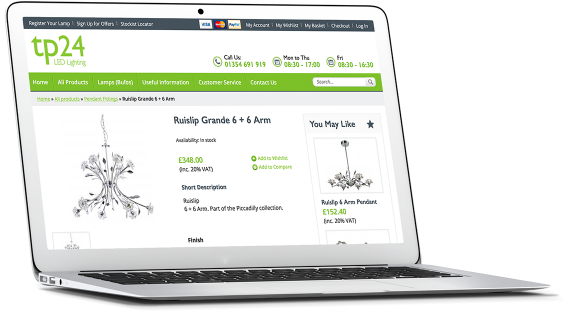 Solution
We worked with the customer to develop a very clear functional specification and produced Wireframe of the new site. These were approved so we moved on to the graphics design using the latest modern design styling to match their corporate branding. Again this was approved with only minor tweaks.
We focused on making the product import as easy as possible. Allowing continuous updates to the master company product spreadsheets of prices and products to be imported into the sites many times per day. This was a real breakthrough in keeping prices up to date and in sync with the rest of the business.
Stock control syncing to their existing stock management system was also added so now they had a totally automated stock, product pricing / offers and integration to accounts and fulfillment.
Results
The results were as perfect as you can get. Only a single bug was found on hand over day that was fixed. It had been the most textbook delivery of a complex ecommerce for both us and TP24.
Conclusion
TP24 are now reaping the benefits of a fully integrated online ecommerce site with their existing back office systems. This is resulting in faster fulfillment and minimal issue of orders for product that are out of stock. Not only that the site looks stunning and is very natural for the customers to navigate to find the lamps and fittings they are looking for.